In serial communication, data bits are transmitted one at a time in a sequential manner on a data bus or communication channel. In order to understand this correctly, you can understand it as archery. How does the arrow shoot out of the bow? One at a time. Serial communication is this case; data bits are transferred one by one from one embedded device to another.
In many fields, such as gate switches, computer room monitoring, large machine tools, smart cities, charging piles, smart oil fields, and many other fields, serial devices are ubiquitous, and they are used in various production and life scenarios. However, most data of serial devices needs to be stored or processed on computers and mobile phones. This requires specialized devices to convert serial communication protocols into Ethernet, wireless, etc. The most common ones are the serial device server and modem.
Then, what is the difference between serial device server and modem?
1. The shape and port are different

Take USR-TCP232-306 as an example, the interface has a power port, RS232 serial port and RS485 serial port, and a network cable interface.
Take USR-GPRS232-730 as an example, one modem has RS232 serial port and RS485 serial port, sim card slot, antenna, and power interface.
2. Basic functions are different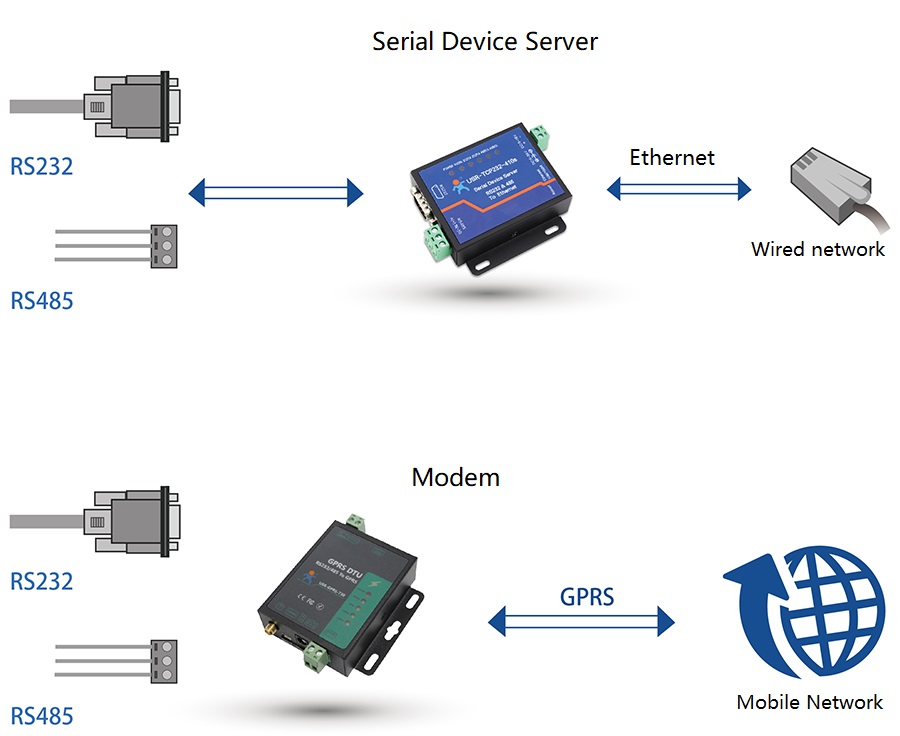 The serial device server converts the serial port into a network port, it can be used as soon as it is plugged, realizing transparent transmission of RS-232/485/422 interface and Ethernet data.
Modem is to convert the serial port into a common wireless network provided by mobile operators, such as GPRS (2G), 3G, 4G networks.
3. The application scenarios are different
The applicable scenarios of the serial device server are application scenarios suitable for using the network cable as a connection mode, such as computer room monitoring, large machine tools, injection molding machines, medical instruments, instrumentation, PLC industrial equipment and other Ethernet networking applications. The characteristic of these devices are that they are indoor equipment, making wiring and networking easy.
Modem is mainly suitable for application scenarios that require remote data interaction. Typical applications include energy, water, agriculture, industrial control, self-service terminals, smart express cabinets, charging piles, smart oil fields, and smart buses. These application scenarios are generally located outdoors, have a further distance and cannot be routed.