Introduction of low cost WiFi Modules
The low cost wifi modules, used for data transparent transmission. The hardware of USR-C210 wifi module integrates MAC, baseband chip and RF transceiver unit. USR-C210 supports WiFi protocol and TCP/IP protocol. Users can realize serial device networking via simple configuration.
Features of low cost WiFi Modules
Support Wi-Fi@2.4 GHz 802.11b/g/n wireless standards
Support WPA/WPA2 security mode.
Support work as AP,STA,AP+STA mode
The fully integrated serial to wifi TCP/UDP transmission function,can choose multiple serial speed
LAN search and wireless parameter setting function
Support TCP/UDP Client registration packet mechanism
Support Simplelink/usrlink rapid networking configuration
httpsd Client function
Support class RFC2217 automatic baud rate adaptive function
Support simple AT+ command set configuration
3.3V power supply
Ultra-low power
On-board PCB antenna and external antenna optional
Small size: 18.22 x 26.65 x 2.8 mm
Application Field of low cost WiFi Modules
WiFi remote control and monitoring, TCP/IP and WiFi coprocessor
WiFi remote control toy such as aircraft and cars
WiFi Internet radio, camera, digital photo frame
Medical instrument, data acquisition, handheld device
WiFi fatness testing machine, smart card terminal, Smart Home
Instrument, equipment parameter monitoring, wireless POS machine
Modern agriculture, military field and other wireless related secondary development applications
Networking Mode of low cost WiFi Modules
AP Mode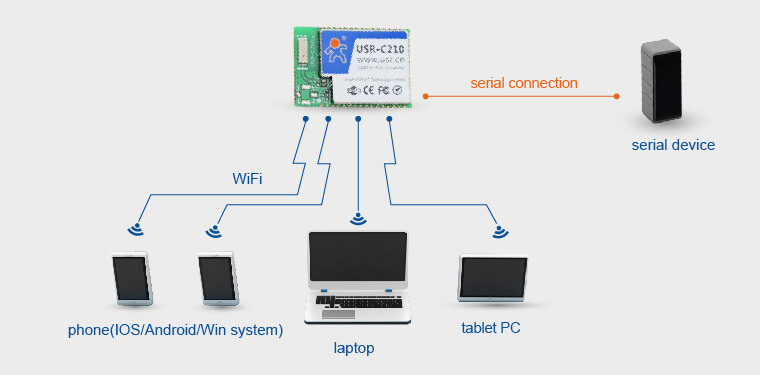 STA Mode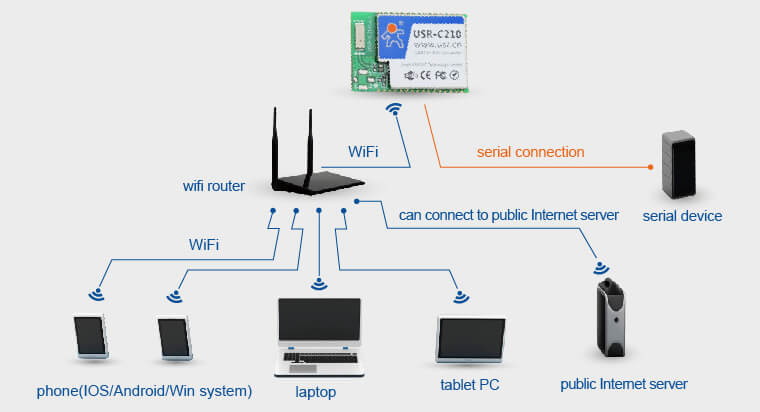 AP+STA Mode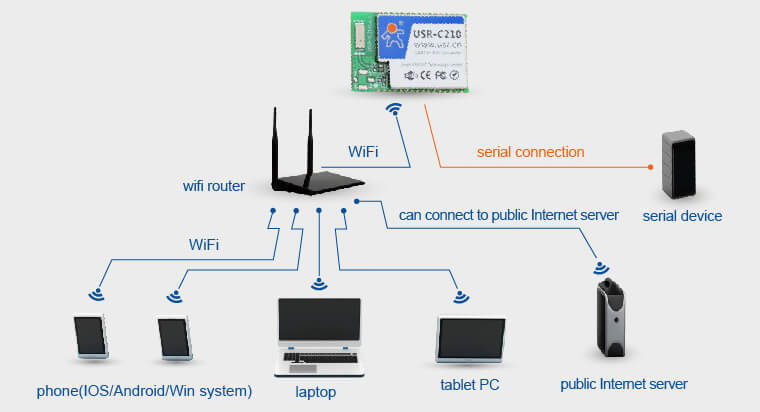 Various parameter setting method
Software Settings
Download settings software, search WiFi Modules in the LAN through the serial port server IP, name, MAC address, or the version number. Then set the parameters you need, otherwise keep the default.
Web-page Settings
1.Open your browser and inter the default IP address of the WiFi Modules.
2.Open the login page of Serial Server, Enter the user name and password (default admin).
3.After setting parameter, Click "Save" and "Restart", then setting will take effect.
Serial AT commands Settings
User can set parameter by module itself without going through another computer to configure. This setting method is used in the following situation: user have to configure IP address and destination IP address on site. AT command can meet the demand. After MCU connects serial server module by TTL (UART), MCU can configure setting by AT command.