Overview
Our lives depend on energy. While many countries are working towards a more sustainable future with development focused on renewable energy sources, oil and gas remain the most popular energy sources of life today.
Challenge
Extraction of energy from oil and gas sources is a complex process that requires a lot of infrastructures. One part of such infrastructure is the pipelines, which are the critical transport mechanism for Oil & Gas industries.
However, pipeline infrastructure is usually placed in remote areas where are many unfavorable factors for construction.
-Harsh Environment
The on-site environment is often accompanied by extreme temperatures and humidity, rain, lightning, and sandstorm.
-Cannot use wired network
Oil pipelines are often located in remote areas, The use of the wired network is costly, and wiring is complicated.
-Power Supply
The grid cannot access the grid to remote areas, making the power supply of related equipment a significant problem.
-Personnel Unreachable
When a gas leak occurs in an oil and gas pipeline, people cannot go to the site to investigate the problem in time, which causes enormous economic losses and potential safety hazards.
Solution
USR-G786-G by USR IOT designed with rugged form can adapt well to temperature and humidity changes, sand and dust weather, and other harsh environments.
Users who install equipment in different areas of the pipeline can collect flow meter information and send gathered data to remote TCP servers by comparing the flow pressure in other areas to determine the leak's location. This process takes advantage of a 4G LTE network with high-speed and low latency to ensure reliable data transmission. The data format can use transparent transmission mode or protocol conversion which convert from RTU to TCP.
We have our own USR Cloud to provide customers with higher convenience for data collection and be able to send alarm information through E-mail and SMS to the person to avoid security risks when the data is abnormal, etc.,
Finally, the low energy consumption design, the minimum power consumption is around 50mA, allowing USR-G786-G to be powered up by combining solar power and batteries.
Topology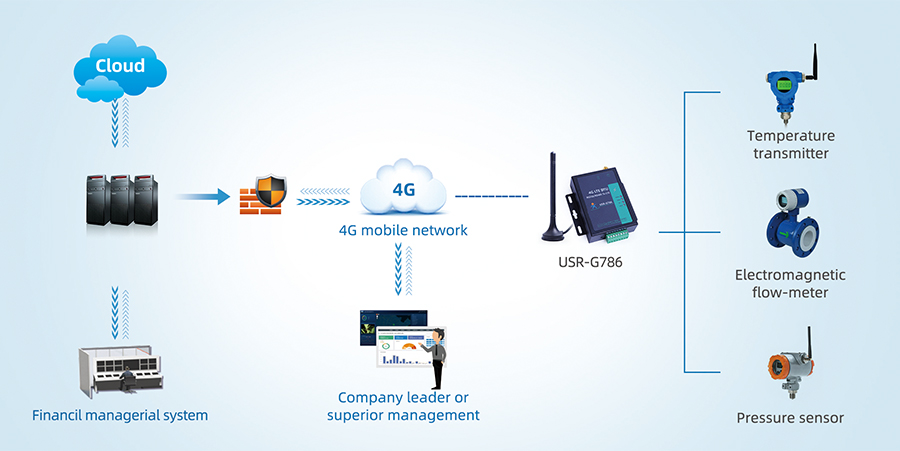 Benefits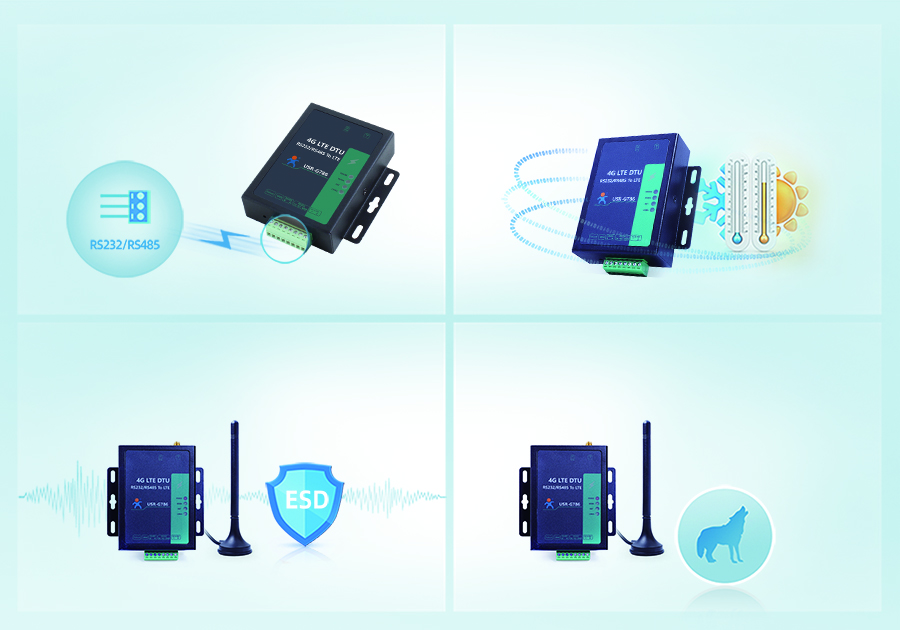 Global Bands:
G786-G supports global frequency bands, has perfect functions and covers most of the conventional application scenarios.
High protection and Solid performance:
G786-G adopts industrial-grade design standards, supports level 4 ESD (electrostatic protection), level 3 Surge (surge anti-interference), and level 3 EFT (pulse anti-interference) to ensure the normal operation of the device and protect it from the external environment.
Ultra-high Working temperature range, which is between -35℃ and 75℃.
Watchdog circuit, stable operation. without downtime in 24 hours.
Low cost:
Wireless data transmission terminal, use the operator's LTE network, without the need for network cabling, equipment installation is flexible and is not affected by the impact of geographical environment, single point cheap equipment, reduced wiring problems and reduce the cost.
Flexibility and Expansibility :
Support standard TCP/IP communication protocol and support customized MQTT+SSL. If necessary, please consult sales and technical personnel.
Built-in Modbus RTU to Modbus TCP converter - G786-G intelligent modem provides very cost-effective connection to RS232, RS485 or Modbus devices - an application can be embedded to assist with "protocol translation".
PUSR Cloud IoT Platform:
Real-time monitor -
With the wireless network, the gas company can transfer the real-time information to the monitoring center. The formation of distributed monitoring network to the monitoring center as the core radiation of the whole network, the online monitoring does not exist blind.
Immediate notifications –
And through LTE Network, the alarm information SMS to inform the relevant operators. Keep abreast of first-hand information security, security risks will be extinguished in the bud.