Application to Intelligent IT Room Monitoring System
Background
In the IT industry, IT room generally refers to the place where Telecom, Netcom, China Mobile, twin wires, electric power, government and enterprises store servers and provide users and workers with IT services. With a small size of tens of square meters, some can place 20 to 30 cabinets. With a lager size of tens of thousands of square meters, some can place thousands of cabinets and even more. In the IT room, there is different servers and mini-machines, such as the brands of IBM, HP, and SUN etc. The servers have many functions, such as SMS and communication service.
There are high requirements to the temperature, humidity and ESD. Any carelessness can cause fire hazards, which will greatly affect people's work and life resulting from financial losses and malfunction of the IT room.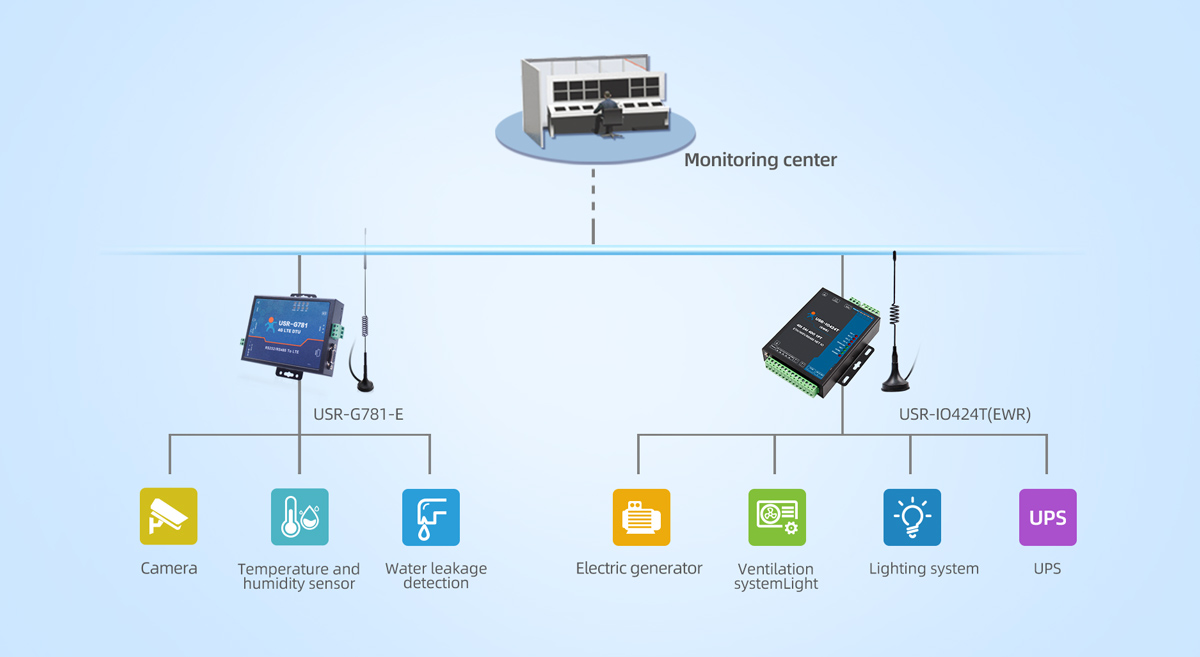 Solutions
USR IOT has launched intelligent IT room monitoring system. Different sensors can get access to the USR-G781 through serial ports or RJ45 and connect to data center through internal and external networks.
Thus, the monitoring system can carry on concentration control and management to the IT rooms through network. Especially for some IT rooms which are widespread, extensive and labour-intensive, the USRIOT intelligent monitoring system will be an important managerial tool for the workers to manage and control the IT rooms.
Products
USR-G781 is a Industrial 4G LTE Modem and Serial Data Transmit Unit, which provides a serial to cellular networking solution. USR-G781-A, American version USR-G781-E, Europe version USR-G781-AU, Australia version
1. 2 RJ45 port, one can be WAN or LAN port and another one can be LAN port.
2. Support VPN(PPTP) client.
3. Support static routing
USR-IO424T-GR
4 way network IO controller
1. 2G GSM GPRS Network
2. Be adaptive to Modbus TCP/RTU protocol
3. Master mode and Slave mode for user to choose