DOUBLE SOCKET TRANSPOND

1. Connection diagram
Your control devices(LOCATIONB)->(LAN)G781->(4G)->PC(LOCATIONB)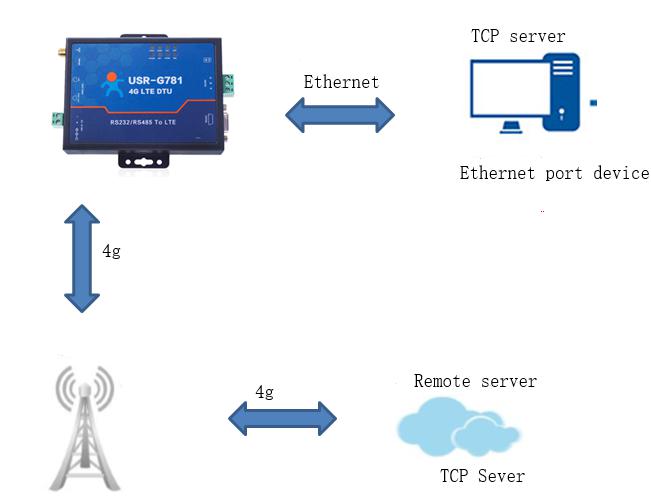 In this project , we need establish two socket to realize your requirement.
Note: there is a special function in G781 which name is DOUBLE SOCKET TRANSPOND
One:
Your device (TCP server )->(LAN port)G781(TCP client) (location A )
Two:
G781(TCP client)->PC(TCP server ) (location B )
At last:
You device-> G781->PC
2. Before your test
2.1 Please log on this link:https://www.pusr.com/support/downloads/usr-g781-setup-software-v1-0-0-0.html
And down load the Utility [USR-G781] Setup Software V1.0.0.0
2.2 Make sure your location B 's PC'S IP address is public network ip address .
2.3 Your device controller can built TCP connection with G781
2.4 The PC in location B has software that can built TCP connection with G781.
3. Hardware connection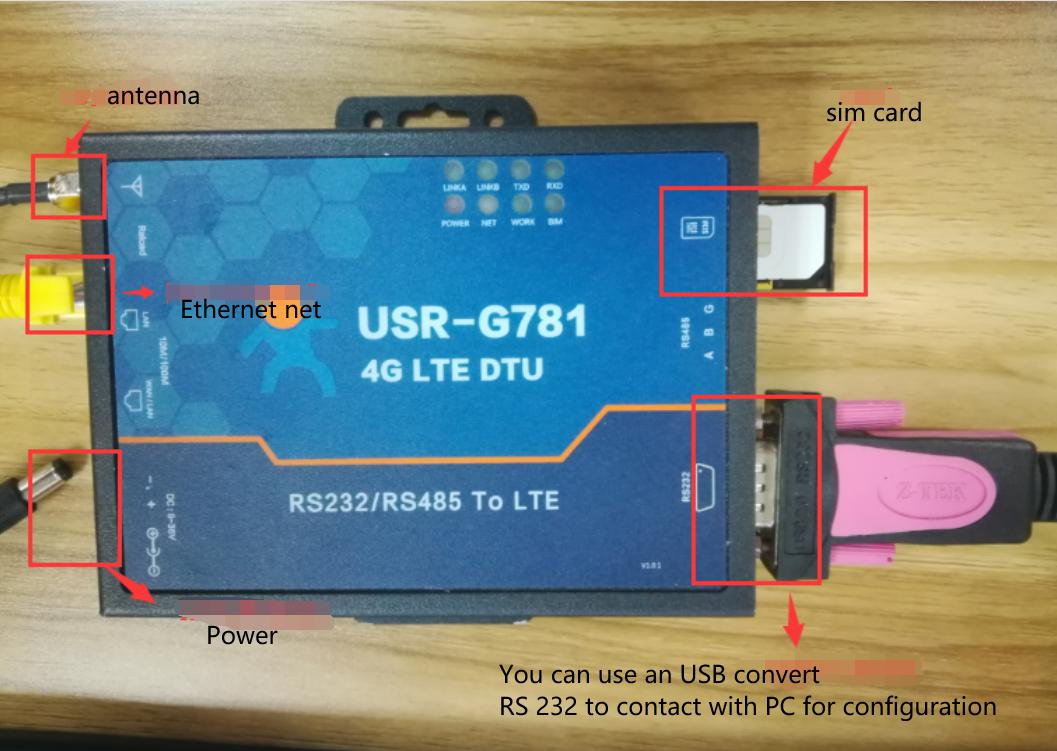 Note: RS 232 converter USB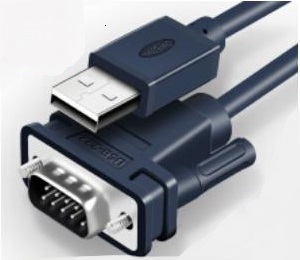 4. Utility configurations
Open this software after download in your PC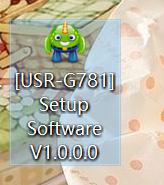 G781 factory default serial port parameter: baud rate 115200, check/data/stop: NONE/8/1.
Open the serial port as shown in the figure below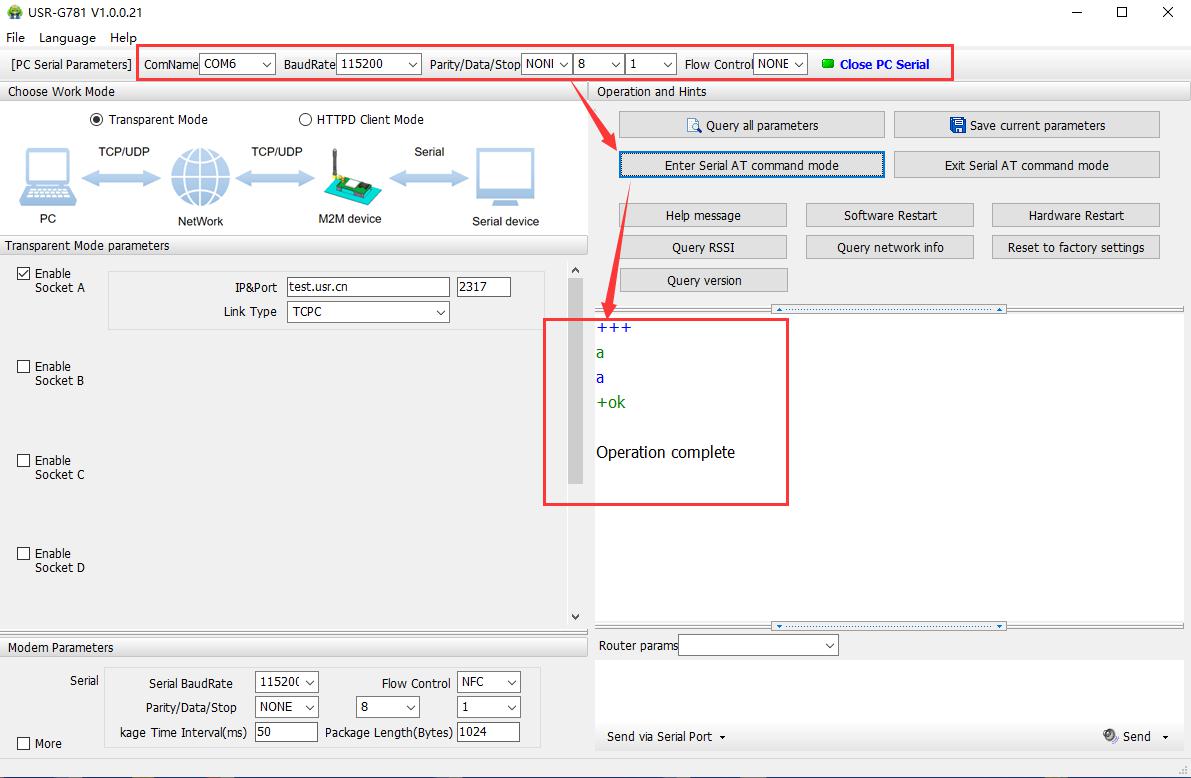 Click to enter the configuration state. If you print +++ a a OK as shown in the figure below, then you enter the configuration state correctly. If the print information as shown in the figure below is not displayed, possible reasons:
1.The serial port number selected is not consistent with the serial port number of the computer connected to the device
2. No serial driver
3. The baud rate is not consistent with the actual baud rate of the device (if you have set the baud rate before and forget what the modified baud rate is, you can restore the factory setting and use the factory default parameters)
4. Hardware problems. Try replacing a serial cable
4.1 Set parameters
Working mode: transparent transmissions mode, server A address and destination port are set to A remote server, such as 94.191.7.252, 7118.
The address of server B is the device IP and port. Such as 192.168.1.100 and 2317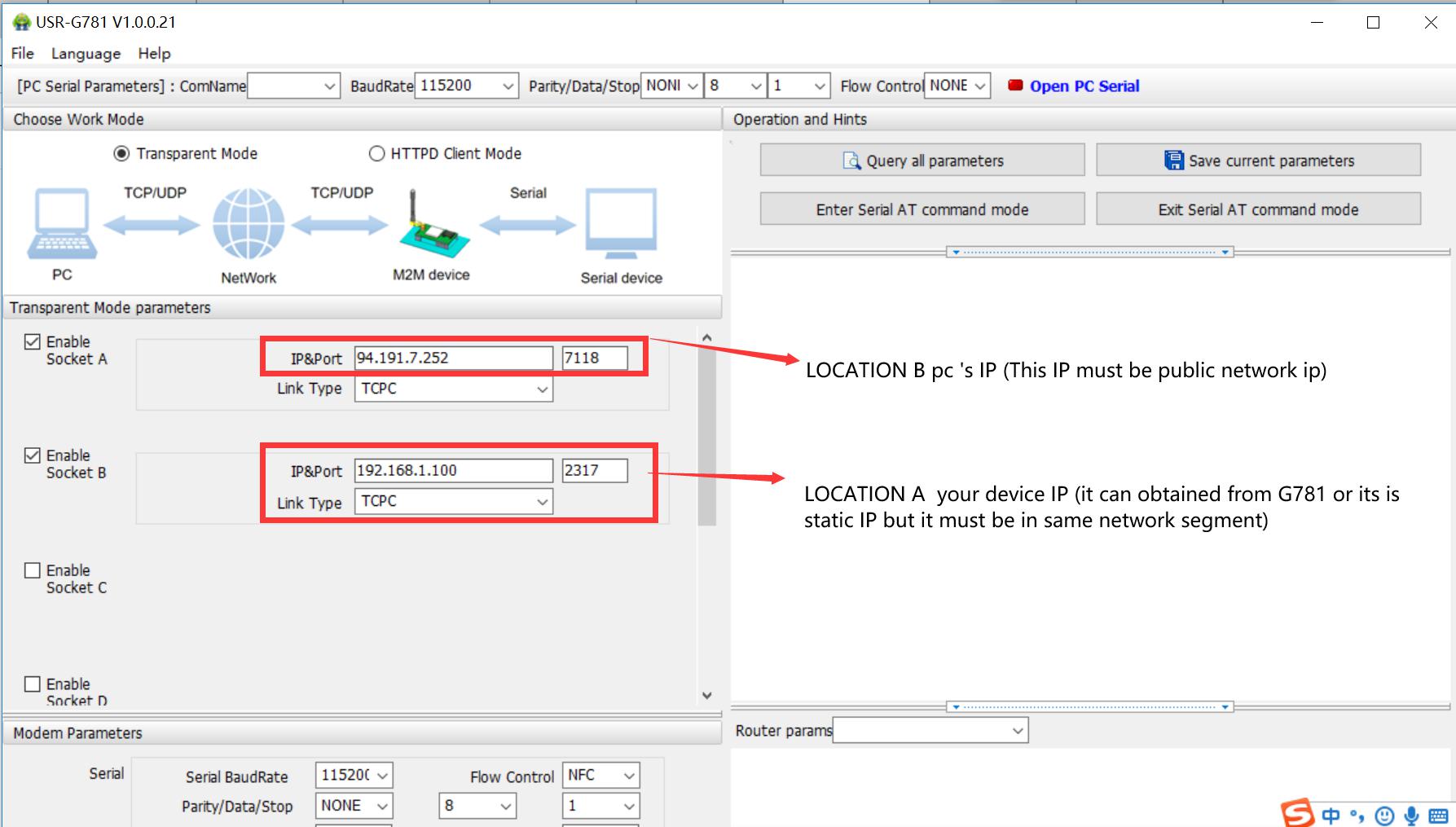 4.2 Enable double socket
Serial port sending instructions:
AT+SOCKPIPEEN=ON
AT+SOCKPIPE=SOCKA,SOCKB
Turn on the double-socket transmissions function (AT instruction should end with carriage return newline)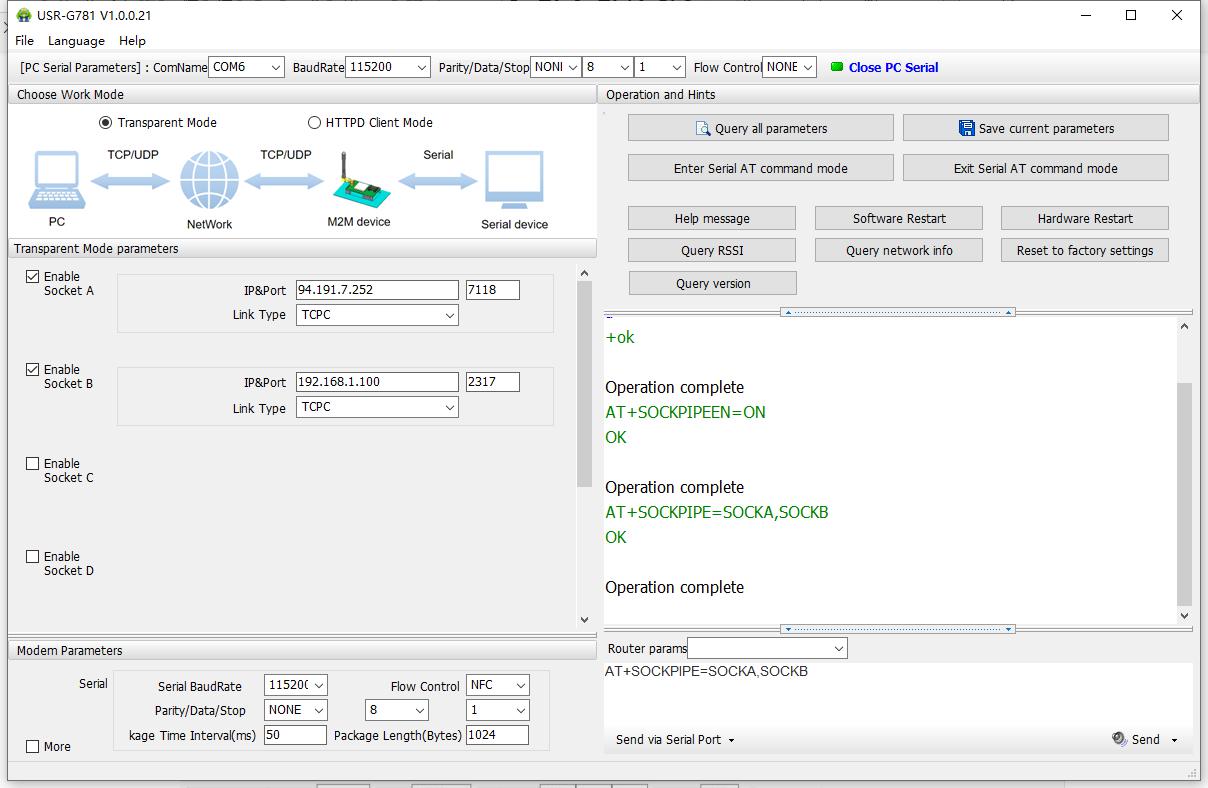 4.3 Restart the device
After enabled the double socket function please save parameter and restart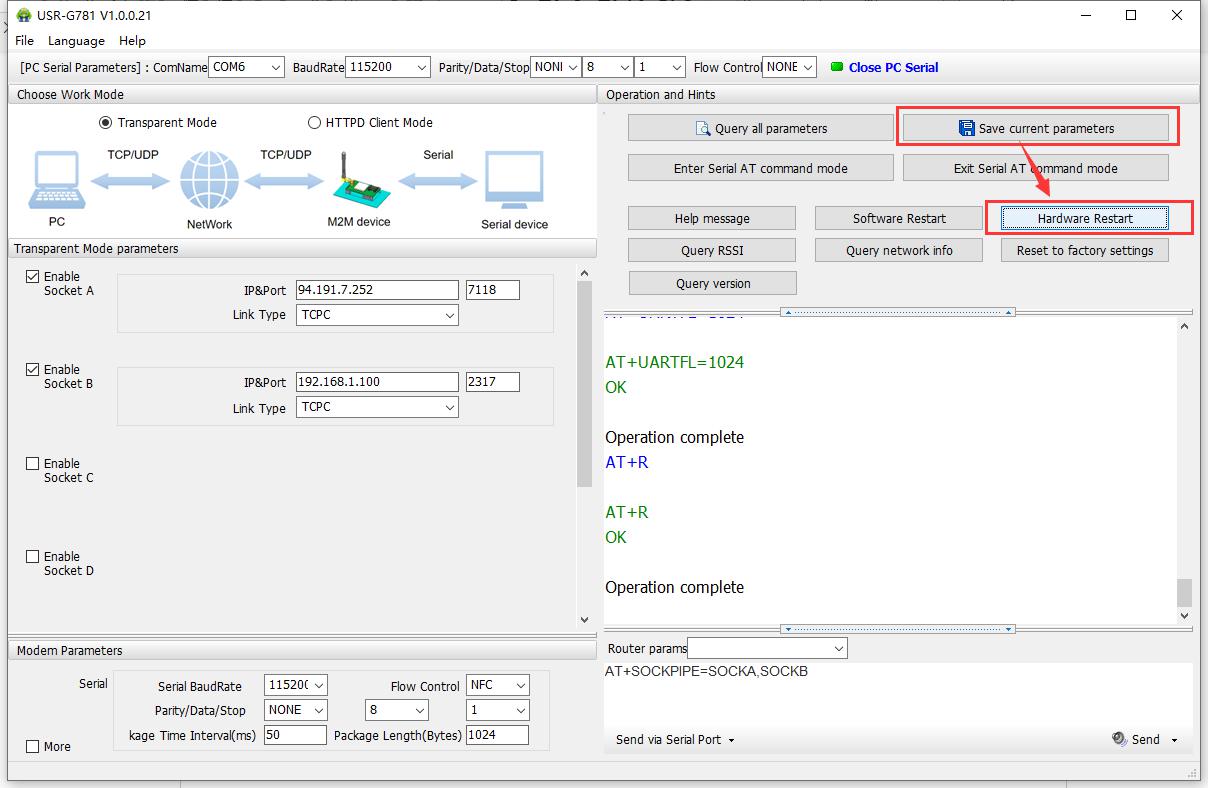 NOTICE: AT command is followed by a carriage return and newline
Set and save all parameters, and restart, wait for the serial port to print the start information usr-g781, indicating that the start is complete, then open the computer port monitoring, G781's link A and link B indicator lights will light up, indicating that the two socket successfully established and connected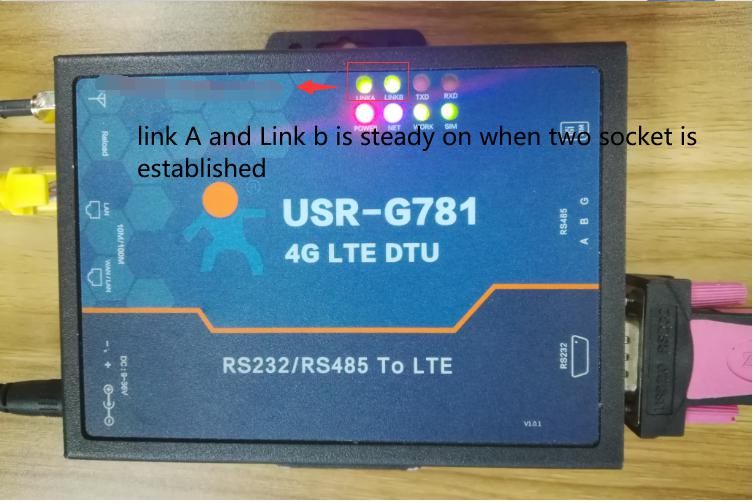 4. 4 Data transmissions
After the setup is complete, you can see the device connection on the server as follows. You can test the two-way data communication to indicate that the test is OK.