Quick Start Guide Ethernet TO RS232/422/485 Serial Converter MODEL USR-TCP232-306
1. Hardware Installation.
Use a standard Ethernet cable to connect the USR- TCP232-306 to an Ethernet router or connect it directly to a PC.
RS-232/422/485 can connect with a PC or other serial port device by serial cables.

2.Serial Port
RS-232 DB9 Male Port

DB9 Male Port

Pin No.
2
3
5
1,4,6,7,8
9
Definition
RXD
TXD
GND
NC
Default is NC, but it can be worked as power pin.
RS-485: A/B; RS 422: T+/T-/R+R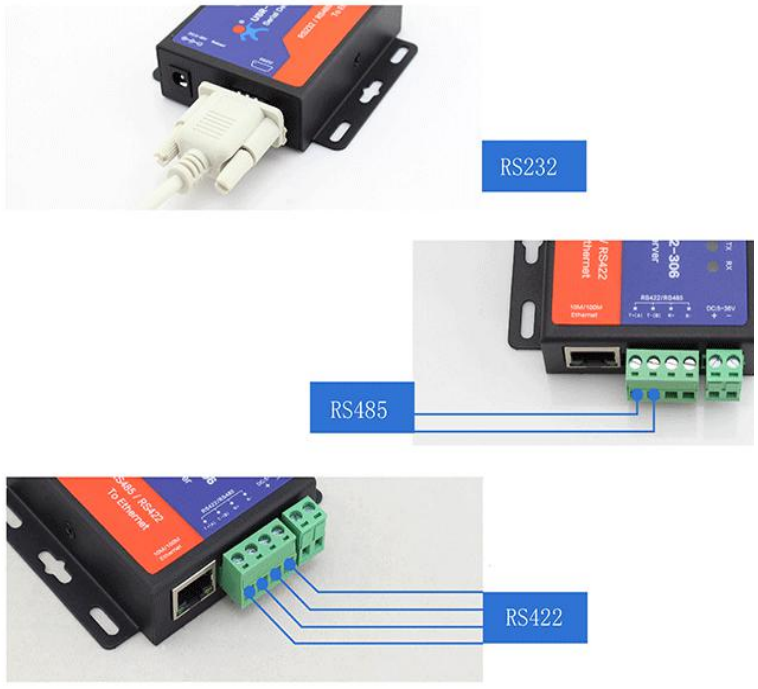 3.Software Installation
Download Setup/Test program from
Install Virtual COM software- VCOM https://www.usriot.com/p/serial-device-servers-rs232-rs485- rs422-to-ethernet/
Note: Be sure you have administrative rights and disable any firewalls/anti-virus software when install software.
4. Configure USR-TCP232-306
Assign a static IP address to your computer in the 192.168.0.2 to 192.168.0.254 range. Mask 255.255.255.0. This is necessary to ensure that your computer can communicate with your USR-TCP232-306. ■ The default IP address is 192.168.0.7 Open your web browser and enter this IP to connect with 306 for configure
Default Parameters
User Name
admin
Password
admin
IP address
192.168.0.7
Mask
255.255.255.0
Gateway
192.168.0.1
Work Mode
TCP Client
Local Port
0
Baud Rate
115200
Target Port
8234
Target IP
192.168.0.201
Parity bit/Data bit/Stop bit
None/8/1