1.Port forwarding(Forward)
Port forwarding allows remote computers on the Internet to connect to a specific computer or service within the private LAN.
1.1 Functional Description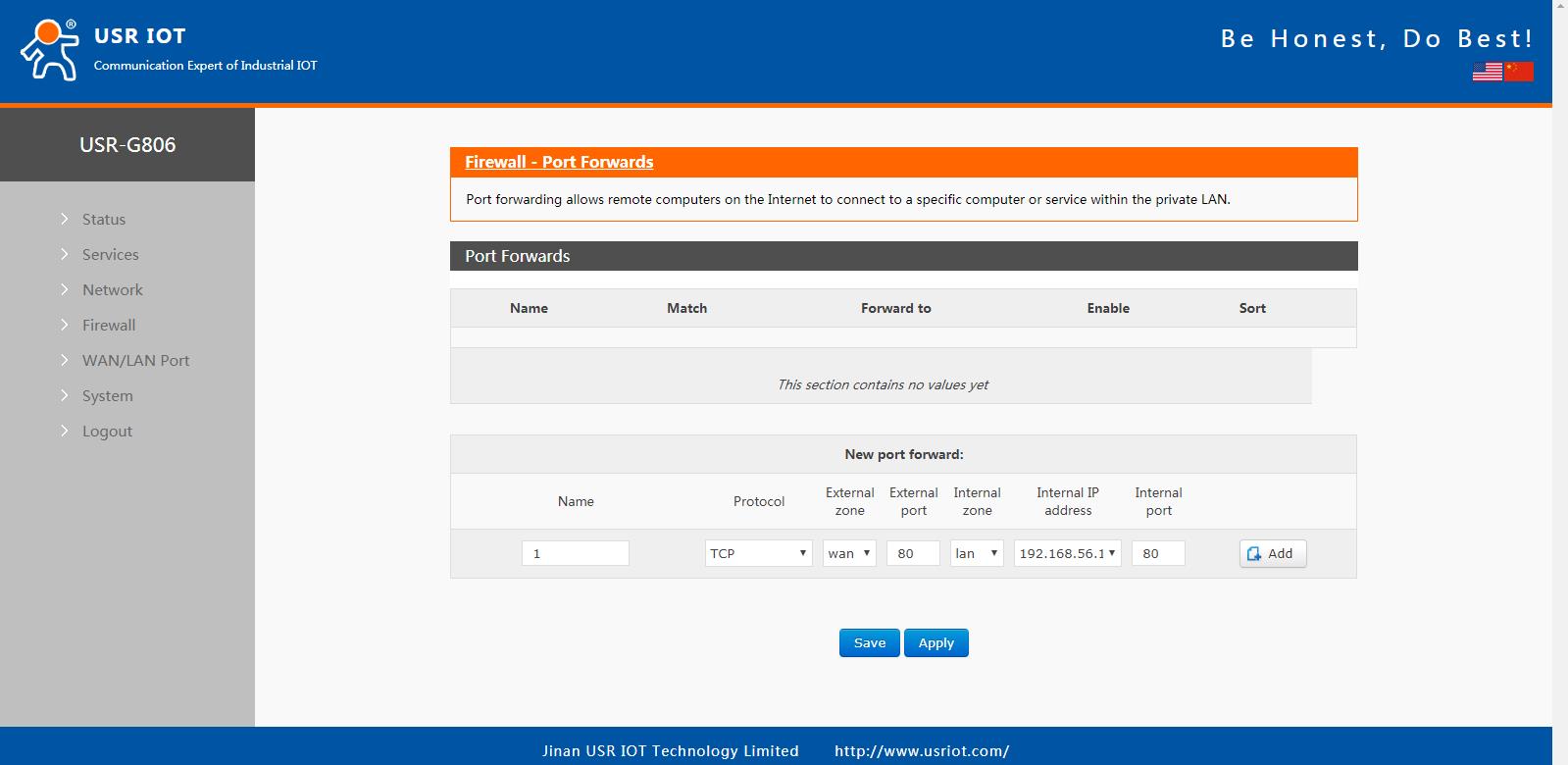 Figure 1 Port Settings Page 1
After setting the forwarding rules, you need to click the Add button on the right, and this rule will appear in the rules bar.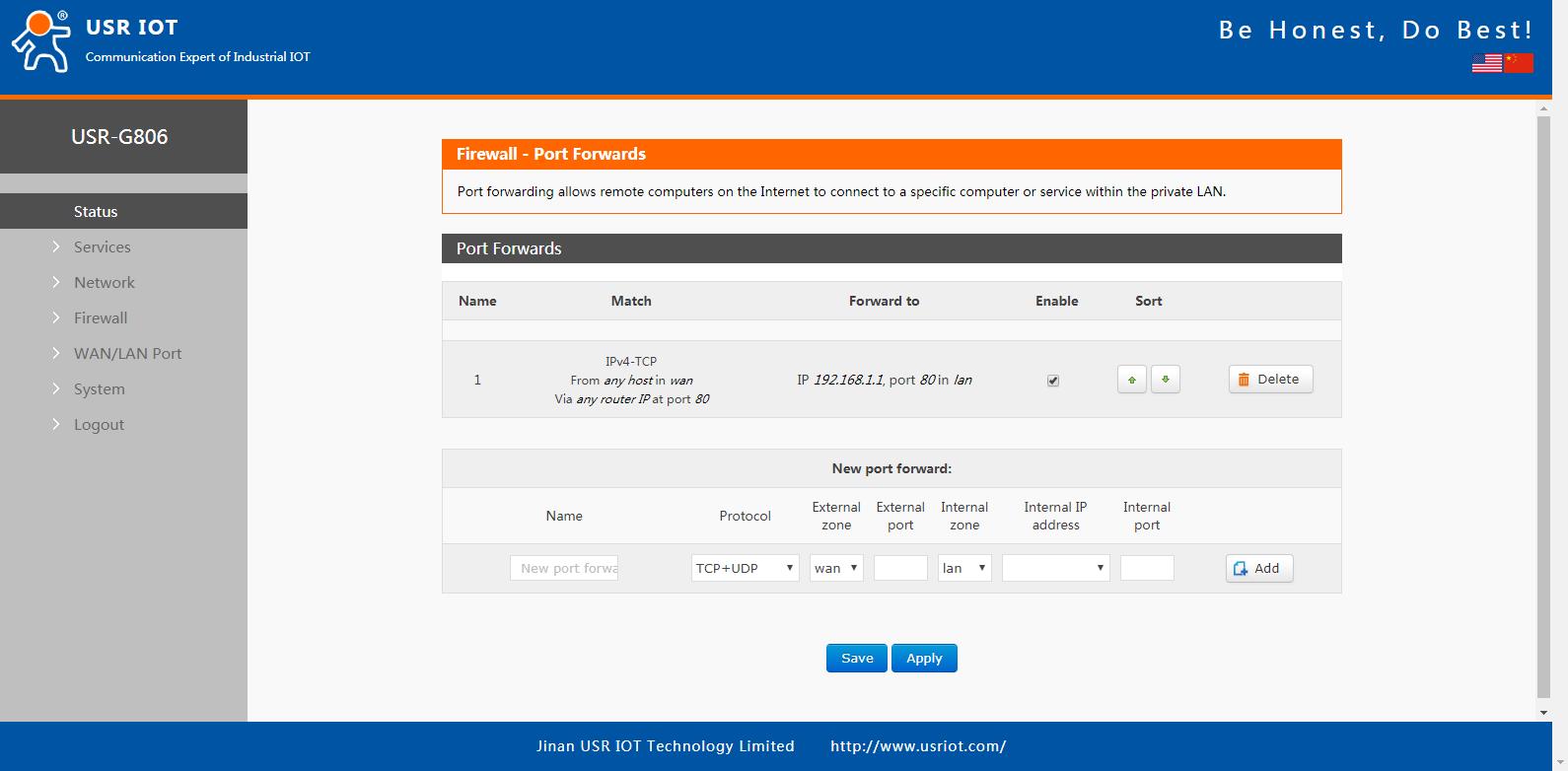 Figure 2 Port Settings Page 2
Then click the "Save & Apply" button in the lower right corner to make the settings take effect.
The above settings, 192.168.1.1:80 is the router's own web server. If we want to access a device in the LAN from the external network, then we need to set the mapping from the external network to the internal network. For example, set the external network port to 81, the internal network IP to 192.168.1.1, and the internal network port to 80.
When we access port 81 from the WAN port, the access request will be transferred to 192.168.1.1:80.
1.2 Port Mapping on 4G Interfaces
The software and hardware parameters required for the test are as follows.
Table 1 Port Mapping Parameter Table
Use environment

content

description

router

4G industrial router

External access to devices under industrial routers(PC)

SIM card

Dedicated APN card(fixed IP:10.201.20.47)

PC side

LAN PC IP

192.168.1.247

PC listening port

12129
Fixed first, fill in the correct APN address on the industrial router,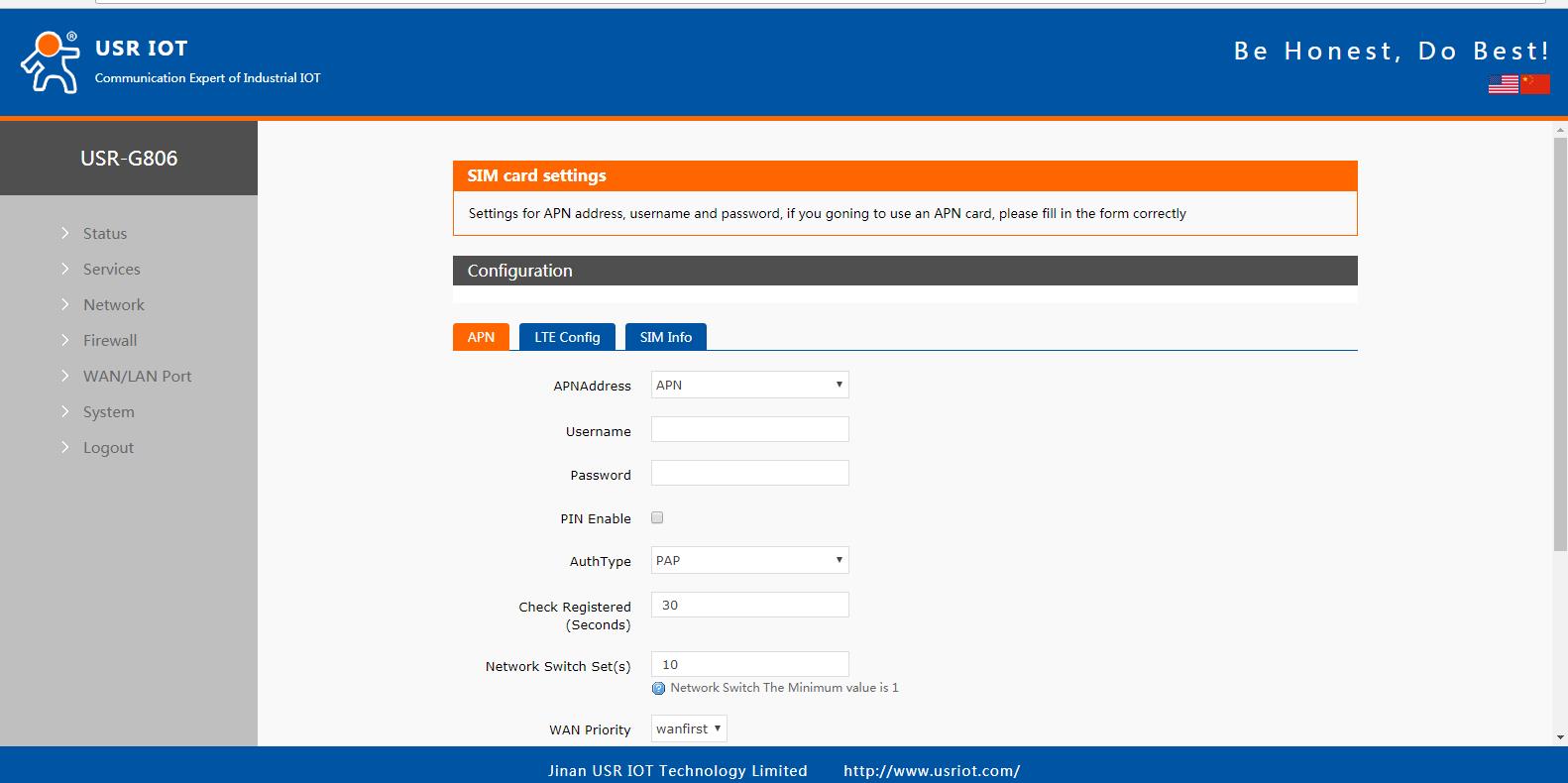 Figure 3 4G network port mapping one
Then, add the corresponding port mapping,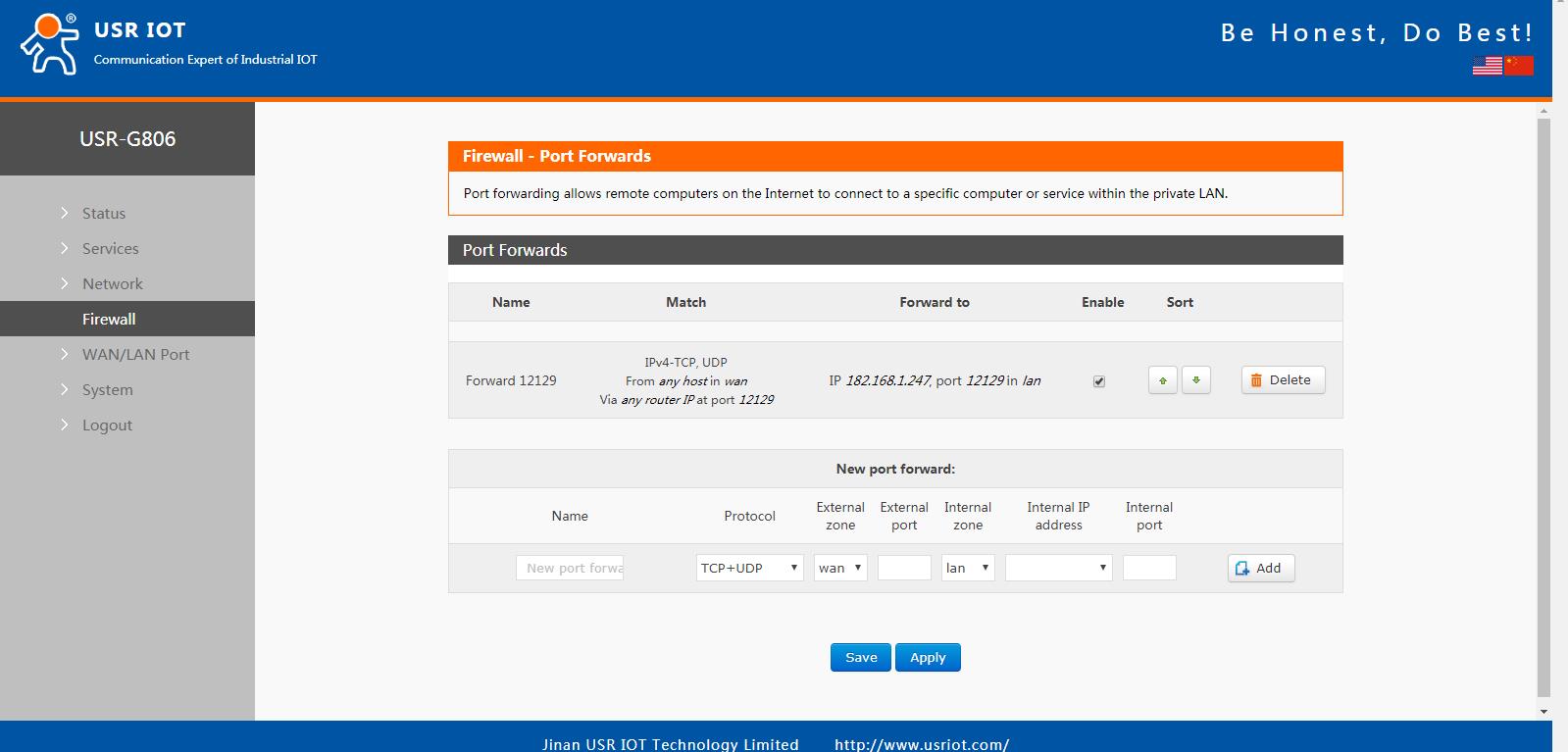 Figure 4 4G network port mapping II
Finally, after setting all the parameters, restart the industrial router.
After the restart, the industrial router is successfully connected. Check that the IP address obtained by the 4G interface of the router is 10.201.20.47, and the port 12129 is monitored on the PC.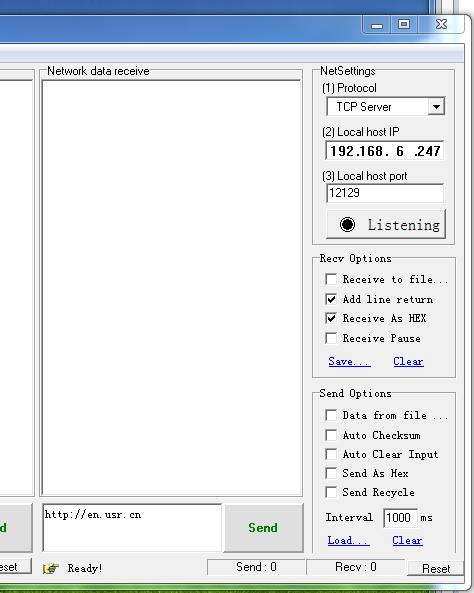 Figure 5 4G network port mapping test
You can see the debug assistant. You can receive connection requests from external clients (which can be another 4G router, build them yourself) and perform data communication.
2.NAT DMZ
Port mapping is to map a designated port of the WAN port address to a host of the intranet. The DMZ function maps all the ports of the WAN port address to one host, and sets the interface and port forwarding in the same interface. The port is not filled, you can,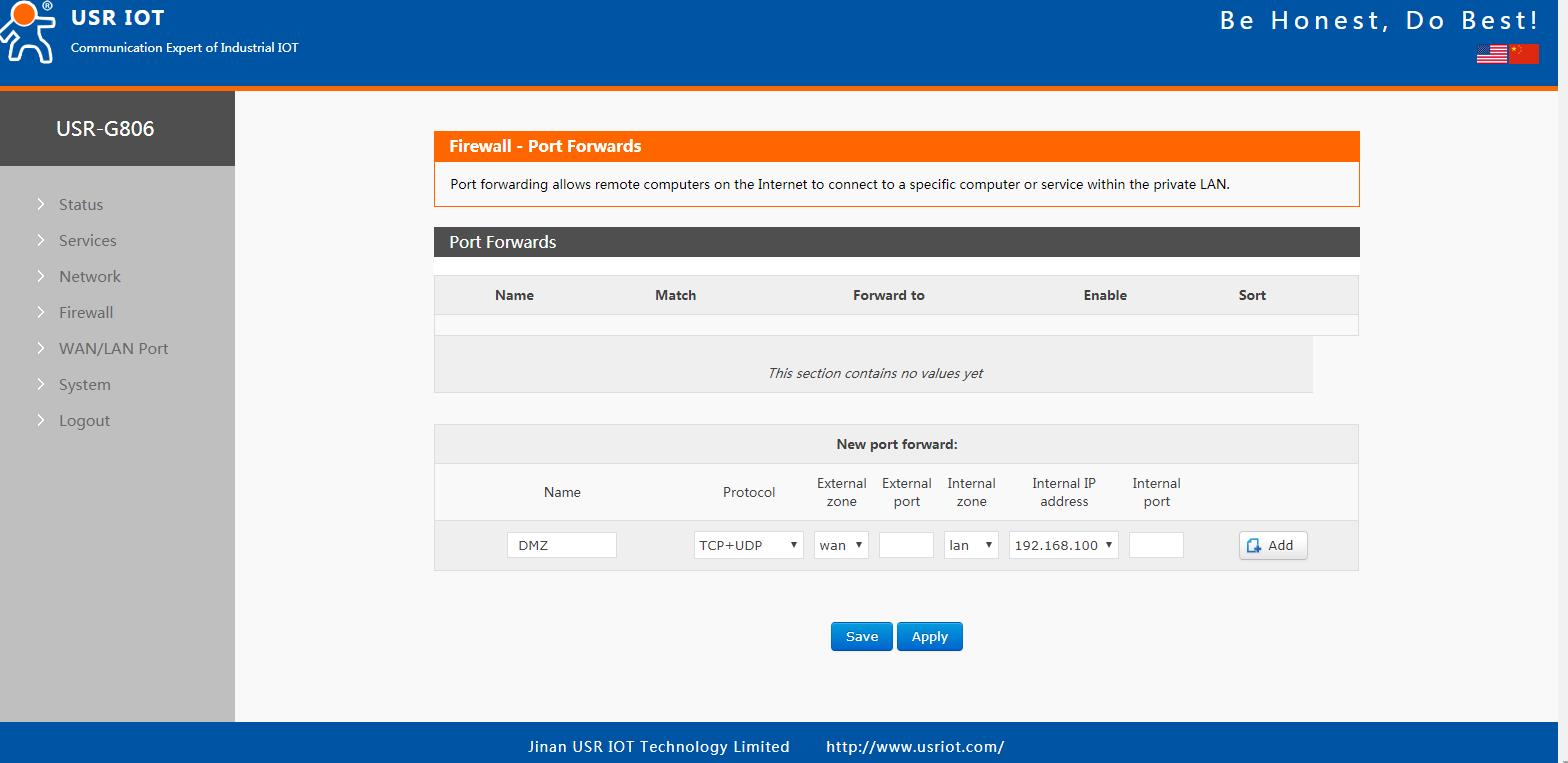 Figure 6 DMZ setting 1
Click Add and save

Figure 7 DMZ setting 2
As shown in the figure, all ports of the WAN port address are mapped to the host network 192.168.1.100.
Note:
Port mapping and DMZ functions cannot be used simultaneously