USR-M300 High Performance Edge IoT Gateway
Powerful Edge Computing, Expandable IO Modules, User Self-Development
The USR-M300 is an industrial-grade edge computing IoT device with modular
design, so users can expand IO as needed. This device comes with powerful
edge computing capabilities, which can reduce cloud-end computing resources,
and reoport data to Cloud platform actively. It can access the Internet via
Ethernet port, ADSL and LTE cat4 cellular network to achieve easy network deployment.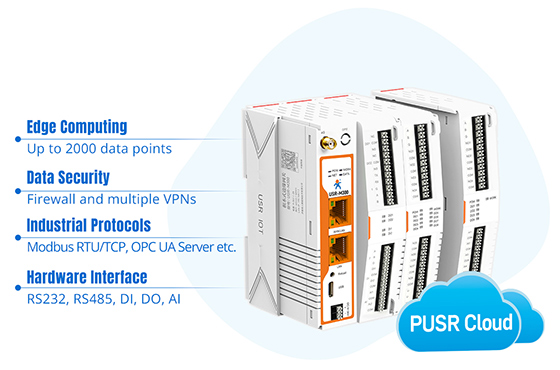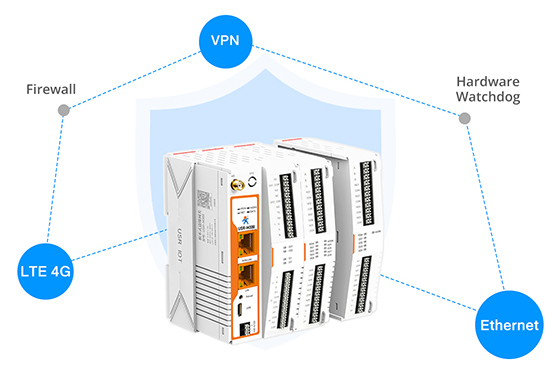 Rich and Highly Reliable Connectivity
Multiple Internet access methods is offered: Global frequency LTE 4G/3G
& Ethernet port & ADSL.
Router fucntion is supported: Routing, VPN and firewall.
Super Powerful Edge Computing Capabilities
Powerful Chipset: Dual-core professeor, the main frequency is up to 1.2GHz, Linux systom.
Parallel Acquisition: Actively collect data from serial ports, network ports, and I/O devices at the same time, with up to 2000 data collection points.
Flexible Reporting: Users can set reporting conditions and select reporting channels based on your requirements.
Alarm Function: Discover exceptions on the gateway in real time, so that users can fix the exceptions quickly to avoid economic losses.
Support Custom Self-Development
Support graphical programming to quickly develop edge computing functions to meet unique functional requirements.
Support users to use Python to develop applications, provide rich APP examples, and quickly get started with applications.
Modbus Gateway
Suitable for a variety of industrial IoT scenarios, supporting Modbus RTU/TCP protocol conversion and other popular PLC common protocols.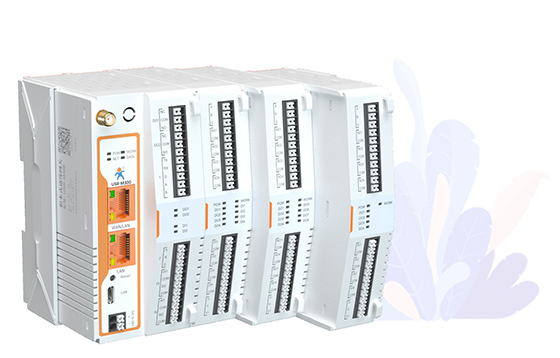 Modular IO Gateway, Easy to Extend
Modular design, uses can expand different types of IO modules: DI, DO, AI, AO, IO.
Easily slide to achieve quick access to the IO expansion machine, to meet the needs of more scenarios.
Industrial Design, Easy Installaton
Level 3 EMC protteciton, IEC6000.
Wide power input range: DC12~24V.
Wide operating temperature: -25~75℃.
Installation: Wall mounting & Din-rail mounting.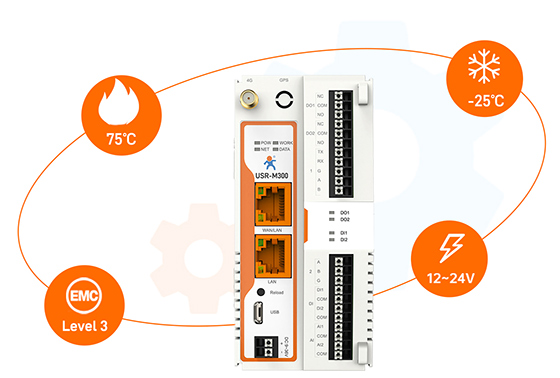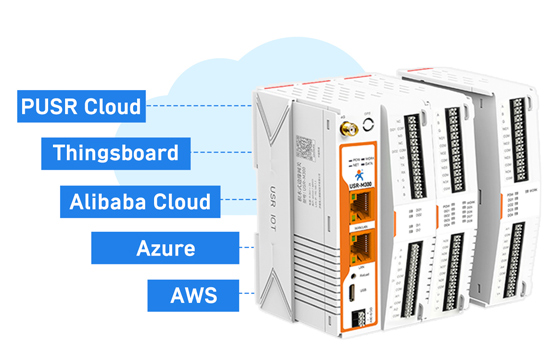 Support Quick Access to Mainstream
Cloud Platform Services Supports quick access to PUSR Cloud, Alibaba Cloud and AWS.
Supports standard MQTT and TCP protocols.
It can also quickly connect to public cloud platforms such as ThingsBoard and Azure.
Dimentions and Interfaces
Serial Ports: 1*RS232/485, 1*RS485.
Ethernet Ports: 1*WAN/LAN, 1*LAN.
IO: 2*DI, 2*DO, 2*AI(Current).
Power Supply: DC 9~36V.
Antenna: SMA-female.
Reload: In the case of forgetting the parameters, long press to restore the factory settings.