USR-G806w
Better Wi-Fi Performance 4G Cellular Router
USR-G806w is an industrial 4G cellular router from PUSR. It also comes with 3 Ethernet ports and enhanced Wi-Fi, which can provide users with rich networking methods. This device has undergone rigorous EMC testing, which allows the product to work in very harsh industrial environments such as Bus & Truck, intelligent Reboot and so on.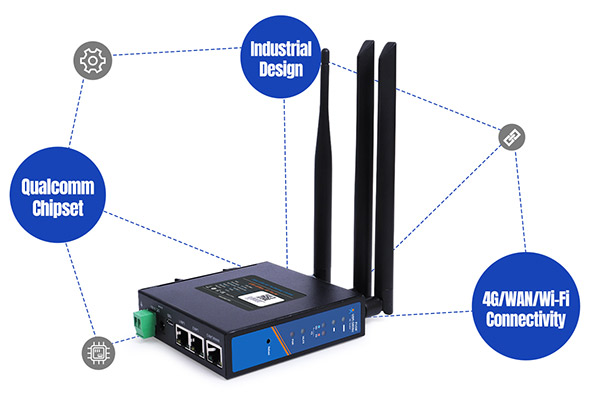 ---
Selection of 4G Cellular Router G806w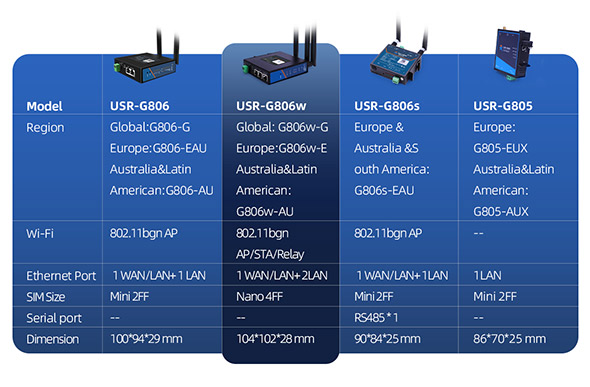 ---
Your Data Security, Our Responsibility
1. Comprehensive VPN protocols support ensures your data security,including OpenVPN, IPsec, PPTP, L2TP and GRE.
2. Multiple encryption method make financial-grade data transmission.

---
Enhanced OpenVPN Design
1. Easy to use, but also professional
2. Allows to connect to three different OpenVPN servers as a client and also function as an OpenVPN server.
3. One-click import .ovpn config-file and PKCS#12 cert-file import Say goodbye to the complex parameter.
4. Available to OpenVPNR CloudConnexaTm,OpenVPN Access Server, OpenVPN @AWS EC2,Open source OpenVPN,OPNsense,pfSense and other OpenVPN Servers.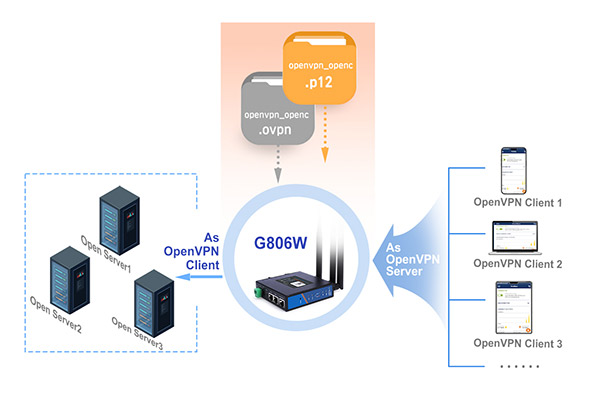 ---
Qualcomm Solution, Performance Ensurance
The core Wi-Fi chip (master control) and 4G cellular module adopt the industry-leading Qualcomm solution to ensure the performance and stability of the device during using.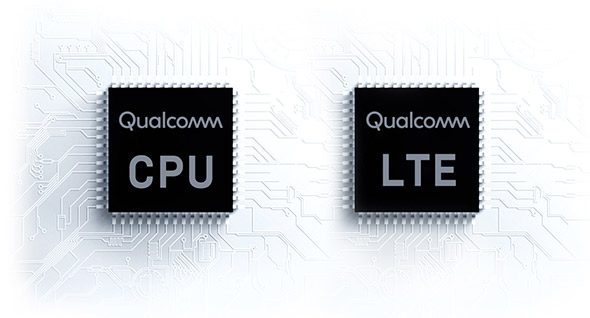 ---
WiFi Enhance, More Coverage
1. Including 2 professional FEMs Effectively improve wireless transmission intensity and reception sensitivity.
2. Adopt 5dbi high gain dual Wi-Fi antenna Wireless speed up to 300Mbps.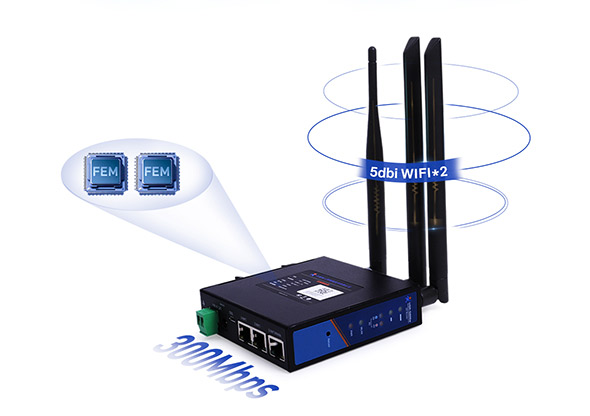 ---
Multiple Networking, Failover and Backup
Cellular, wired and Wi-Fi internet access modes can be switched freely. Service can be recovered in time when a network exception occurs.
Ethernet & Wi-Fi terminal can connect to the router for data transmission.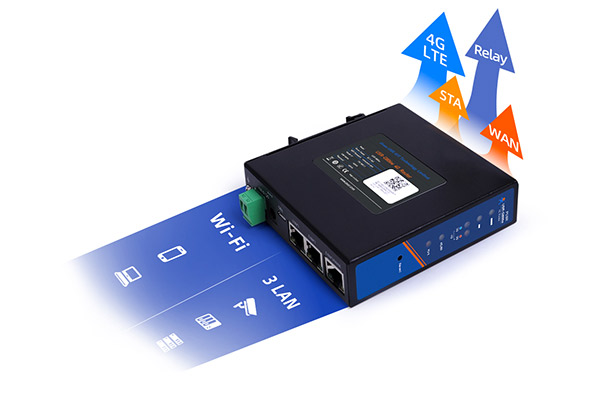 ---
Remote Management, Anytime Anywhere
PUSR Remote Management platform is an all-in-one user-friendly loT platform providing a smart way to manage your device remotely, securely and reliably. Users can access to built-in web page remotely to achieve Parameter Configuration, Device Reboot and Firmware Upgrade.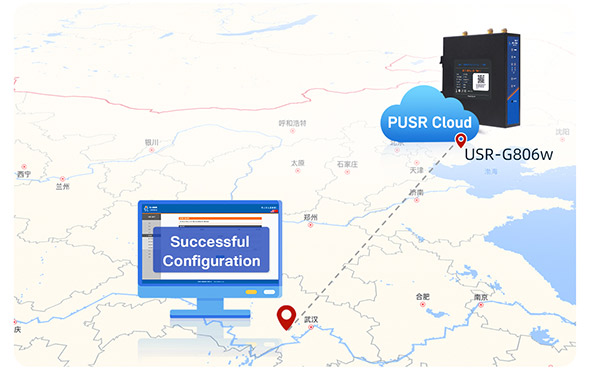 ---
Network Abnormal, Real Time Alarming
1. Device offline alarm, weak signal alarm, network traffic overrun. All of this can be alarmed in real time.
2. Multiple alarm push ways such as E-mail, SMS. Repeated push supported.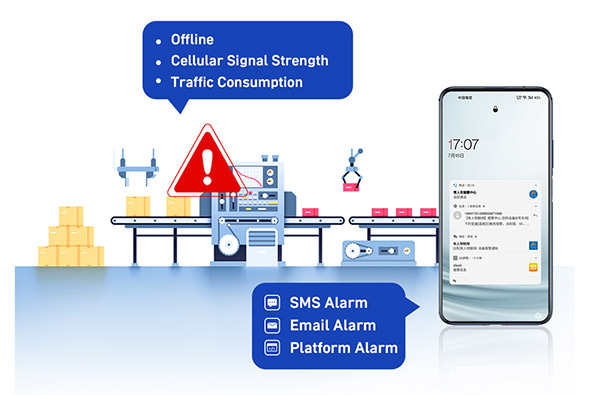 ---
Industrial Grade Design, High Reliability
● Watchdog: Hardware & software dual watchdog. 7*24h stable operation without downtime.
● Surge/EFT Protection: Protect device against damage caused by instantaneous current interference in circuit, such as lightning stroke, power switch, etc.
● ESD Protection: Prevent electrostatic damage to equipment,such as human electrostatic, dust electrostatic, electric arc, etc.
● Wide Operation Temperature: -20℃ ~ +70℃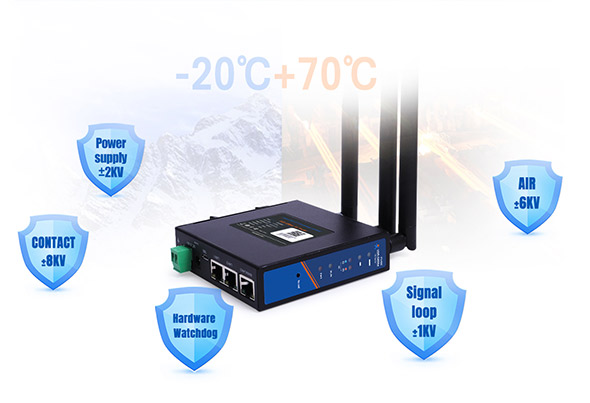 ---
Product Details
Dimension: 104*102*28mm
Ethernet Ports: 1*WAN+2*LAN or 3*LAN
Wi-Fi: IEEE 802.11 b/g/n, 2*RP-SMA-K antenna connector
Power Supply: 2-pin terminal block & DC socket redundency
SIM Card: Mini SIM(2FF)
Installation: Wall Mounting & DIN Rail Mounting Available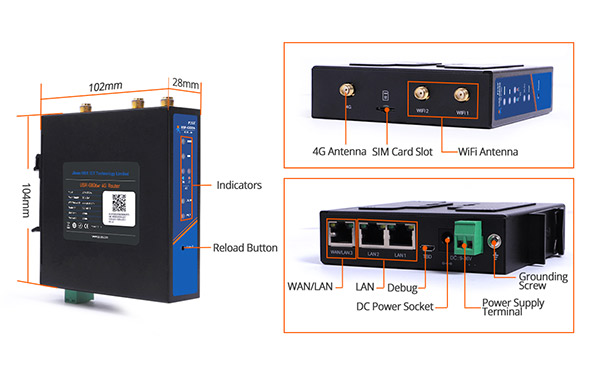 ---
Packaging List
1*USR-G806w
2* Wi-Fi Rubber Antenna
1*Power Supply
1*LTE Rubber Antenna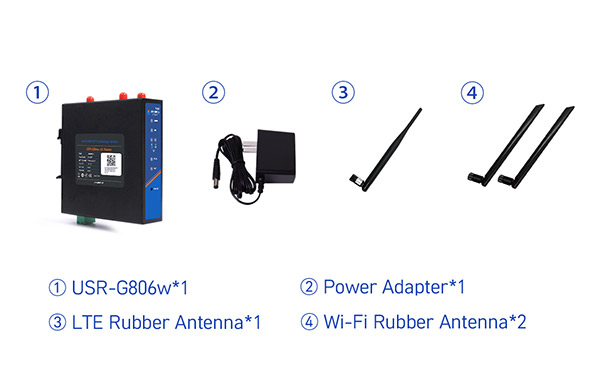 ---
Ideal Applications
This industrial routers can be applied to various scenarios, including intelligent robots, self-service shared devices, and public transportation, such as freight vehicles, allowing you to have full control over your devices.