FAQ of Configure USR-Wifi232-610 in V LAN Environment
Question:
【What is the product model?】:Serial to WIFI Converter-USR-Wifi232-610
【What's the firmware version?(You can get firmware version from AT command AT+VER or settings webpage)】:6.01T.25
【How do you connect and configure the USR device?】:Through RJ45 Connector
【What's your application? What do you want to realize?】:Connect With Weighing Indicator through RS232 Port to Send Weight Value through LAN in PC
Problem :
We Configure this device and working fine in 1 to 1 LAN area but This device is not connecting in V LAN Network.
When We check, if we connect This device through WiFi then their is provision to enter Device IP Address, Getaway & Subnet Mask
But if We connect through LAN Wired Network, in Device their is only provision to enter Device IP Address and Subnet Mask Only But Not Available Gateway IP.
you are requested to please provide provision to install this device in V LAN Area or how can we enter Gateway for LAN Wired.
Answer:
First make PC join the WIFI of Wifi232-610
enable the Ethernet function,and set the enthernet work mode: LAN port
save and restart the device, then you can send data from serial port to LAN port
when Wifi232-610 work with LAN port, it work as a router
if wifi232-610 can't meet your request, you can consider module USR-TCP232-410S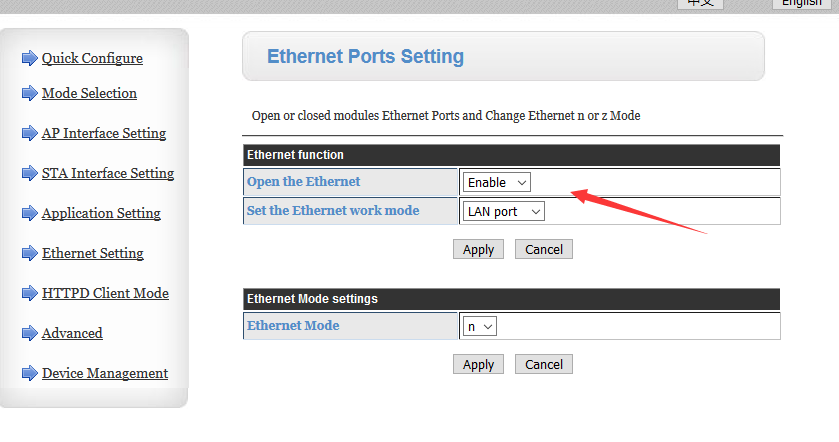 Question:
Device is working fine if connect 1 to 1 LAN Connection.
But When connect this device in V LAN Network there we unable to get data which send by RS232.
We would like to know that if We Configure this device in STA Mode then Which place we need to device Device IP address, Gateway & Subnet Mask?
Please suggest SATA Mode Configuration, LAN Wired need to active.
Answer:
you can send AT commands through serial port use the software in the annex.
AT commands can query/set parameter of the device
the AT commands you can see on:
https://www.usriot.com/download/WIFI/USR-WIFI232-A2&B2-AT-Command-Set_V1.0.0.pdf