Can Serial to Ethernet Converter Using multi ID slave (Daisy Chain Topology) in Application?
Question:
We need serial to Ethernet converter USR-TCP232-410S using in application of power meter monitoring. Can USR-TCP232-410s using multi ID slave (daisy chain Topology) in application?
Answer:
Do you need to connect multiple serial devices to the serial port of USR-TCP232-410s?
USR-TCP232-410s's RS485 serial port can connect multiple serial devices, and the functions of USR-TCP232-410s are only transparently transmitted. If multiple serial devices are connected, you need to distinguish between the serial device and the data sent by the host computer. USR-TCP232-410s only transmits the corresponding data to the designated device.
Question:
But how to configure USR-TCP232-410s with multiple ID slave (serial device)?
We see only 1 (device ID) can connect? Please advise.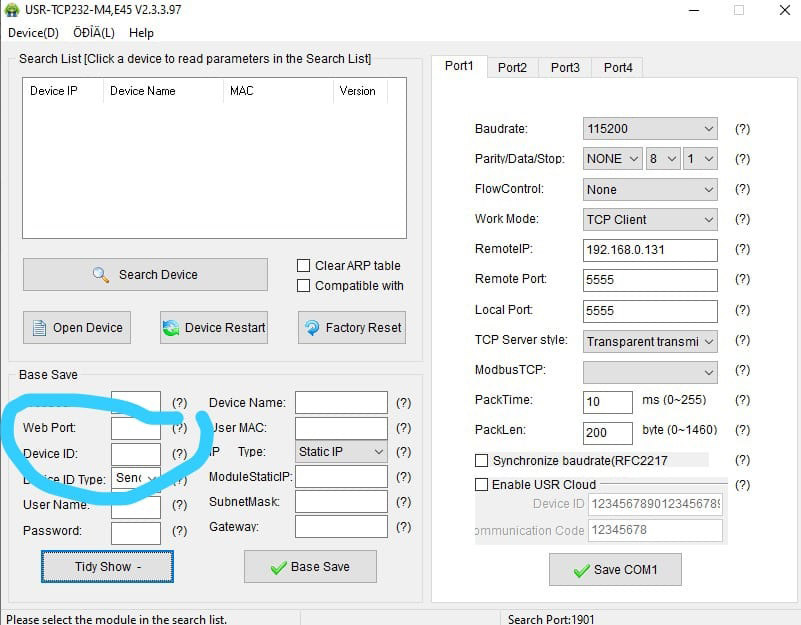 Answer:
The parameters in the setting software are all USR-TCP232-410s parameters. You need to search for the device first, and these parameters will be displayed, and you do not need to configure them yourself.
USR-TCP232-410s factory default is static IP: 192.168.0.7. If you are using for the first time, you can set your computer to a static IP on the same network segment, and then connect USR-TCP232-410s and your computer directly through a network cable. Then search the device with the setup software. After finding the device, click this device, and then you can set the parameters of USR-TCP232-410s.
https://www.usriot.com/support/downloads/TCP-Server-mode-and-TCP-Client-mode-manual_V100.html