httpsd Client in Serial Port Settings
Question:
【What is the product model?】:
Serial device server
model: USR-TCP232-304
【What's the firmware version?(You can get firmware version from AT command AT+VER or settings webpage)】:V4018
【How do you connect and configure the USR device?】:Ethernet (WEB)
【What's your application? What do you want to realize?】:
I build box electronic locker. i use controller connected with USR-TCP232-304 via RS485. My GUI working on PHP. I want to establish connection between TCP232-304 and Server via https protocol.
I need more Information about configuration this option ("httpsd client" in serial port settings). Can You give me some manual, best if there will be code examples on php how to make communication.

Answer:
Here attached the information of httpsD Client.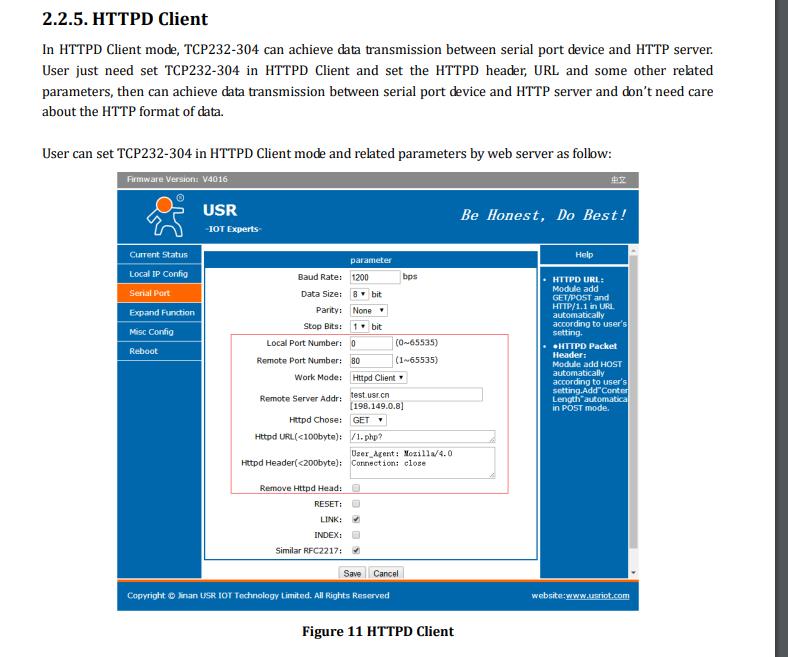 For more information about the httpsD Client Mode of serial device server USR-TCP232-304, please download from:https://www.usriot.com/support/downloads/user-manual-usr-tcp232-304-user-manual.html