Introduction of RS232 / RS485 Serial Wireless Servers
USR-WIFI232-630 wifi serial server is a wireless networking server, which is used for project of RS232/RS485 serial equipment to WIFI or Ethernet networking. and It has 2 channel RJ45 port.
Features of RS232 / RS485 Serial Wireless Servers
httpsd Client: serial data submitted to server by https (GET/POST)
Websocket: support bidirectional transparent transmission between built-in webpage and serial
DNS/DHCP: support dynamically to acquire domain and IP
Username/Password Verification
Modbus: support mutual conversion between Modbus TCP and Modbus RTU
TCPB Function: support 2 network links and send data to 2 targets
Customized MAC: users can define the MAC address by themselves
Built-in Webpage
Firmware Upgrade through Webpage
ID Registration: send ID package when TCP establishes connection,or each data automatically increases ID packet header
Virtual Serial Software (USR-VCOM) automatically connect devices
Baud Rate Sync: network protocol dynamically sets serial parameter
485 Protection: overcurrent protection, lightning protection, anti-static
Power Protection: reverse connection protection, anti-static, anti-surge
ESD Protection: pass the test of 8KV contact discharge
Application Field of RS232 / RS485 Serial Wireless Servers
Serial RS232/RS485 to Wifi or Ethernet
WiFi remote control and monitoring, TCP/IP and WiFi coprocessor
WiFi remote control toy such as aircraft and cars
WiFi Internet radio, camera, digital photo frame
Medical instrument, data acquisition, handheld device
WiFi fatness testing machine, smart card terminal, Smart Home
Instrument, equipment parameter monitoring, wireless POS machine
Modern agriculture, military field and other wireless related secondary development applications
Structure of RS232 / RS485 Serial Wireless Servers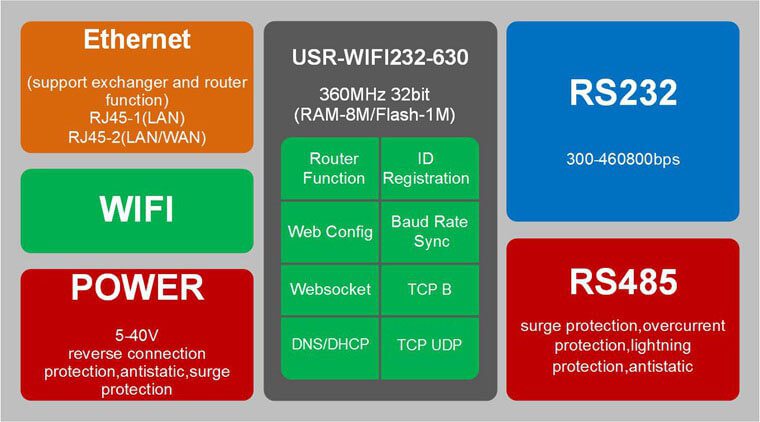 Application of RS232 / RS485 Serial Wireless Servers
1.630 Works as AP (equal to WIFI)
2.630 Works as STA (connect to wireless router)
3.630 Used to Extend Serial

4.Virtual Serial Software (USR-VCOM) Application

5.Daisy-chained Connection – Double Ethernet Application

Simple Transparent transmission
Transparent transmission means that whatever is transferred, our device plays the role of a channel and sends data to the target without modification. On-site monitoring equipment sends data to
Wireless Device Servers
transparent data transmission terminal by itself port, the terminal CUP receives data by serial port and package data.
Various parameter setting method
Software Settings
Download settings software, search Wireless Device Servers in the LAN through the serial port server IP, name, MAC address, or the version number. Then set the parameters you need, otherwise keep the default.
Web-page Settings
Open your browser and inter the default IP address of the Wireless Device Servers.
Open the login page of Serial Server, Enter the user name and password (default admin).
After setting parameter, Click "Save" and "Restart", then setting will take effect.
Serial AT commands Settings
User can set parameter by module itself without going through another computer to configure. This setting method is used in the following situation: user have to configure IP address and destination IP address on site. AT command can meet the demand. After MCU connects serial server module by TTL (UART), MCU can configure setting by AT command.