Configuration of Serial to WiFi Converters USR-W610 by Web-page
Serial to WiFi Converters USR-W610: Configuration by Web-page
1. PC joins into the wifi of USR-W610, SSID of USR-W610 is USR-W610­_XXXX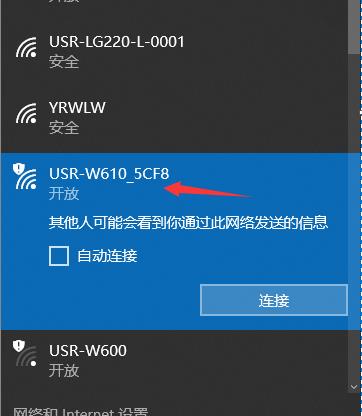 2. Enter 10.10.100.254, the account and password are both admin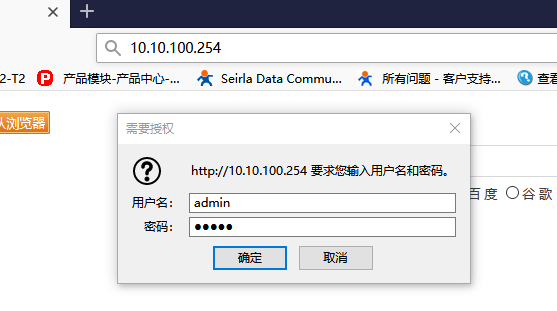 3. Quick configure, can show you the main functions of USR-W610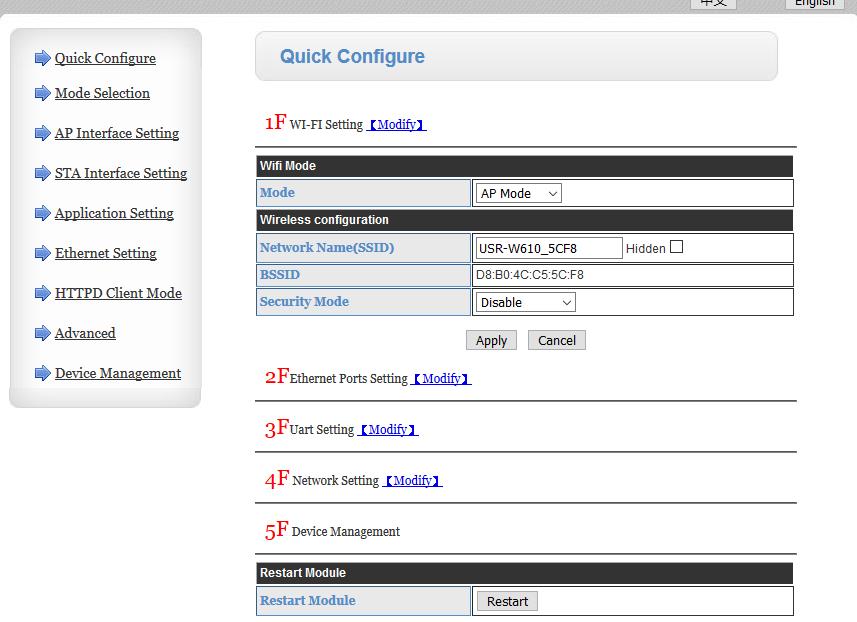 4. Mode Selection, USR-W610 can work at AP or STA mode. The data transfer mode can be configured as Transparent mode, Serial command (AT command), httpsD client, Modbus TCP to Modbus RTU.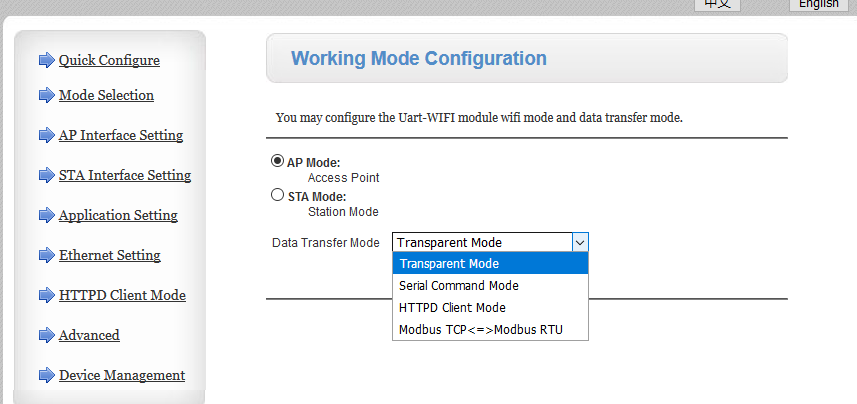 5.AP Interface Setting: USR-W610 works at AP mode. Here refers to the parameters of USR-W610. Both supports user defined.
① Wireless Network: WIFI parameters of USR-W610.
② LAN Setup: The default IP address of USR-W610. Login webpage by this IP address.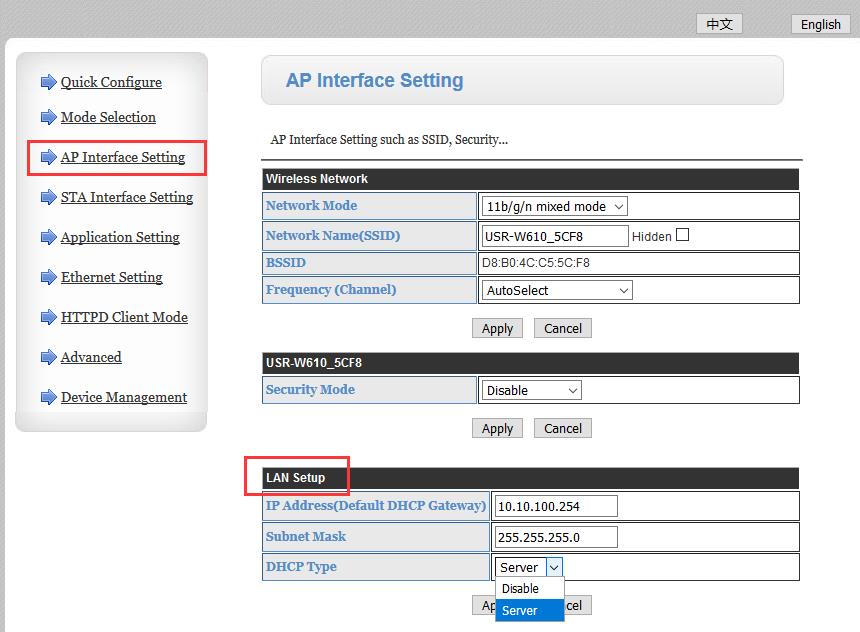 ③ Security Mode: You can select security mode as you required.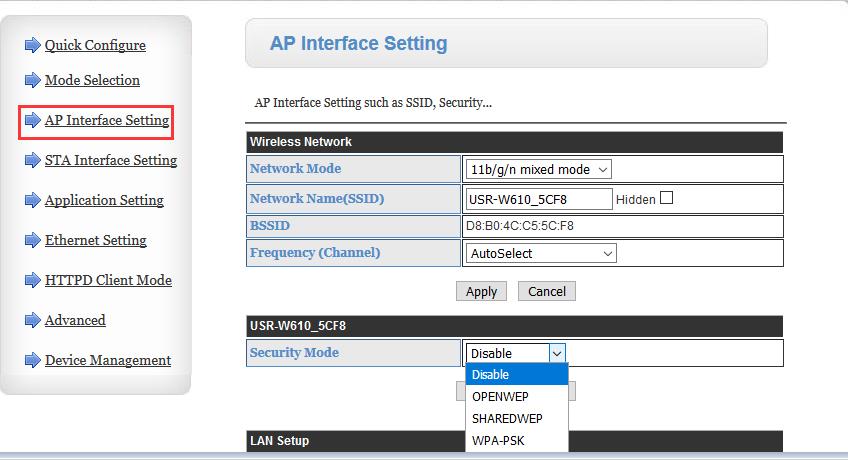 6. STA Interface Setting: USR-W610 access to other AP.
① STA Interface Parameters: It refers to the parameters of the AP to which USR-W610 is connected
② AP+STA Settings: USR-W610 can act as both AP and STA.
③ DHCP Mode: How does USR-W610 get IP address under STA mode.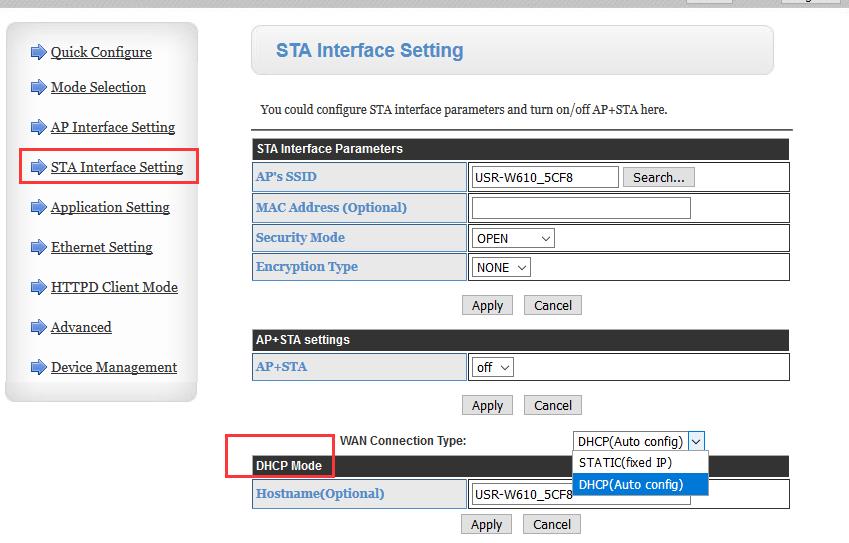 DHCP: Will get the IP from AP automatically
Static IP: User can setup the fixed IP on here.
7. Application Setting
① WiFi-Uart Setting, the parameters should be setup the same value as your serial port device. (Picture 1)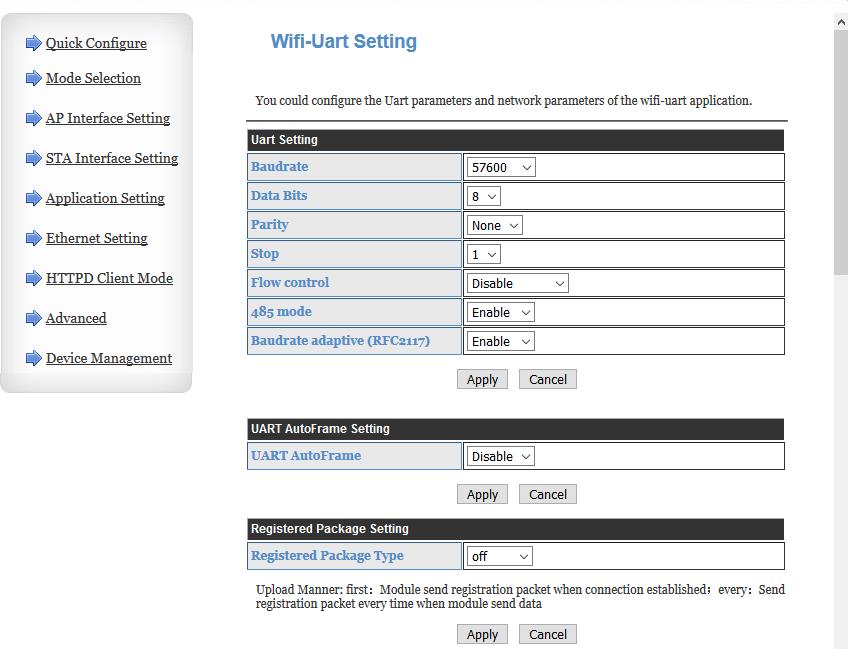 ② Network A Setting: 4 modes can be set on the network side as TCP Server,TCP client, UDP Server and UDP client. User can select one of them in the project. (Picture 2 as below)
UDP Server: USR-W610 will remember the last communication between the UDP client and will communicate with the last UDP client.
UDP Client: Under this mode, USR-W610 only communicates with the target IP and Port
TCP Server: USR-W610 does not need to set IP address. Work at this mode, W610 can't automatically connect to the Client. It accepts max 24 Clients.
TCP Client: Need to fill in the server IP/port to make sure the device connect to TCP server actively.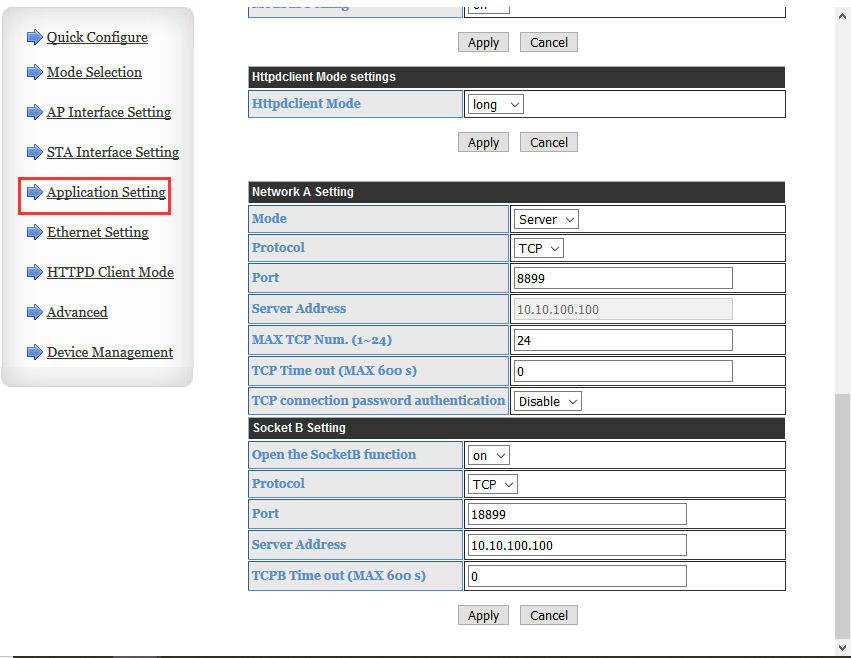 ③ SocketB Setting: This part only takes effect when USR-W610 at TCP Client or UDP Client mode.
④ TCP Connection Password authentication: It only works under TCP server mode. Will verify the password of TCP client which will be connected to W610.
⑤ More functions: Registered package Setting, Custom heartbeat packet settings, socket distribution settings, modbus polling. (Picture 3 as below)
8. Ethernet Setting, W610(serial to WIFI and Ethernet converter) has one ethernet port. This port can be worked as LAN port or WAN port.
LAN Port: It supports the data transmission between ethernet to serial or wifi.
WAN Port: W610 can be used as secondary router which is convenient for users to network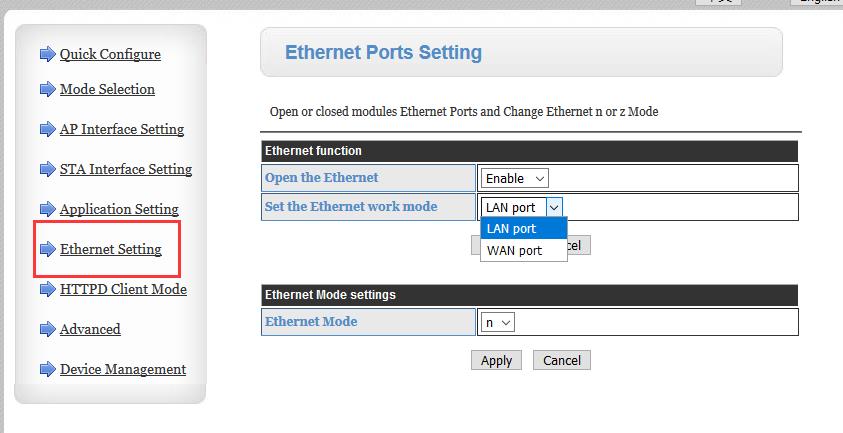 9. httpsD Client Mode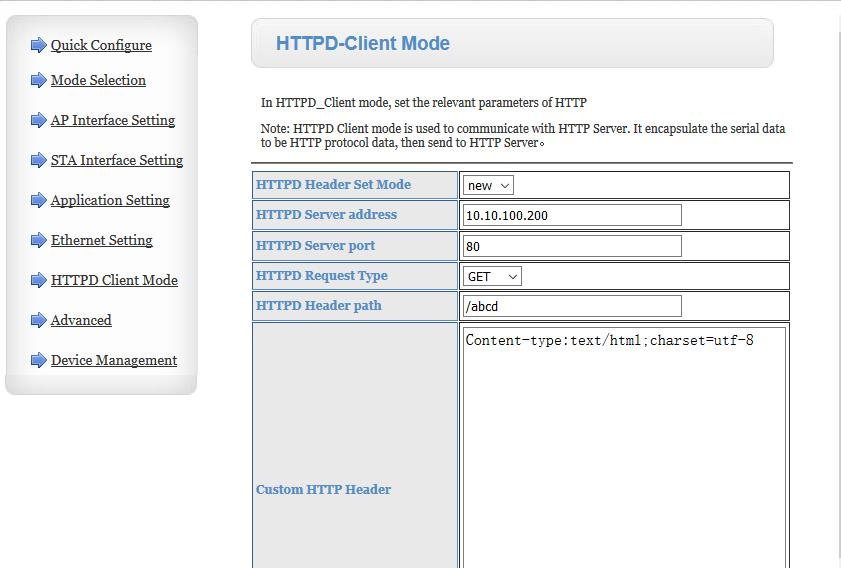 10. Advanced, USR-W610 supports port mapping. It only works at STA mode or ethernet port sets as WAN.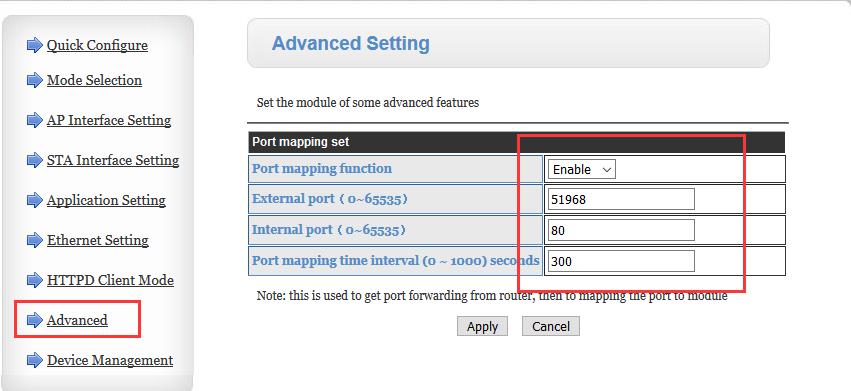 11. Device Management, it includes Restart, Timeout Reboot Setting, Reboot time setting, update firmware.
Remote Monitor Setting, it used for monitor the flow of SIM card or update firmware by remote. Please contact sales if you wanna use this function of ' Remote Monitor Setting'.