How do I test a Serial to Ethernet Converter?
How to test the serial to Ethernet converter is a problem that many users must consider when starting a new product. Today, I will take the serial server USR-N510 of USR IOT as an example to analyze how to test the device.
The first step is the hardware connection.
The first step of debugging is to connect the serial to Ethernet converter to the computer through the serial cable. Connect the USR-N510 to the computer with a network cable and an RS485 serial port. After the connection is correct, use the matching power adapter to supply power to the serial to Ethernet converter.
The second step is to test the network
In the process of using the serial to Ethernet converter for the first time, the user sometimes encounters problems such as unable to open the web page or ping failure. Therefore, after the hardware connection is correct, the following operations need to be performed on the connected computer.
(1) Open the control panel of the computer, close the antivirus software and firewall
(2) Turn off the network card unrelated to debugging and keep the local connection
(3) After the serial to Ethernet converter is directly connected to the computer, it is necessary to set a static IP for the computer, which is in the same network segment as the IP of the N510, for example: 192.168.0.201.
The third step, the default parameter debugging
Taking N510 as an example, the default parameters are as follows
| | |
| --- | --- |
| Model | USR-N510 |
| Input | DC5~36V |
| Login | admin |
| Pwd | admin |
| Default IP | 192.168.0.7 |
| Subnet mask | 255.255.255.0 |
| Default gateway | 192.168.0.1 |
| Serial port baud rate | 115200 |
After the above operations are confirmed to be correct, the data transmission test between the serial to Ethernet converter and the Ethernet can be carried out.
(1) Open the test software "USR-TCP232-Test.exe"
(2) Select TCP Client mode in the network setting area, input 192.168.0.7 for the IP address, after confirming that the hardware is connected to the serial port, enter the server port number to establish a TCP connection, the serial port baud rate is set to 115200, the serial port parameter is set to the parity bit None, Data bit 8, stop bit 1, click open to open the serial port.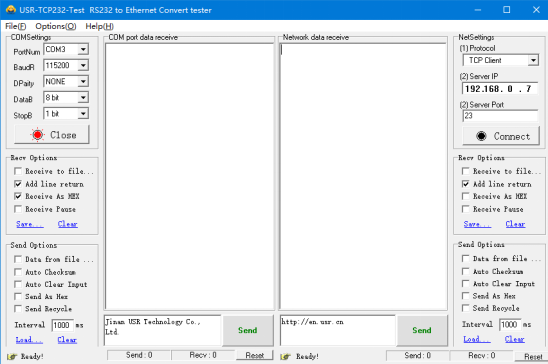 At this point, the test of the USR-N510 is completed. I hope this serial to Ethernet converter can be used as an example to solve your debugging problems in the actual application process.