USR-W660 | Serial to Wi-Fi6 Converter
Dual Band Wi-Fi 6 | Wi-Fi Roaming | Gigabit Ports | RS232/485 | Industrial-Grade Design
USR-W660 is a powerful dual-band Wi-Fi serial device server, which can realize data communication between serial devices and Ethernet/Wi-Fi devices. It adopts Qualcomm quad-core processor IPQ6000, the main frequency is up to 1.2Ghz. USR-W660 is equipped with 1*RS232/485 serial port, 2*RJ45 Gigabit Ethernet port, 2.4G and 5.8G dual-band Wi-Fi. It supports Wi-Fi roaming function with fast switching time, especially suitable for mobile scenarios, such as AGV, robot, etc.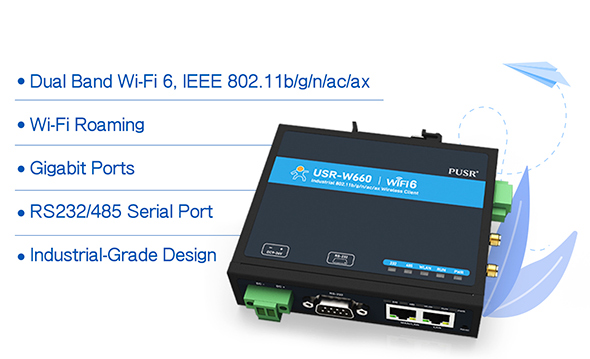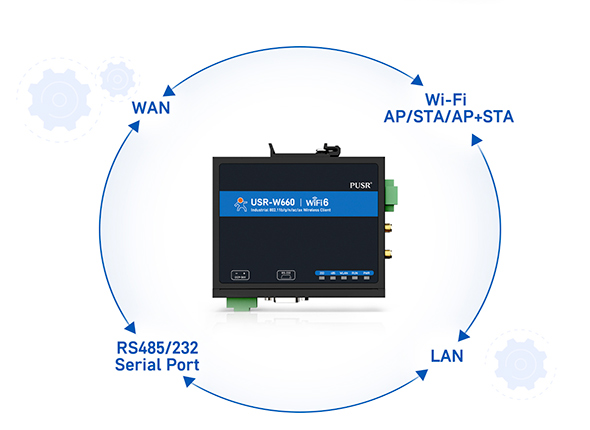 Rich Networking Methods
USR-W660 provides a wealth of networking methods: AP, STA, AP+STA, AP+LAN, AP+WAN, STA+LAN, STA+WAN. Through different networking methods, the data communication between the serial port device/LAN device and the remote server/LAN server can be realized, which can meet the complex network application requirements of customers.
Fast Wi-Fi Roaming, More Stable Communication
USR-W660 can realize fast switching between different APs through the W-Fi roaming function. The switching time is less than 100ms, which can ensure real-time and reliable data transmission. It is very suitable for mobile scenarios such as AGV and robots.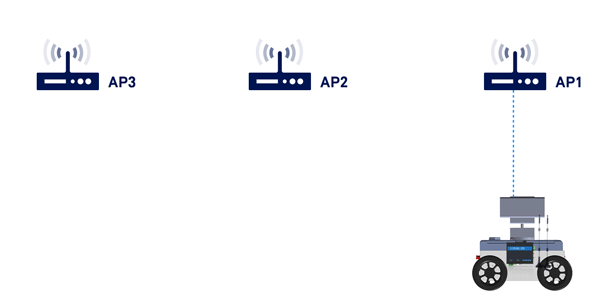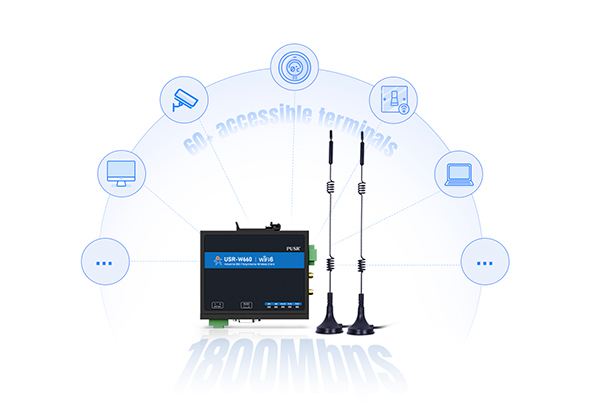 Dual Band Wi-Fi6, More Powerful Performance
2.4G & 5.8G Wi-Fi, IEEE 802.11 b/g/n/ac/ax.
2*2 MIMO, up to 1800Mbps.
60+ accessible terminals.
AP/STA mode supported.
Wi-Fi roaming function, less than 100ms latency.
Multiple security authentication methods and encryption algorithms supported: mixed-psk/psk/psk2/psk2+ccmp.
In an open environment, the coverage distance can reach 200 meters
Rich Product Features
Modbus Gateway: Modbus RTU/TCP protocol conversation, Modbus multi-host polling.
Support Transparant MQTT/TCP/UDP/HTTP data communication.
Heartbeat Packet Function: Remote server can detect abnormal disconnection from the client using this feature.
Registration Packet Funciton: The server can identify different clients by usingregistration packets.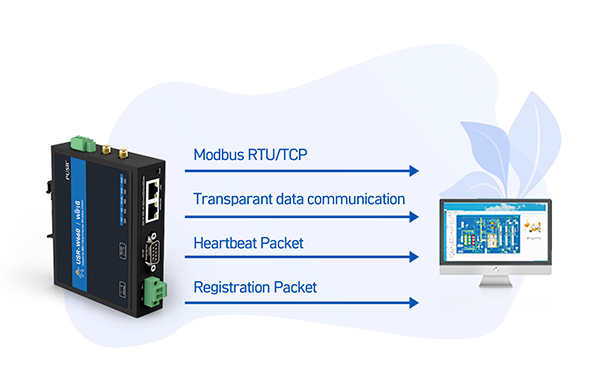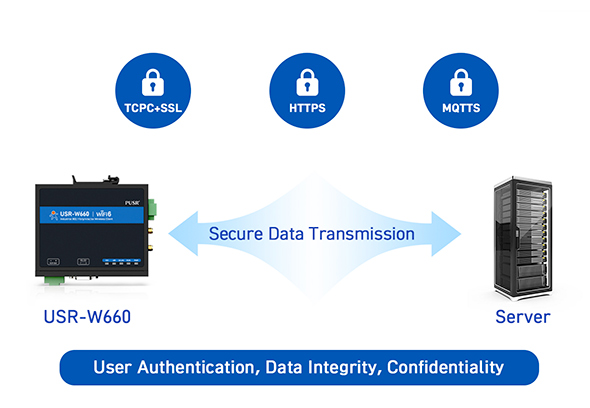 Data Transmission Encryption, More Security
Supports SSL/TLS encryption in TCP client, HTTP client and MQTT operation modes.
Supports two-way certificates authentication.
Remote Management, Anytime, Anywhere
SNMP Protocol: Users can remotely view device information, modify device parameters, and monitor device information through the SNMP protocol.It does not need to go to the site to monitor and configure devices one by one. The version of SNMP supported by this device is V2C and V3.
PUSR Platform: USR-W660 cooperates with PUSR platform, users can realize remote login configuration webpage, data debugging and remote firmware upgrade functions. Users can also monitor the online/offline record of the device. With all the above functions, users can monitor and manage the device conveniently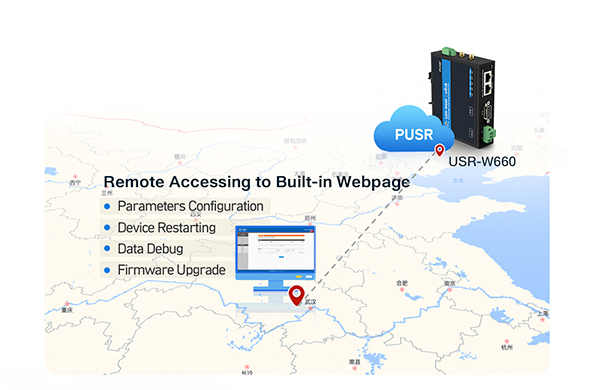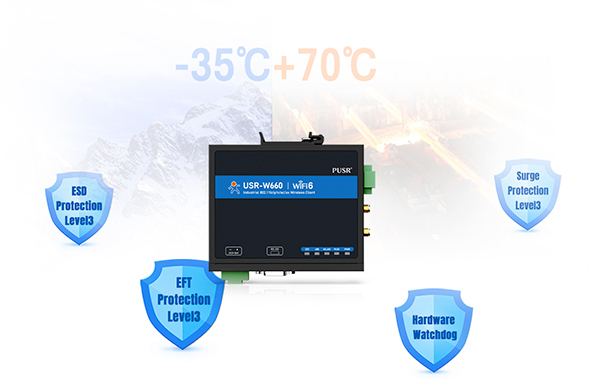 Industrial-Grade Design, High Reliability
EFT Protection: Level 3. Protect device against damage caused by instantaneous current interference in circuit, such as lightning stroke, power switch, etc.
ESD Protection: Level 3. Prevent electrostatic damage equipment, such as dust electrostatic, electric arc environment etc.
Surge Protection: Level 3. Protect devices from voltage spikessuch as lightning stroke, power switch, etc.
Watchdog: Hardware & software dual watchdog to ensure stable operation without downtime.
Wide Operation Temperature: -35℃~ 70℃.
Wide Power Input: 9~36V, reverse polarity protection.
Metal housing, IP30 protection.
Product Details
Dimension: 115*94*29 mm.
Serial port: 1*RS232/RS485. RS232: 1200~115.2Kbps, DB9-Male.RS485: 1200~230.4Kbps, 3-pin terminal block. The two serial port can't work simultaneously.
Ethernet port: 1*WAN/LAN, 1*LAN, 10/100/1000M MDI/MDIX, auto switch between cross and direct connection, 1.5KV electromagnetic isolation.
Power Supply: 9~36V input, 2-pin terminal block.
Installation: Wall mounting & DIN rail mounting.
Reload button: In the case of forgetting the parameters, long press to restore the factory settings.
Antenna Connector: 2*SMA-Female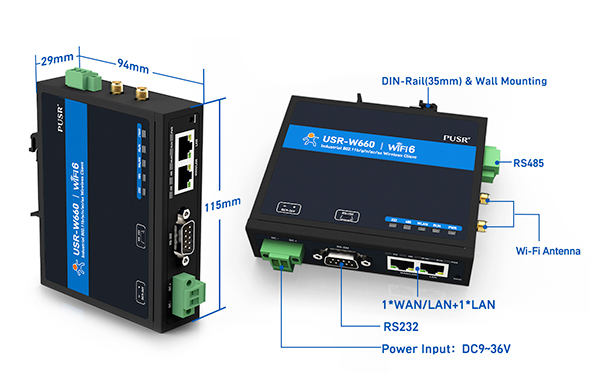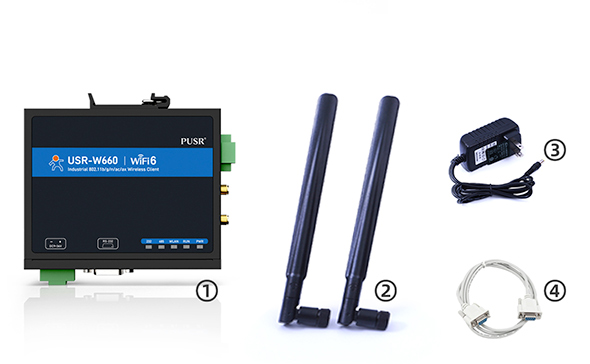 Packaging List
1*USR-W660
1*Power Supply (12V/1A )
1*Female to Female Serial Cable
2*Wi-Fi Antenna
Factory AGV Transportation Solution
As a new type of intelligent industrial equipment, the AGV car requires low-latency, accurate network data transmission, remote control in harsh environments, etc. W660 provides Wi-Fi6 and Gigabit Ethernet port to ensure high-speed data transmission. USR-W660 also supports fast roaming function, which can ensure real-time, stability control and data reporting for the AGV car.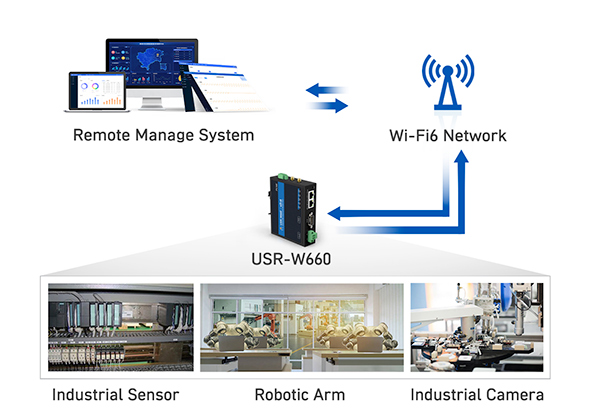 Smart Factory Data Collection and Transmission Via Wi-Fi
Connect with the serial port/network port equipment in the factory, and upload the equipment operation data to the local monitoring platform or remote platform in real time; the staff can dynamically understand the operation status of the monitored equipment through the monitoring platform.