USR-G808 is a 4g Wi-Fi router with sim card slot that can realize outdoor high-speed networking. USR-G808 has 5 10/100BaseT(X) ports, of which are 1 WAN port and 4 LAN ports. It is designed for industrial applications on the remote control and monitoring networks.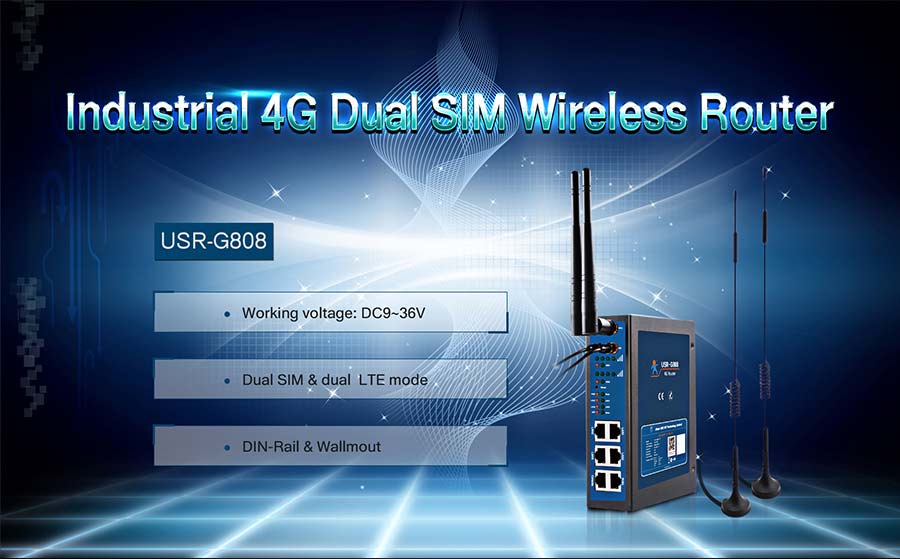 The high-performance 4g Wi-Fi router with sim card slot provides stable connectivity over 4G LTE/4G/3G network. USR-G808 supports software features like firewall/VPN/watchdog/circuit protection for advanced security and ensure safety and stability.
Firewall: Firewall is a network security system that monitors and controls incoming and outgoing network traffic based on predetermined security rules. A firewall typically establishes a barrier between a trusted internal network and untrusted external network, such as the Internet.
Virtual Private Network(VPN): VPN is designed to provide users with encrypted, secure, and confidential networks.
Watchdog: Watchdog is also known as the watchdog timer, a device that detects faults and initiates corrective actions.
These 4g Wi-Fi routers are ideal for connecting: USR-G808 can be used in smart parking Lot, smart environmental, and industrial electric power applications.
The additional features of 4g Wi-Fi router with sim card slot USR-G808:
● Industrial 4G LTE Router, secure wireless routing for industrial remote access
● Providing reliable, seamless connectivity for M2M & IoT applications
● Supports PPTP L2TP IPSEC OPENVPN GRE
● Supports 5 10/100Base-T(X) self-adaptive Ethernet interface
● Hardware watchdog, rugged metal casing and Din-Rail mounting
● Supports 802.11 b/g/n WLAN
● DIN-Rail Installing