5G Intelligent Medical Emergency Solution
5G Intelligent Medical Emergency Solution
For emergency patients, time is life! Take acute myocardial infarction patients as an example - the best treatment time is 4 minutes; over 8 minutes, the patient's heart will suffer irreversible damage. If delayed any longer, it will result in a large area of myocardial necrosis, which can lead to heart failure and even sudden death.
What is a Traditional Emergency Care?
● The patient was taken to the hospital by ambulance.
● Do routine examinations such as electrocardiogram and blood drawing.
● Transfer to the Department of Cardiology for first aid.
● The whole process takes a long time and may miss the opportunity to save the patient.
What does 5G+emergency Care Look Like?
● Emergency patients are transferred to a 5G ambulance.
● The doctor on the ambulance uses 5G medical equipment to quickly complete a series of examinations such as blood test, electrocardiogram and B-ultrasonic examination.
● A large amount of vital information, such as medical images, patient signs and condition records, can be transmitted back to the hospital in real time through 5G network.
● The pre-hospital and in-hospital seamless linkage, rapid development of rescue plan.
● Preoperative preparation is performed in advance.
5G urban medical emergency rescue system is based on emergency ambulances, combined with 5G communication technology, equipped with artificial intelligence, AR, VR and unmanned aerial vehicles and other applications, to create a comprehensive medical emergency system, greatly shorten the rescue response time, and give patients a better chance of survival.
5G emergency medical system, enabling patients to be hospitalized immediately after getting on the ambulance
A 5G ambulance is a miniature emergency room equipped with a defibrillation monitor, a ventilator, and a color ultrasound machine. When an emergency patient was transferred to a 5G ambulance, the doctor on the ambulance can immediately use the 5G medical equipment to complete blood tests, electrocardiogram, and B-ultrasonic examination. Through 5G network, a large number of vital information such as medical images, patients' physical signs and condition records can be transmitted to the hospital in real time at the speed of milliseconds, so as to realize seamless linkage between pre-hospital and in-hospital, quickly make a rescue plan, perform preoperative preparation in advance, and avoid emergency waiting time.
The value of "5G+Intelligent Medical Emergency Care"
● Effectively shorten the first-aid time, make the rescue plan in advance, improve the first-aid efficiency.
● Realize the information connection between patients and medical treatment, optimize the efficiency of medical resources and the medical treatment process.
● Improve the accuracy of diagnosis and guidance efficiency, and make grassroots people have more quality medical resources.
● It is easy to further explore the value of medical data and generate new mobile medical application services.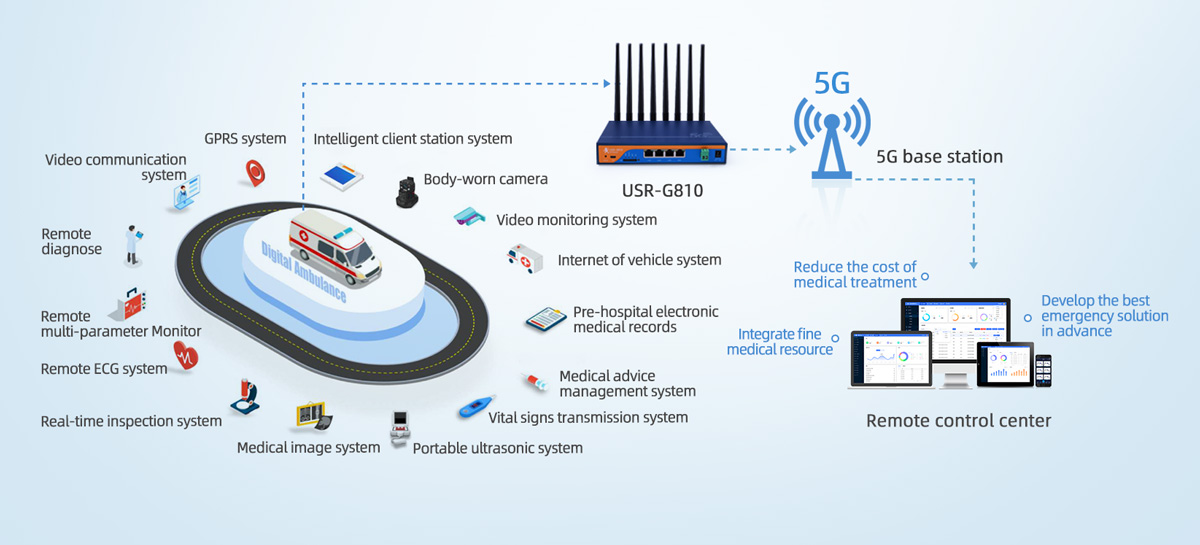 The application of 5G in emergency care has bought precious "golden time" for patients. Currently, 5G urban medical emergency rescue systems have been officially launched in hospitals in several provinces. Life is of paramount importance. The millisecond-level speed brought by 5G will facilitate the seamless connection of emergency care and become an important part in safeguarding people's lives and health.
Related Product- 5G Industrial Gibabit Cellular Routers USR-G810