Overview
This manual introduces the baud rate synchronization function.
1.Introduction
When USR module which supports baud rate synchronization function works with other USR modules or USR software, serial port parameters can change dynamically according to network side protocol. User can modify serial port parameters by sending data which are conformed to specific protocol from network side.
After sending protocol data to module, module will configure serial port parameters and return noting if data conform to standard; and module will transmit data to serial side if check error occurs or protocol data in wrong format. It is temporary modification and will take effect immediately, after restarting module, the serial parameters will back to original parameters.
2.Application diagram
Baud rate synchronization function application diagram as follow: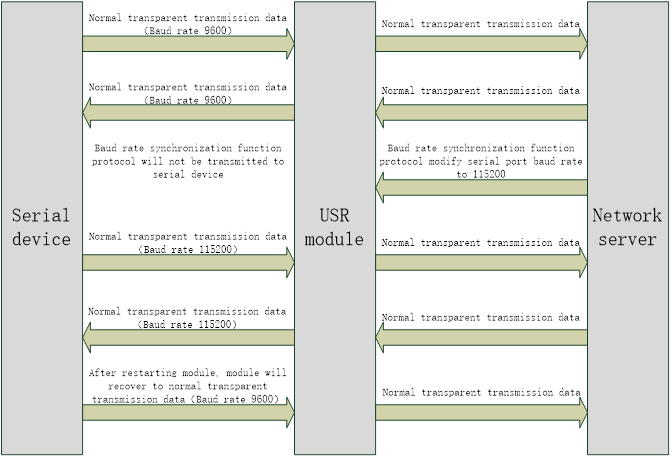 3.Protocol
Baud rate synchronization function protocol has 8 bytes. Specific protocol content and examples as follow table(Examples are in HEX format):
| | | | | |
| --- | --- | --- | --- | --- |
| Name | Header | Baud rate | Parameter bit | Sum check bit |
| Number of bytes | 3 | 3 | 1 | 1 |
| Description | To reduce misjudgment | High-order is former. Minimum baud rate is 600(00 02 58) | Refer to 'Parameter bit table' | Sum of four bytes except header and ignore high-order |
| 115200, N, 8, 1 | 55 AA 55 | 01 C2 00 | 03 | C6 |
| 9600, N, 8, 1 | 55 AA 55 | 00 25 80 | 03 | A8 |
Parameter bit table as follow:
Bit number

Function

Description

1:0

Choose data bits

00: 5 bits data bits

01: 6 bits data bits

10: 7 bits data bits

11: 8 bits data bits

2

Choose stop bits

0: 1 bit stop bits

1: 2 bit stop bits

3

Parity enable/disable

0: Disable parity

1: Enable parity

5:4

Parity type

00: ODD

01: EVEN

10: Mark

11: Clear

7:6

No definition

00: Please set 0