From September 12th,2018 to September 14th, 2018, Mobile World Congress Americas 2018 will be opened at Los Angeles Convention Center, USA. USRIOT will be at the stand S.2724, and we hope you can come to visit.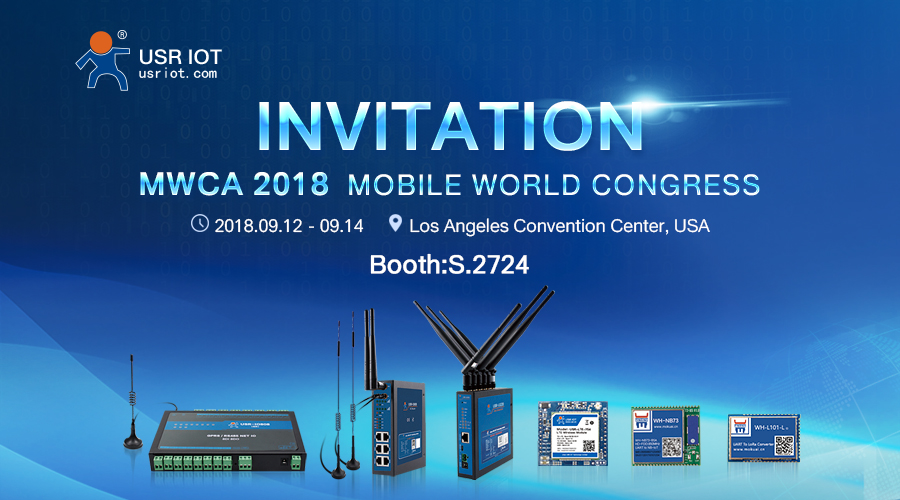 USRIOT leads the industrial IOT in China. As a leading IOT resolution server, we have been dedicated to the R & D, production and sales of industrial IOT communication devices and modules in the long run. The company has worked to provide customers with more networking transmission plan since the establishment, and we are determined to be an ecological enterprise in the field of industrial IOT.
At this exhibition, products that USRIOT will exhibit include:
Serial to Ethernet Converter: USR-TCP232-410S
Serial to WIFI and Ethernet Converter:USR-W610
Industrial 4G Router:USR-G806-A
Industrial 4G Modem:USR-G781
8-way network IO controller:USR-IO808-GR
4-way I/O Network Controller/LoRa Gateway:USR-IO424T-GR
Industrial CAN to Etherent Converter:USR-CANET200
LoRaWan TTL to LoRa Module:Model: WH-L100
Embedded WiFi Modules:USR-C322
Bluetooth Serial Module:USR-BLE101
Triple TTL UART to Ethernet Module:USR-TCP232-ED2
In 2018, USRIOT has gained a total of 30 million RMB from Shenzhen Capital Group Co., Ltd and Red Bridge Capital Group Co., Ltd. in the first round of financing, which manifests that we are supported by those outside the industry. In addition, it has aroused a wide attention in the industry.
【About MWCA2018】
MWCA2018 is hosted by Global System for Mobile Communications (GSMA) and Cellular Telecommunications and Internet Association (CTIA). GSMA represents the common concerns, interests and rights of mobile operators across the world, covering over 220 countries and connecting nearly 800 mobile operators and 250 enterprises in the global mobile ecological system; including cellphone manufacturers, software companies, device suppliers, Internet companies and organizations in the finance, medicine, transport and public service industries.
CTIA is deemed as the grand meeting in the mobile Internet and wireless communication fields, and its scale tops the world. Within over 20-plus years of development, it has expanded to network setting wireless service, terminal user software, application, accessory and many other aspects in the wireless industry.
From September 12th to September 14th, we hope you to visit Stand S.2724 at MWCA 2018 in Los Angeles Convention Center.