As a serial device server of M4 series launched by Jinan USRIOT Technology Limited, USR-TCP232-410S is a serial device server that transparently transmits data between TCP/UDP packets and RS232/RS485 interface. Equipped with ARM processor, it is featured by low power consumption, fast speed and high stability. Moreover, RS232 and 485 can work simultaneously to realize bidirectional transparent transmission of Ethernet with RS232 and 485. The dual ports serial device servers of the same price in the market can only be selected in two ports and cannot work at the same time.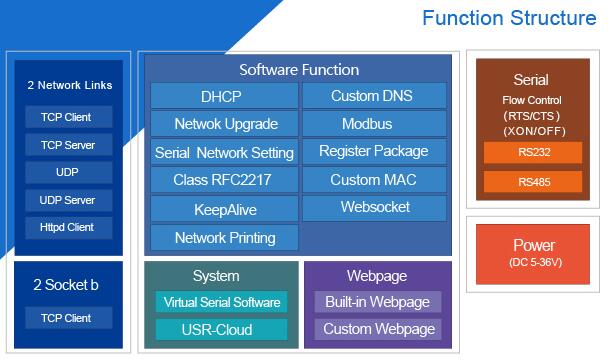 TI Cortex M4 core, an ARM-based embedded processor, is adopted by the USR-TCP232-410S's main control chip, which is suitable for the mixed digital signal control market using control and signal processing functions.The speed requirement is higher in the same stable state. At the same time, the connection function is also very rich. USR-TCP232-410S uses this core, and its dominant frequency is up to 120M, which fully meets the rapid transmission of data in the industrial stable state.
Not only that, USR-TCP232-410S also increases the way of terminal power supply, reducing the probability of power failure, ensuring the stability of data transmission, and making it more secure. After multiple analysis by R&D engineers, the 485 is changed to 3 lines, which can improve the anti-interference, suppress the interference source, and realize the safe transmission of data.
The traditional serial device server realizes the printing effect by using a serial device server to connect multiple hosts with serial ports to a serial printer. The data sent by multiple hosts is transferred to the hard disk of the single board using Ethernet, and then sent to the print port to complete the entire print service. The 410S can directly implement the printing function.The computer realizes network remote printing immediately by adding a network printing device, typing the serial device server IP and port.
The USR-TCP232-410S has rich functions and stable performance. There are detailed information in the USR-TCP232-410S manual, which are not listed here. The market price of dual ports serial device servers is generally more than three hundred or even higher. If you consider the dual dimensions of performance and price, the serial device server USR-TCP232-410S has already killed all opponents at the same price!