Abstract: The author is an old technician engaged in the integration of weak current systems for more than ten years. I personally experienced the step-by-step development of industrial communication technology from serial port (RS-232/485/422) to network (TCP/IP), where serial device server plays a decisive role in the whole process.
The serial device server brands recommended in the article are all verified to be stable and reliable. No matter which brand you choose in the end, you can trust it. But you must choose the serial device server that suits you. You must analyze it from project application, brand positioning, technical solutions, etc. I hope this article will help the newcomers who have just entered the market to make product selection.
Serial device server brand 1: Taiwan MOXA
MOXA was founded in 1987. When it comes to serial device server, MOXA is known by all people engaged in weak current, and called "Mosha" at the mainland. The business system is huge, but what is best is the network communication products. When I first learned the term "serial device networking server" in early 2000, MOXA's NPort series have already existed. Later, the project of Party A gradually had the requirement of networked control functions. At the time of the outbreak of the security industry such as building and monitoring, serial device server also began to be used in large quantities.
Advantages: Stability. It has been stable enough after 20 years of product accumulation .
Disadvantages: The price is very expensive. Considering a lot of extreme situations, it should add a lot of functions (SNMP, MIB-II, Telnet, LCM display, SNTP....). In order to run these functions, expensive chips and large falsh are required. But these features are rarely used in domestic projects.
Comprehensive: Do not worry about that there is problem at the serial device server of MOXA, but it is expensive.
Serial device server brand 2: USRIOT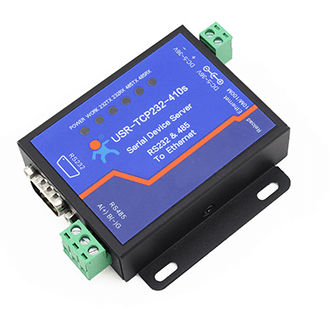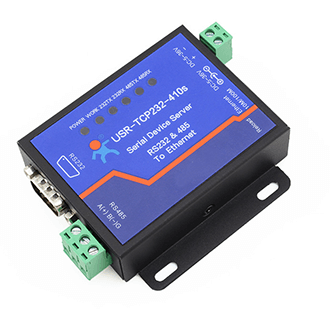 USRIOT was founded in 2010 (www.usr.cn). At first, I thought it was just a Taobao shop. Later I learned that the company had a certain scale. The product's most competitive advantage is simple, stable and reliable, and cost-effective. When the function does not require as much as MOXA, the cost of chips and circuits can naturally be reduced. The function of the serial device server returns to the simplest data transmission, which is often the favorite of engineering. Now when the project considers the cost, it will choose USRIOT. Corporate culture is very good: Some people(USRIOT) are doing things seriously!
Advantages: high cost performance is precisely the shortcomings of MOXA. USRIOT chips focus on a new program for TI. According to the Moore's Law in the semiconductor industry, new chips have a better performance and cheaper price than older chips. By adopting a new solution, the cost is lower than that of MOXA.
Disadvantages: the accumulation of brands and products is not enough, which is precisely the advantages of MOXA. USRIOT brand is not as famous as MOXA, with only four ports serial device servers at most. Although the program that has been used by MOXA for more than ten years is expensive, but it has been verified by so many years of projects.
Comprehensive: The cost performance is highest.TI Cortex-M4 solution can be assured from the stability of the chip. The brand awareness need to be enhanced, and the models of serial device server with multiple serial ports are increased .
Serial device server brand 3: Taiwan Advantech
Taiwan Advantech was founded in 1983. Advantech can be regarded as the world's number one in industrial computer control. The serial device server is also made very well, the appearance looks very solid, and it is heavy. In this spring, Hong Kong Electronics Fair exchanged with MOXA agent of MOXA Hong Kong. There were more cooperation than competition between the two companies in Hong Kong. MOXA recommended Advantech's industrial computer, and Advantech recommended MOXA's serial device server and serial board. They still had their own expertise.
Advantages: With good brand and appearance, Advantech has a high global reputation, and it still has some influence on the visual and hand feeling.
Disadvantages: high price.
Synthesis: I really want to choose MOXA may be chosen.
Serial device server 4: US DIGI
American DIGI was founded in 1985. I don't really want to advertise the foreigner's brand, so I put it behind. But DIGI is still doing very well, and it is very well known at the global market. The thought of foreigners is not the same as that of Chinese people. Chinese people like large metal products and feel it stable and high-end.The size of DIGI is compact, which is known as the smallest serial-to-Ethernet solution on the market.
Advantages: high global visibility and small size;
Disadvantages: price is high, domestic popularity is not as high as global visibility, and small size is a disadvantage in the country on the contrary.
Serial device server 5: USA Lantronix
Founded in 1989, USA Lantronix, whose Chinese name is "Foundation", is dedicated to the research and development of networked devices and technologies. The business direction includes "Serial to Ethernet", "Serial to WiFi Wireless", "Serial to 2G/3G Network". Products contain a series of networked devices ranged from integrated circuits, embedded boards to external modules, including enterprise management applications such as remote power management and remote cloud printing. Friends of the same industry who have used it say that the effect is good, but the cost is high.
Advantages: richer than the product line, imported brands;
Disadvantages: high price.
Concluding remarks:
From parking lot management to building automation, from access control systems to all-purpose card, as an indispensable part of network communication, serial device server has penetrated into various system integration projects, so as to achieve remote network control and remote data collection. Although many equipment manufacturers have gradually embedded modules with serial networking functions, the current demand for serial device servers is still very large. I hope domestic manufacturers can continue to work hard and do more good products with low price and better stability!
Supplement: Now some projects are gradually adopting WIFI communication. Although WIFI is not as stable as the wired network, it does not need to be equipped with a cable, which can also avoid the line maintenance work in the later period for aging wire, the cutting of buried wire, mouse twisting, etc. The serial device server of WiFi is relatively stable as long as the brand is properly selected and interference is avoided and shielded when it is installed. The price for Party A can also be satisfactory. If possible, I will write an article about the WiFi serial device server.