Industrial 4G Wireless Router USR-G806 Datasheet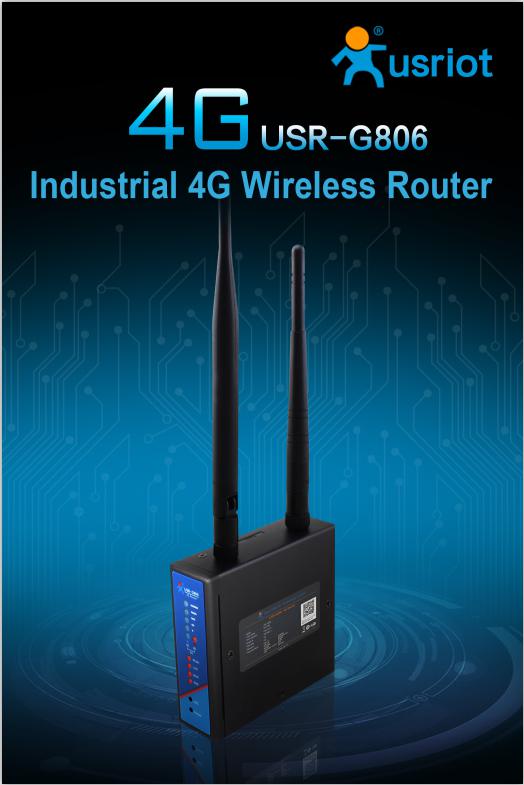 Main features
1.One LAN interface and one WAN interface(WAN interface can switch to LAN interface)
2.One WLAN interface
3.Various LEDs
4.Configuration can be done by web-page
5.Restoring default settings by hardware
6.LAN/WAN interface all supports 10/100Mbps
7.Support VPN(PPTP/L2TP), PPPOE, DHCP, Static IP
8.Supports APN card
9.Supports static router and firewall
10.Support flow service which can limit the speed according to interface
11.DDNS and port forwarding
12.WIFIDOG(User can customize this function according to needs)
USR-G806-E/USR-G806-AU is a industrial 4G wireless LTE router which provides a solution for users to connect own device to 4G network via WiFi interface or Ethernet interface.
USR-G806-E/USR-G806-AU adopts high performance embedded CPU which can support 580MHz working frequency and can be widely used in Smart Grid, Smart Home etc. USR-G806 supports various functions such as APN card, VPN, WIFIDOG, flow control and has many advantages including high reliability, simple operation, reasonable price.
USR-G806-E/USR-G806-AU supports WAN interface, LAN interface, WLAN interface, 4G interface. USR-G806 provides various networking mode to help user establish own network.
Product Specifications