Cat 1 Modem - Application in Smart Agricultural Greenhouses
  Application Background
  As a large agricultural country, China has seen the rapid development of agricultural techniques over the past decades, along with numerous greenhouses. Plants grown in greenhouses generally have stringent requirements for growth environments; namely, temperature, humidity, carbon dioxide concentration and other indexes must remain within a stable range. For early greenhouses, their temperature, soil humidity, illumination intensity and others during a period were manually observed and recorded, monitoring was mainly watched by personnel, and land was manually irrigated. As greenhouses are increasing, it has become more and more difficult to manage them with manpower.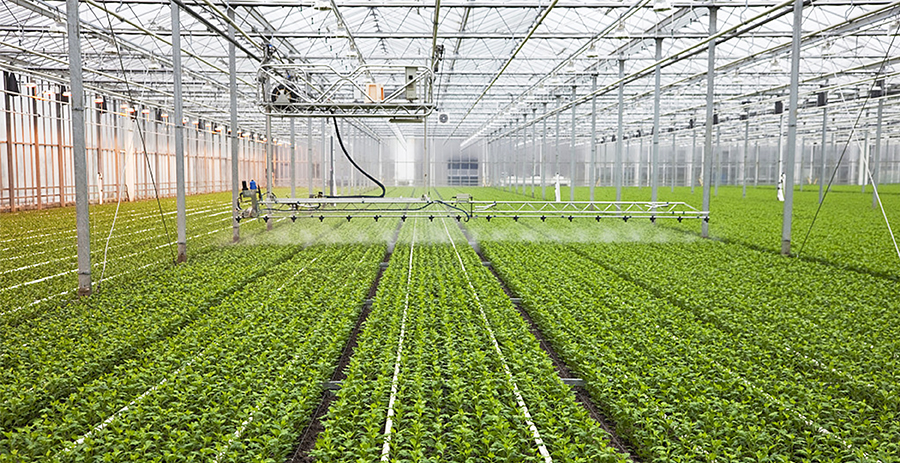 With the rapid development of IoT technology and agricultural automation in recent years, the automatic monitoring system of smart greenhouses based on IoT technology may, according to the environmental data, adjust the greenhouse temperature, irrigation time and so on in real time. Featuring high control precision and stable, reliable operation, this system reduces the labor cost of greenhouses. IoT-based and smart greenhouses will become a trend of future agriculture.
  Solution:
  For the development requirements of agricultural greenhouses, such as intensiveness, high yield, high efficiency, ecology and security, an IoT-based agricultural greenhouse is proposed in the IoT industry to combine many functions, including online collection of soil and environmental parameters, intelligent networking, wireless transmission, data processing, early warning information release, decision-making support and automatic control. Through information terminals like mobile phones, Personal Digital Assistants (PDAs) and computers, farmers can grasp real-time planting environmental information, timely acquire abnormal alarm information and early warning information of environments, and according to the environmental monitoring result, adjust the control equipment in real time to ensure the scientific planting and management of agricultural greenhouses, and thus to finally achieve the objectives of saving energy, reducing consumption, ensuring environmental protection, and increasing yield and income.
  Network-connected communication is indispensable for this solution, because greenhouses are generally located in some suburbs far away from cities and towns, and are mostly not installed with cable networks. From the perspectives of the current market and cost, operator networks will become the optimal choice.
  After years of operation in the industry of network-connected communication, Jinan USR IoT Technology Limited has accumulated rich experience in developing network-connected modem-, and provides more suitable products for customers. Of them, Cat 1 modem- is appropriate for smart agricultural greenhouses.
  In the application of smart agricultural greenhouses, data is collected almost at the second-based frequency, involving a small data size. In this situation, the use of Cat 4 Modem- incurs high cost and is a waste, accompanied by a large delay in NB networks. Compared with Cat 4 Modem-, Cat 1 modem- can reduce use cost, and can work with an LTE network, running at the uplink rate of 5M and the downlink rate of 10M, with millisecond delay. Therefore, Cat 1 modem- perfectly meets the application requirements of smart agricultural greenhouses.
  Specific Use
  In the application of smart agricultural greenhouses, Cat 1 modem can be used to achieve network-connected communication. Data collected by sensors in a greenhouse is gathered to the customer's central collector. The collector sends the integrated data to Cat 1 modem through a serial port, and the modem- transmits the data to the corresponding cloud platform through an LTE Cat 1 network. Thus, the greenhouse data will be displayed on the platform or through the platform's mini-program. At the same time, the platform terminal can issue a control command to a module in a timely manner to transfer and control data at the module or the device at the lower level. The data transmission is shown below:
  Quick Application:
  Taking USR-DR502-E for example, this document describes how to quickly apply Cat 1 modem- to the application of smart agricultural greenhouses.
  As a guide rail type Cat 1 modem- launched by Jinan USR IoT Technology Limited, DR502-E is configured with a terminal for power supply and a serial port respectively, with a 3pin RS485 serial port, a micro USB download debugging port, and a SIM card as a medium card. The interface diagram is as follows:
  Upon receipt of a Cat 1 modem- device, test its completeness and fittings. After finding no problems, connect the serial cable to the terminal, the power supply to the terminal, and insert the SIM card. Thus, the device can normally run as soon as it is powered up.
  After the device normally runs, you can configure the modem- parameter through a serial port and a dedicated tool. First, read the current configuration, then modify the server and other functional information, finally click the Set and save all parameters button. After you save all parameters, the device will automatically restart.
  After the device restarts, it can connect to the designated server. You can view the connection status of the modem- as per the indicators. These indicators are distributed in the following figure:
  If no problems are found, you can connect the device to the control device of smart agricultural greenhouses. Thus, once the device is powered up, this solution can be quickly applied.