Application scenario of 5G communication
  5G communication technology From the 1980s to today's 5G, communication technology has developed from a separate communication function to today's interconnection of all things: "Big Brother" in the 1G era, network novels in the 2G era, browsing pictures and Internet phones in the 3G era, people-centered consumer Internet in the 4G era, and interconnection between people, people and things, things and things in the 5G era.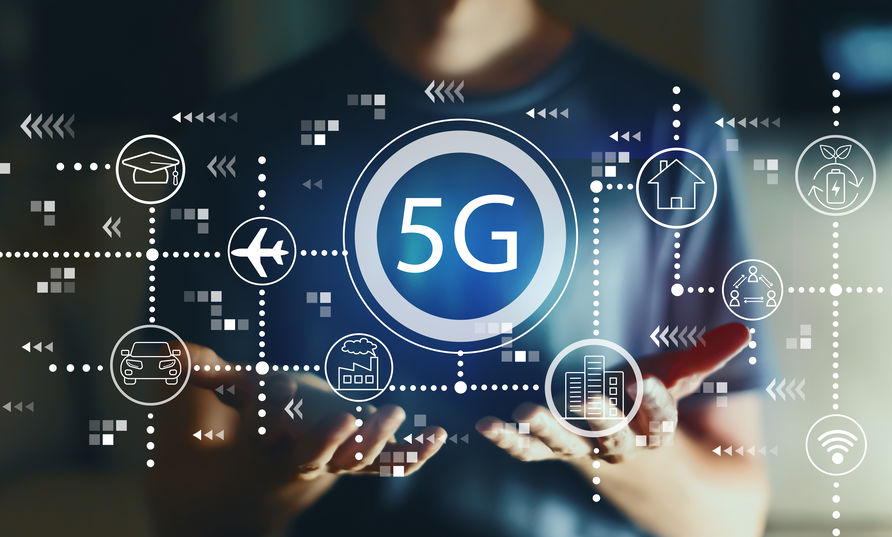 Edge computing: 5G includes not only the upgrade of wireless technology, but also the introduction of concepts such as edge computing. Edge computing is a method of processing data that is physically close to where the data is generated.It has the advantages of alleviating bandwidth pressure, timely response and privacy protection, especially meeting the requirements of industrial data security management (data does not leave the factory, etc.), low latency and high reliability of data processing in industrial enterprises.
  Application scenarios: The International Organization for Standardization 3GPP has defined three major application scenarios for 5G. EMBB (Enhanced Mobile Bandwidth) supports high-bandwidth application scenarios, such as high-definition video, virtual reality, augmented reality, etc. Mmtc (mass machine communication) can meet the data connection and transmission needs of a large number of low-power embedded terminals.URLLC is mainly used to support services with low latency and high reliability, such as systems and equipment in automatic driving and industrial automation control processes.
  IOT gateway scenario: As the access node of large-scale distributed devices, IOT gateway has the functions of data collection, device management, protocol parsing, edge computing, data transmission and access to the cloud platform.
  Through the protocol support for a variety of industrial devices, the IOT gateway collects industrial device information and sends the information to the edge computing center. In which business-critical information and information requiring ultra-high bandwidth are localized in the data center; Non-critical or non-sensitive data can be transmitted to the cloud for processing and analysis.On the edge computing side close to front-end intelligence, the value of real-time data can be maximized.
  Because many application scenarios pose various challenges to wired modes (such as high temperature scenarios, rotating mobile scenarios, and "mobile instead of fixed" flexible manufacturing scenarios), traditional wireless data transmission modes such as 3G, 4G and Wifi are difficult to meet the needs of low delay, high reliability and anti-interference in industrial scenarios.A 5G transmission scheme may be use instead.
  Industrial control:takes advantage of 5G's large bandwidth and low latency, combines advanced products and technologies such as attitude sensors, and integrates real-time communication, remote driving and real-time control technologies to achieve operator safety and improve work efficiency in harsh environments.
  Based on 5G to enhance mobile large bandwidth and edge center low delay video image data transmission and processing capabilities, high-definition video real-time access, ultra-low delay transmission and processing of control signals, real-time detection and control of remote locomotive working conditions are realized, remote centralized control of unmanned locomotives is realized, labor costs can be reduced, operator safety can be guaranteed, and work efficiency can be improved.
  Video Surveillance and Analysis Video : Video Surveillance and Analysis Video stream analysis depends on factors such as imaging quality, upload speed, and AI analysis capability. The image captured by the camera is encoded to generate a video stream, which is uploaded to the edge center for analysis and processing.
  In the industrial production process, there are high temperature, high pressure and other environments, and it is difficult for the equipment to achieve near-distance fault inspection with the naked eye. Through the deployment of 8K and above high-definition cameras, the real-time return of high-definition video is realized by using 5G large bandwidth network, and the video stream is identified and analyzed based on the platform capability at the edge of the network, so as to achieve real-time monitoring and abnormal event alarm for on-site production equipment in the workshop.
  VR Panoramic: The field of view of the VR head display is generally about 110 °, and the panoramic video is a 360 ° sphere, which is more than three times the field of view of the VR head display. The screen resolution of VR head display is generally 2K or 4K, so the best resolution of panoramic video is more than three times that, that is, 8K or 12K.Only such a resolution can have a good viewing experience, but such a resolution requires a very high broadband rate.
  Using 5G ultra-high bandwidth network, 8K high-definition cameras are deployed in the production workshop to return real-time production process and process video information, and real-time processing and display of video stream information through platform video capabilities at the edge of the network, so as to realize remote panoramic real VR experience of the whole production process in the center.
  Finally, the Ministry of Industry and Information Technology issued the "5G + Industrial Internet" 512 Project Promotion Plan to further clarify the development goals of 5G + Industrial Internet. By 2022, China will break through a number of 5G key technologies for the specific needs of industrial Internet, and build a number of "5G + industrial Internet" intranet construction and transformation benchmarks.At least 20 replicable and popularizable typical industrial application scenarios will be formed, and the demonstration and leading effect of "5G + Industrial Internet" intranet construction and transformation will be formed. The industrial Internet application scenario under 5G network will become the development direction of intelligent factory and intelligent assembly line in the future, with great potential for development and great opportunities.