Cat 1 modem - Smart Charging Pile
  Industry Background
  With rapid development of the automobile industry, new energy vehicles are vitalizing this industry after early ups and downs. More and more news on the new energy vehicle industry is finding its way into our life. Guided by the concept of low-carbon economy, new energy vehicles are growing quickly, which promotes relevant industries to thrive. In this situation, charging piles indispensable for new energy vehicles are seen everywhere.
  According to a prediction by Internet Data Center (IDC), around 1.16 million new energy vehicles will be sold in China in 2020, and this figure will reach 5.42 million in 2025. At present, there are over 5 million electric vehicles nationwide, including over 700,000 electric buses, electric taxis, and electric vehicles for sanitation workers, and 4.3 million electric official vehicles or private cars. According to the consumption of power distribution infrastructure for electric vehicles, over 12,000 new centralized charging stations and 4.8 million new distributed charging piles are needed to meet the charging demand for over 5 million electric vehicles in the country.
  Analysis of the Current Situation
  Like refueling machines at fueling stations, charging piles can be fixed on the ground or walls, or installed in parking places or charging stations in public buildings and resident communities. They can, according to different voltage levels, charge electric vehicles of various models. The input terminal of a charging pile is directly connected with the AC grid, and the output terminal is installed with a charging plug to charge any electric vehicle. Charging piles generally provide two charging modes - conventional charging and fast charging. Users can swipe their specific charging cards in the human-machine interaction interface of charging piles to perform some operations, such as choosing the charging mode, setting charging time or printing the fee data document. The data of these operations must dock with the cloud platform to display in a large screen or conduct the APP monitoring. Given the wide distribution of charging piles, operator networks become the optimal choice.
  The present charging pile industry raises some requirements for transmission rates. In the case of less data for transmission and no vehicles for charging, charging piles should remain static. When a vehicle needs to charge itself, a charging pile should be able to respond in a timely manner, performing some operations and completing fast charging. Of operator networks, NB networks do not apply to this scenario due to greater delay. Cat 4 product can, despite the too high cost, meet the requirements of this scenario in terms of function and rate. In this scenario, Cat 1 and 2G networks not only meet the rate and function requirements but also incur much lower costs than Cat 4 does. Currently, 2G networks are confronted with logout and frequency recovery. Therefore, Cat 1 is the most appropriate solution for the charging pile industry. This device supports the uplink rate of 5M, the downlink rate of 10M, achieves millisecond delay, and has as stable a running network as Cat 4 due to direct cooperation with LTE networks.
  Solution
  Charging stations provide charging and battery swapping services for new energy electric vehicles. These charging facilities must be networked to build an intelligent charging service system to ensure good user experiences and operational efficiency.
  An intelligent charging service system must be able to monitor charging electricity in real-time, position the geographic locations of charging piles, transmit local data of charging piles, and make the statistics of charging cost, and cooperate with APP to synchronously display data. In this system, local data of charging piles can be remotely uploaded in real-time, and charging costs automatically deducted. Charging piles support the automatic detection of faults, automatically notify the engineer of arriving at the site for maintenance, and provide the remote automatic upgrade function.
  Uplink data route: Human-machine interface of the charging pile ->Cat 1 Modem router with sim card-> Server ->Large screen display (app monitoring)
  Downlink data route: Backend management -> Server -> Cat 1 Modem with sim card-> Operation execution of the charging pile (display in the human-machine interface)
  Application Topology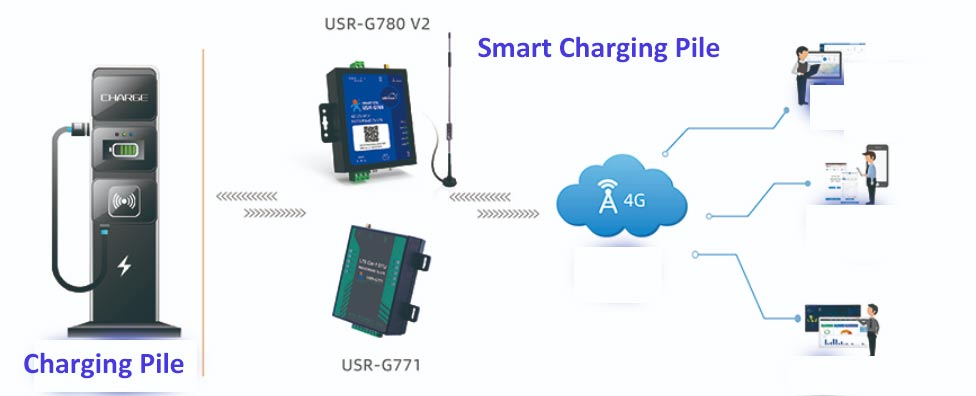 Case Benefits
  Stable network, high coverage, and low delay
  LTE Cat 1 supports the uplink rate of 5M and the downlink rate of 10M.
  LTE Cat 1 works directly with an LTE network to provide high coverage.
  Compared with Cat 4, LTE Cat 1 incurs lower cost and achieves millisecond delay.
  Data Sharing for Convenience and Fast Speed
LTE Cat 1 modem router with sim card
  Cat 1 can monitor electricity consumption, billing, and statistics in real-time, synchronously upload relevant information and feedback charging parameters in the user charging process to customers in real-time. This device can show the geographic position of a charging pile, and guide drivers in quickly finding any nearby charging pile. It can also upload and update the current use and running status of a charging pile in real-time, and notify the customer of the information timely.
  Secure, Reliable, and Efficient Running
  The remote update function of Cat 1 can remotely upgrade the charging pile control system to update its functions and more quickly repair bugs. Cat 1 can automatically detect any accidental fault of a charging pile and timely upload the fault to the service platform. The platform will actively call nearby repair personnel to maintain the device, and will help users easily pay fees by one-touch operation.