IoT communication initially relied on 2G networks (GSM/GPRS), so 2G networks grow more mature in the IoT field. The fast growth of the IoT industry and the communication industry was accompanied by the emergence of 3G and 4G networks. Due to a shorter development life cycle, 3G networks were eliminated as they occupied few markets, whereas 4G networks are widely applied to fast transmission scenarios thanks to high rate and low delay.
  In the era of the arrival of 5G networks, it becomes an irresistable trend to exit from 2G and 3G networks, and this objective has been reached in many areas. In 2009 internationally mainstream operators successively halted investments in 2G networks. For example, American AT&T formally closed its 2G network and redeployed a 4G network on January 1, 2017, and so did Telstra in 2016; Japan, South Korea, Finland, etc. followed suit one by one. Currently, China Unicom has stopped the use of its 2G network, and China Mobile has closed its 3G network and cut its 2G band. The exit of 2G networks represents a general trend.
  More than this, the production of 2G communication equipment had been reduced before the exit of 2G networks. US halted the sales of 2G terminals in 2009, and Japan did the same in 2015. 2G terminals on sale in China are only mobile phones for the elderly, wireless modules, etc. which aim at low-end markets. With exit of 2G networks, 2G terminals will more quickly retreat from the history.
  Accompanied by a great upsurge in network exit, low-rate IoT markets will experience an innovation that 2G and 3G communication equipment is replaced by 4G, NB-IoT, eMTC and Cat 1.
  NB-IoT: narrow bandwidth (180 kHz), low rate, high delay, poor mobility, low coverage (specific NB networks), and half-duplex;
  4G: fast speed, low delay, high coverage, strong mobility, high power consumption, and high cost;
  Cat 1: Bandwidth 20 MHz, low and medium rates, low delay, high coverage, strong mobility, low technical cost, low hardware construction cost, low power consumption (relative to 4G), full-duplex, old yet original technology
  Cat M: Bandwidth 1.4Mhz, low and medium rates, low delay, strong mobility, support for low power consumption, optional half-duplex and full-duplex; low technical cost, high hardware construction cost, and demand for independent network support (low coverage).
  In the future, 4G, 5G and other high bandwidth technologies will occupy a dominant position in the high-rate, low-delay IoT market, and NB-IoT will be adopted step by step in the low- and medium-rate IoT markets. However, as emerging technologies, NB and Cat M require independent networks and offer limited coverage. By contrast, Cat 1 can work directly with current LTE 4G networks, delivering high coverage, low delay and low power consumption. These advantages enable Cat 1 to apply to the current low- and medium-rate IoT markets. Moreover, Cat 1 has almost the same low cost as Cat M. Therefore, we can say that NB and Cat M will dominate the future of IoT market. Currently, however, Cat 1 is undoubtedly the most appropriate device to play this role.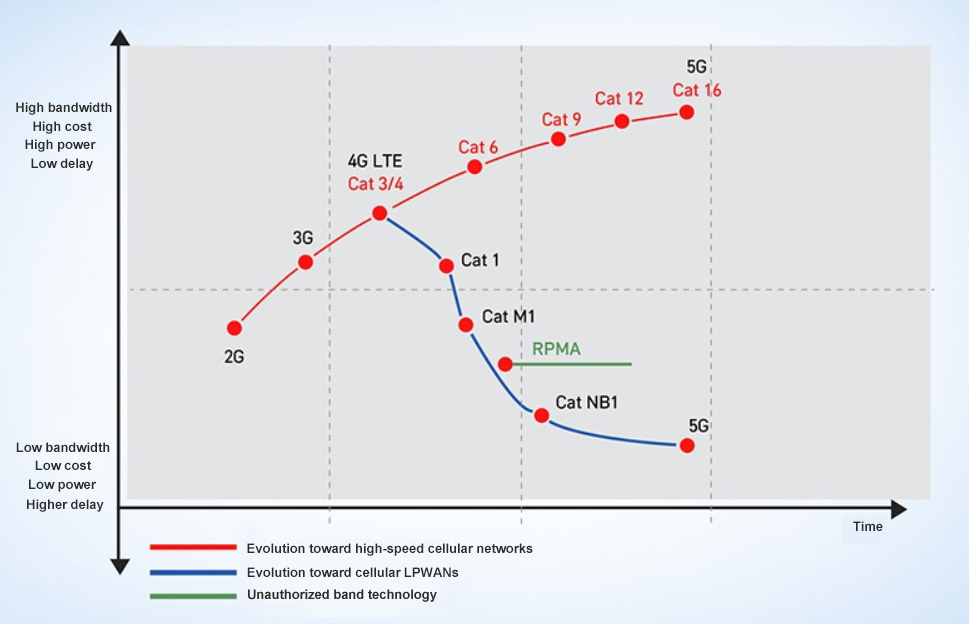 Cat represents UE-Category, in which UE stands for user equipment, and category indicates a class. Cat-X value is used to measure the wireless performance of user terminal equipment. Simply speaking, UE-Category is used to divide terminal rates (levels).
  According to the assumption of 3rd Generation Partnership Project (3GPP), the performance of Cat-1 is to finally serve the IoT market. It is particularly important for IoT development to "achieve the LTE with low power consumption and low cost".
  The corresponding relations between UE-Categories and their supporting rates are shown in the table below.
  Main functions of LTE Cat 1:
  Total bandwidth required: 20 MHz
  Peak download rate: 10 Mbps
  Peak upload rate: 5 Mbps
  Power demand: low
  Duplex: full-duplex
  Transmission power level: 23 dBm
  Cat 1 can be applied to many low- and medium-rate IoT industries, for example, self-service devices, POS devices, industrial control, agricultural monitoring, and fire protection. With sound networks and high applicability, Cat 1 can quickly adapt to market applications. Therefore, Cat 1 is bound to lead the fast development of low- and medium-rate IoT industries.