Function and application of 5g LTE router
Features of 5G lte router
1. Outdoor 5G high-speed networking, providing 5G/4G/3G all-Netcom high-speed network services
High-speed 5G outdoor coverage network, support high-speed WiFi access, international operators network coverage, enjoy high-speed network.
2. Lightweight, easy to install and deploy
The size of the product is as small as 91.4 * 92.6 * 24.4mm, and the weight is only 240g. Compared with 5G industrial routers of the same type, the product is lighter in size, more convenient for customers to install, and meets all kinds of embedded installation needs.
3. Wired and wireless backup each other, free networking mode
Support 2.4G WiFi, have wired and wireless dual backup networking, support fault automatic network switching, reduce the probability of communication failure, support power failure, network transmission and automatic data reissue, 1 Wan port, 3 LAN ports, Wan port can be customized into LAN port, networking application is more convenient.
4. High reliability design, suitable for various harsh environments
Industrial metal shell, IP30 protection grade, wide voltage design (7 V-32 V), high and low temperature resistance (-35 ℃ to 70 ℃), through EMC test, can withstand extreme temperature, voltage instability, high electromagnetic radiation, rain and dust attack and other harsh conditions, to ensure the continuous communication between remote equipment and monitoring center, to provide high-quality products for unattended Internet of Things site.
5. Multiple data protection for complete data transfer
Support mainstream VPN protocols such as PPTP, L2TP and IPSEC, and provide secure tunnel for data flow; It supports power failure, network disconnection and automatic data reissue, ensures data integrity, reduces the probability of communication failure, and provides security for Internet of Things applications.
6. Remote management to reduce operation and maintenance costs
It can remotely carry out centralized monitoring, configuration, upgrade, diagnosis, maintenance, control and so on, which provides basic guarantee for users'remote intelligent monitoring applications, greatly reduces operation and maintenance costs, and improves management efficiency.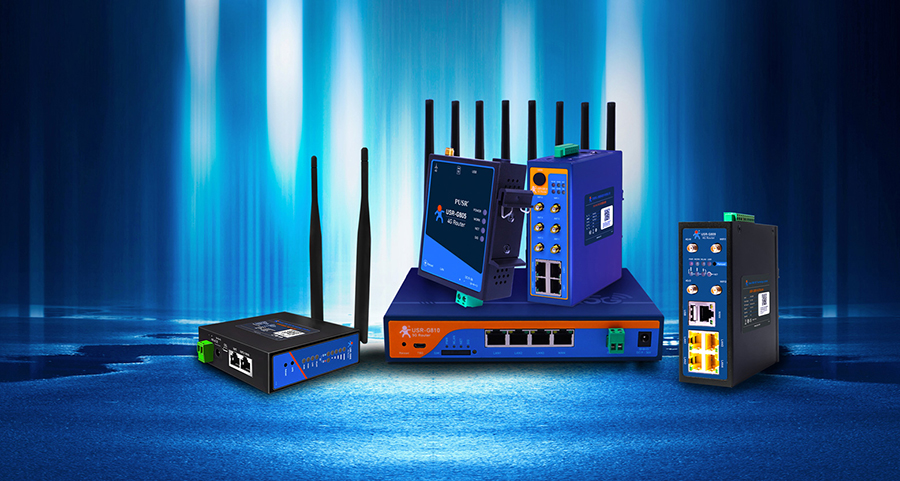 Application of 5G LTE Router
● Outdoor high-speed networking transmission
Outdoor engineering operations often require temporary networking office, using USR-G810, you can quickly connect to 5G/4G/3G networks; At the same time, the AP mode of Wi-Fi can expand the coverage of wireless network and provide a fast, simple and reliable networking scheme for temporary office.
● Video monitoring network transmission
Video surveillance scene has higher requirements for real-time and stability of network transmission. USR-G810 can provide users with fast networking function, help monitoring equipment to quickly network, and realize real-time and online networking transmission of large amounts of data.
● Application of vehicle-infrastructure coordination system
The vehicle-road coordination system uses USR-G806 as a networking channel, which can realize the dynamic real-time information interaction between vehicles and roads, ensure the active safety control of vehicles and road coordination management, fully realize the effective coordination of people, vehicles and roads, and ensure traffic safety.USR-G810 can make the network signal reach a wider coverage and be online 24 hours a day, thus saving its manpower and material resources and reducing operating costs.
● Online monitoring and networking transmission of dust and noise
The dust online monitoring system can remotely, real-time and automatically monitor the particulate matter and noise generated in construction activities through acquisition and transmission equipment. The data is transmitted through USR-G810 wireless network, which can help managers to timely and effectively grasp the situation of scattered construction sites and provide data reference for government regulatory authorities to formulate environmental protection plans.The USR-G810 is networked reliably, can adapt to harsh environments, supports remote management, and significantly reduces personnel maintenance costs.
● Industrial networking application cases
In the oil pipeline safety monitoring scenario, the pipeline monitoring and sensing terminal equipment is connected to the USR-G810 network. The collected data will be transmitted to the oil pipeline safety monitoring and management platform in real time, so as to quickly complete the troubleshooting, ensure the safety of construction, and avoid the illegal operation of operators.