PUSR IOT on the List of "Top 100 Software Enterprises in Shandong Province" in 2021
  Recently, under the guidance of Shandong Provincial Department of Industry and Information Technology, Shandong Software Industry Association and Shandong Software Industry Industry-Education Alliance jointly announced the list of "Top 100 Enterprises with Comprehensive Competitiveness of Software and Information Technology Services in Shandong Province in 2021".Based on its outstanding performance in enterprise scale, efficiency, R & D innovation, product competitiveness and market development ability, LTD has been successfully listed as "Top 100 Software Enterprises in Shandong Province" in 2021 Shandong PUSR IOT Co.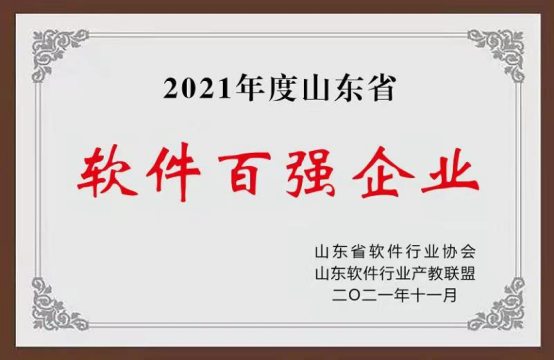 As the first selection of the top 100 software enterprises in Shandong Province, this selection focuses on promoting the high-quality development of the software industry in Shandong Province, aiming at creating a number of software enterprises with strong driving force and support for the whole province, playing a leading role, improving the overall competitiveness and influence, and helping to build a strong modern province in the new era.
  Since its establishment, PUSR IOT has been deeply engaged in the Internet of Things industry for many years, focusing on the R & D, production and sales of equipment, software and PUSR Cloud in the field of industrial networking and communication for a long time. It is a national high-tech enterprise, a national "specialized, special and new" giant, and one of the top 10 private enterprises in Shandong Province.The company's main products have obvious competitive advantages, diversified products, serving 100000 customers, and selling tens of millions of products accumulatively. With the product concept of "reliable, easy to use, reasonable price", the company has created a high reputation and reputation both inside and outside the industry.
  PUSR IOT will closely follow the pace of building a strong modern province in the new era, focus on the needs of software applications within and outside the province, promote the realization of a new generation of information technology in various industries to assign, empower and empower, and strive to play the greatest leading role.