Industrial cellular modem also can called GPRS Modem, which is an Iot wireless data terminal. Industrial cellular modem can provide wireless long distance data transmission based public network. GPRS modem adopts high performance industrial wireless module and provides RS232 interface which can connects serial device directly and realizes CSD, SMS, and dial - up Internet service functions.
Easy to work and Operate: As long as insert SIM card in the slot of GSM device, through configuration software itself, GPRS modem can realizes dial up connection and dara transmission functions.
GPRS Modem Applications:
Electricity:
City network distribution automation system,
Real-time monitoring and automatic compensation of Power Network,
Electric power remote automatic meter reading
Meteorology: data transmission of meteorological data such as temperature, humidity, wind direction, wind speed and spatial clarity.
Petroleum: oil pipeline temperature real-time online detection, oil field data acquisition.
Mine: mine safety data real-time online detection; mine production tax control data monitoring.
Communication: power environment monitoring, communication maintenance line.
Heat: real-time monitoring and maintenance of thermal system.
Water conservancy: Hydrologic station observation data monitoring.
Life: real-time data acquisition and automatic control of gas regulating station, real-time monitoring and maintenance of tap water, sewer, gate and water plant.
Transportation: CDMA/SMS/GPS motor vehicle monitoring and dispatching system; bank cash truck, postal transport vehicle monitoring and dispatching; taxi, public transport vehicle and indicator group vehicle management, monitoring and dispatching.
Application in public server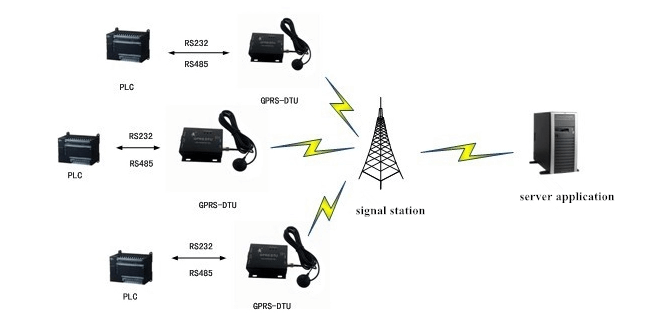 Use network to extend serial communication distance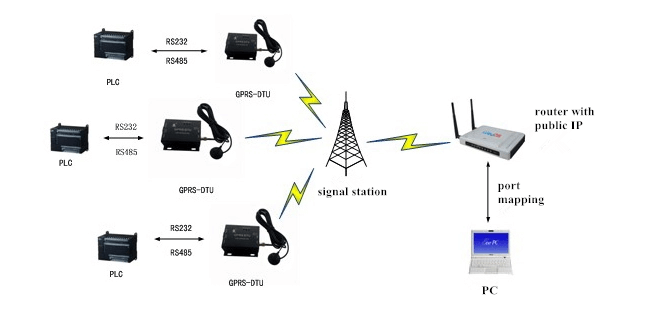 Server transit mode