What is a 4G cellular router? Advantages of cellular networks
  As a high-speed Industrial Internet of Things (IIOT) router, a 4G cellular router supports 4G/3G/2G network, and can quickly and steadily transmit data through a cellular network.
  Generally, using an industrial high-speed 4G wireless communication module, it is configured with a 32-bit high-performance processor, increases FLASH and RAM by twice, and improves the speed of wireless transmission of mass data. It can more smoothly and quickly transmit high-definition videos, animations, pictures and other information to be collected (such as pressure, temperature, traffic, displacement, speed and electromagnetics).
  Which are the differences between a cellular router and a common 4G router?
  I. Product stability: A common home router is not so highly stable as an industrial cellular router. The latter can long work stably, and fix any network failure itself. A common home router cannot long run. Outdoors in particular, if configured with a poor security protection function, it easily meets Internet shutdowns.
  II. Environmental use requirements: A common home router runs at a temperature of -10oC to 60oC. Generally, this temperature range can meet the requirements of such router. But this device cannot be applied to the field of industrial control with a worse environment. Even in winter in north China, it cannot normally work outdoors. Thanks to its different element and design, an industrial cellular router normally runs at a temperature of -35oC to 75oC.
  III. Hardware function: A common home router is configured with only RJ45 interface to offer the network to a device with a network port. In the field of industrial control, many devices are provided with serial ports instead of network ports, and must use industrial cellular routers with serial ports. Additionally, an industrial cellular router must be designed with electromagnetic isolation, electrostatic prevention, wide voltage and other functions to apply to the industrial environment. These functions allow the router to have the stronger anti-interference ability.
  IV. Software function: A common home router can only deliver general network access. Because an industrial cellular router needs to be applied to different industrial control fields, it must have more functions appropriate for the application in the industrial environment, for instance, Demilitarized Zone (DMZ), static Network Address Translation (NAT), port forwarding, Virtual Private Network (VPN), firewalls, load balance and watchdog.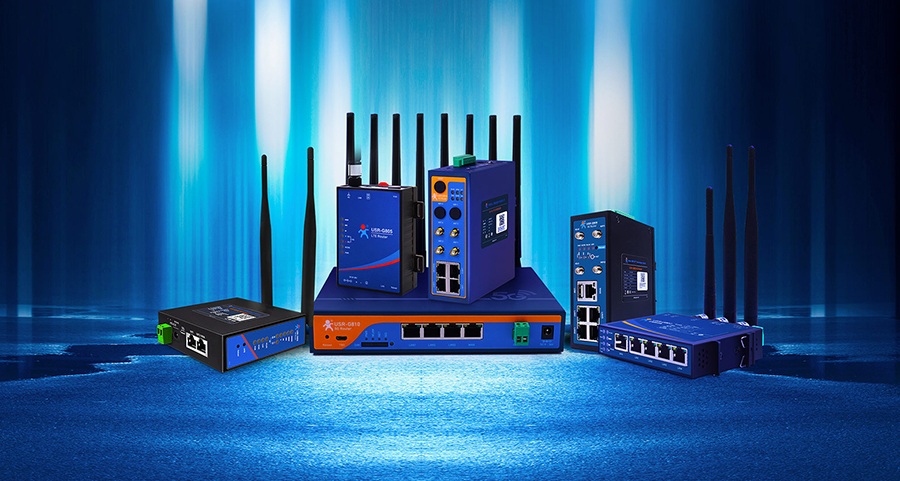 Advantages of cellular networks
  1. Stable network communication in a harsh environment
  Complicated industrial environments raise higher requirements for industrial routers.
  The high-performance industrial wireless module being used by a 4G cellular wireless router supports the software watchdog and the hardware watchdog, ensuring that the router long and stably runs as no one is on guard. Reliable network security communication ensures that the router runs stably in a high-temperature or cold operating environment.
  2. Strong compatibility and fast transmission
  Strong compatibility enables a 4G cellular router to support more devices of different standards. A 4G cellular router has a higher transmission speed than a common router. Some 4G cellular routers offer just two network ports and one RS485 serial port. These devices can be externally connected to some terminal devices, for instance, programmable logic controller (PLC) monitoring, field camera monitoring and transmission of real-time video data.
  3. Wide coverage and cost-effective price
  A 4G cellular router delivers wide coverage, because it uses the CPU with high-quality dominant frequency. Using a chip with high-quality dominant frequency, a 4G cellular router supports the 4G/3G/2G service of China Mobile, China Unicom and China Telecom, and saves the trouble caused by frequent chip change.
  A 4G cellular router meets the use requirements of customers such as powerful data processing capability and wide coverage. Users can get cost-effective 4G cellular routers, because these devices involve a lower product cost.
  Applications of cellular routers
  An industrial cellular router is designed with solid, durable industrial appearance and IP30 protection, a built-in high-performance industrial 32-bit communication processor and a wireless module. With an embedded real-time operating system as a software support platform, it can connect serial port devices, Ethernet devices, and Wi-Fi devices at the same time. It is mainly applied to industrial scenarios.
  I. Smart Cities
  1. Smart Road Lamps
  By monitoring such parameters as ambient light and traffic flow, municipal administrators can control the luminance of road lamps and the time to turn on or off lamps, thus saving much electric energy. If any road lamp malfunctions, the system will immediately issue a warning about the need to repair, which can reduce accident risks or the crime rate.
  2. Smart Meters
  A meter connected in a wireless mode can realize the application of the remote meter reading system, for instance, tiered pricing for electricity and bi-directional electric energy meter. A smart meter can also detect and report such events as electricity theft and circuit electricity leakage.
  3. Smart Parking Lots
  A smart parking lot based on a proximity sensor is another IoT application. The parking lot can send the information on empty parking spaces to drivers, prevent traffic jam and allow charging and pricing as per parking time to become more accurate.
  II. Smart Agriculture
  Crops in greenhouses in vegetable bases can be monitored. Each greenhouse is installed with a wireless monitoring sensor, and each parcel is configured with a cellular router for networked data transmission. This router monitors the air temperature, air humidity, illumination, soil temperature, soil moisture and carbon dioxide concentration in each greenhouse in real time, and sends the monitoring data to the remote software platform on time. If any data exceeds the warning threshold, the system automatically issues warning information (notifying the administrator through SMS or giving a warning on the web page), reminding the administrator to take intervention measures so as to prevent crop growth from being affected and thus ensure the high yield and high efficiency of crops.
  Application of smart agriculture is to gather the environmental information of agricultural planting through IoT and cloud computing technologies, complete the monitoring platform for soil moisture content, crop seedlings, disasters, insect condition, meteorology and growth of plant onology, establish the consultation bank of agricultural experts, and thus create the comprehensive management platform database of smart agriculture IoT.
  III. Smart Healthcare
  As a milestone in this era, smart healthcare collects the major physiological parameters of patients, such as body temperature and blood pressure, and sends such parameters to the cloud platform through a cellular router. At the platform, the online health records are established for patients and present the data of health and physiological state data of patients. For medical professionals, data on the health history of patients is an effective diagnosis tool. They can analyze such data in real time, and in an emergency, can take quick action to immediately rescue patients.
  IV. Smart Industry
  1. Smart Metering
  Through a sensor, a cellular router can track the data of water, electric power and other fuels, and transmit the data to the cloud platform. The remote monitoring room can manage and monitor such data. IoT is to efficiently allocate resources.
  A small manufacturer can use the customizable final user analysis offered by an IIoT company to analyze the monitoring effect of a smart electric meter. The manufacturer can compare the prices, efficiency gain and carbon footprints of resources to ensure that these resources are appropriately integrated into the advanced manufacturing process.
  2. Supply Chain Management
  IoT application can track a supply chain by acquiring the accurate data of existing resources. It includes the information on ongoing work, device selection and expiration dates of the required projects. Additionally, an IoT device eliminates the need for a manual report in the operation, and introduces the Enterprise Resource Planning (ERP). Being more rigorous and more secure than labor management, this management model fundamentally reduces costs and increases efficiency.
  Advantages of cellular routers
  1. High Stability
  High stability is one of the major advantages of a 4G industrial cellular router in transmitting and receiving data. Using a high-performance industrial wireless module and an industrial, highly stable and precise component, it can resist a harsh outdoor environment, and prevent the interruption of data transmission or the loss of data.
  2. Fast Data Transmission and Processing
  Compared with a common router, a 4G cellular router adopts a high-performance CPU processor. Therefore, it transmits and processes data several times as quickly as a common router does so. It allows more people to concurrently connect to Internet, and delivers a farther transmission distance and wider coverage.
  3. Powerful Functions
  A cellular router possesses more powerful functions than a common router. A common home router is only required to normally connect to Internet. For an industrial cellular router, however, more functions are the precondition for its normal running. A 4G cellular router is designed with functions in compliance with the industry standard to meet the requirements of different industrial or commercial outdoor scenarios.
  High stability, fast data processing and security protection function are the main advantages of an industrial 4G router. Moreover, it offers many ports and the powerful ability to receive wireless signals. The two points also constitute the advantage of the device. An industrial 4G router is often applied to high-end fields or complicated outdoor conditions, so it must have more functions and advantages to meet field requirements.