Functions of 5G Industrial Router
The industrial router is the outdoor communication equipment based on the cellular network, and the 5G industrial router is the outdoor communication equipment realized through the 5G network, which is 20 times faster than the 4G industrial router, and the price is proportional to the speed. The current market price of the 5G industrial router is five to six times more expensive than the 4G industrial router, or even higher. Due to the fast transmission speed and large bandwidth capacity, 5G industrial routers are commonly used in environments such as video transmission, artificial intelligence and unmanned factories.
Applications of industrial 5G routers USR-N810: AGV Vehicle Transportation Solution in Factory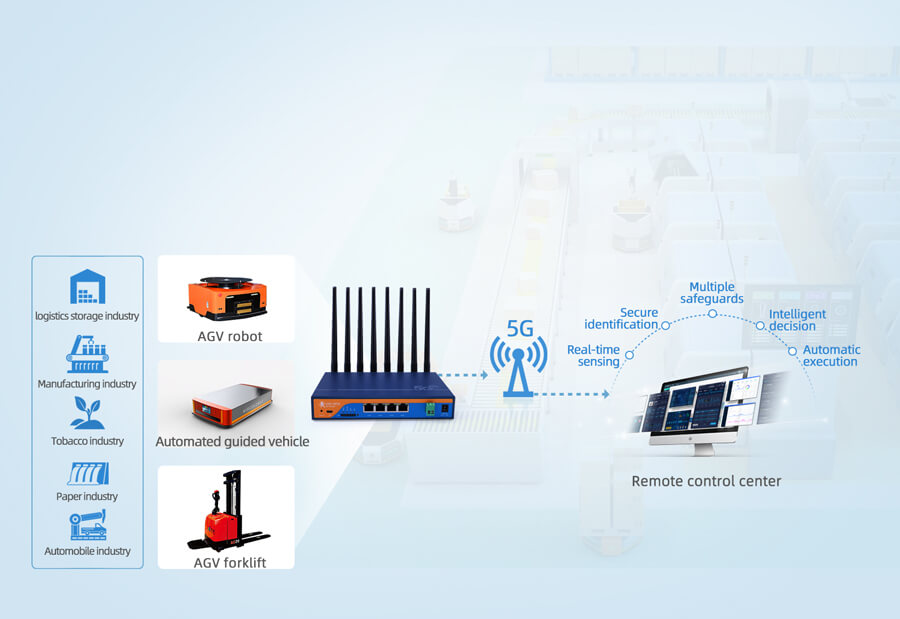 5G Industrial Router Functions
Stable and Reliable
● Complete industrial design, metal shell, protection grade of IP30;
● Wide voltage input range of DC 9-36V, with power supply reverse protection;
● Static, surge, electrical fast transient and other multiple protection;
● Built-in hardware watchdog, fault self-detection and self-repair, to ensure the stability of the system.
Flexible Networking
● Provide 5G networks with high speed, low delay and high stability;
● Support NSA and SA two -mode 5G networks, compatible with 4G/3G network types downward;
● Equipped with 4 gigabit Ethernet ports, providing high-speed connectivity;
● 6 high-gain antennas are scientifically laid out to effectively reduce the same-frequency interference and stabilize the transmitting and receiving data;
● Support automatic network detection, 5G/4G/3G network types switching, support APN/VPDN special network adapter;
● Support multiple networks (wired/5G) online at the same time, multi-network intelligent switching backup function;
● Support 2.4 GHz and 5.8 GHz dual-band WiFi and choose network connection by yourself;
● Support VPN(PPTP, L2TP, IPSec, OpenVPN, GRE), and support VPN encryption.
Powerful Functions
● Support multiple WAN connection modes, including static IP, DHCP, PPPoE, 3G/4G/5G;
● Support peanut shell intranet penetration, dynamic DNS, static routing functions;
● Support firewall, NAT, black and white list with access control;
● Support multi-platform(SSH, Telnet, Web) management configuration;
● Support the import/export of configuration parameters, greatly improve the configuration efficiency under mass application;
● Support remote upgrade, remote monitoring, achieve remote equipment operation and maintenance easily;
● Support NTP, support one-key to restore factory settings;
● Support LED condition monitoring (PWR, WLAN, NET, SIG), obviously display the current conditions;
● Support link detection function, provide anti-drop mechanism to ensure that the data terminal is always online.