How does a Industrial Router work
  How does a Industrial Router work?
  A Industrial cellular Router is a portable device that offers shared Internet access through a cellular gateway. A standard wireless interface enables a computer, a mobile phone, a Personal Digital Assistant (PDA) and other network support products to easily share connections.
  A Industrial Router can meet the mobile state and connection capability of Internet. This is a great advantage of cellular networks. It uses the access mode of mobile broadband Internet access to create a Local Area Network (LAN) for all mobile or portable wireless devices. It can act as the main Wide Area Network (WAN) link, or offer a standby network once the primary network fails.
  It aims to connect a remote device to Internet and a RS232 serial port device through a cellular network, and to a central location through TCP/IP. Setting a router and configuring router software are easily understandable and operable. Before it is deployed, a Industrial Router can either be easily configured through a standard web browser or be remotely arranged based on Hyper Text Transfer Protocol (HTTP) once through Secure Shell (SSH) or web browser.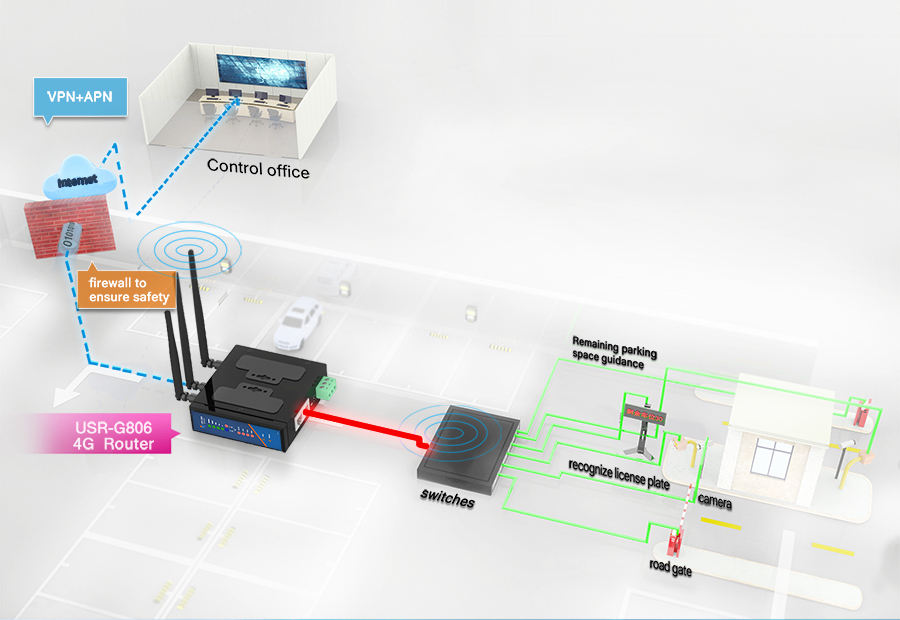 What can a Industrial Router do?
  1. Faster data processing and transmission
  With a high-performance Million Instructions Per Second (MIPS) kernel, a Industrial Router offers high-capacity memory buffer (DDR2-1Gbits), powerful and outstanding performance to meet the performance requirements of large data transmission applications (such as pictures and videos).
  2. Secure communication in a harsh environment
  Compared with a common router, an industrial Industrial Router faces higher requirements raised by complicated industrial environments. Using a high-performance, industrial 4G wireless module, a 4G cellular router offers industrial, highly secure and precise components, temperature correction pictures at -40oC to 85oC, operating environment adaptive to a high-temperature or cold operating environment, reliable networks and unmanned network security communication.
  3. Automatic switchover of 2G/3G/4G signal
  A Industrial Router delivers more stable double 4G antenna signals. Besides two Long Time Evolution (LTE) standards (Frequency Division Duplexing (FDD)-LTE and TD-LTE), the router can support 2G/3G, Time Division Synchronous Code Division Multiple Access (td-scdma)/Wideband Code Division Multiple Access (wcdma)/edge and other modes.
  4. Stable Wi-Fi signal
  Signals of double Wi-Fi antennas of a Industrial Router support 802.11b/g/n and up to 24 wireless STA connections. The user can choose a channel automatically or manually. Additionally, Wi-Fi signals support such encryption modes as Wi-Fi Protected Access (WPA)/WPA2 and Wireless Encryption Protocol (WEP) to ensure secure, stable wireless data transmission.
  How do you select a Industrial Router?
  Quality Selection
  1. Brand
  The brand is a symbol of quality and assurance. Unlike the fashion industry with a history of hundreds of years, some brands of which are well-known to every household, IIoT represents a younger industry. You may need to know about the IoT brand through the following:
  • Customer cases;
  • Recommendation by friends;
  • Comments on the e-commerce platforms such as search engines and Amazon;
  • Partners.
  Besides industrial Industrial Routers of high-end brands, many companies have launched economical industrial routers.
  2. Security
  Security, one of the most crucial problems for IoT, is related to data ethics, privacy and responsibility. A sound network security system largely helps an enterprise prevent data from being stolen or destroyed. It's noteworthy that the system must be built on every step of the transmission design of the whole network system. This means that you must try to reduce the problem of data security before and after you buy a Industrial Router. In considering selecting an industrial Industrial Router, we can compare the following security characteristics:
  • APV/VPN
  Most Industrial Routers have APV/VPN security tunnels, because data can be more securely transmitted through a dedicated tunnel. Many transfer protocols are available to VPN. Of them, open VPN and IPSec protocols as the most common ones cover the most scenarios, while other transfer protocols are less used. Therefore, before you buy an industrial router, check which VPN protocols you network needs, and remember that you will not have to request multiple VPN protocols in the case of no special requirements.
  • Firewalls
  A firewall is a security barrier between LAN and WAN. Through a firewall, you can shield some intranet IP addresses, freely set an IP address, and filter a communication port. In the data transmission, the most important role of a firewall is to guard against hacker attacks and virus intrusion. If a 4G industrial router is not configured with any firewall, you can abandon this device.
  • Protection Offered by Watchdog
  A watchdog timer (sometimes known as a normally running computer or COP timer, or called a watchdog for short) is an electronic or software timer that detects any computer failure and recovers from that failure. When a single-chip microcomputer normally works, it regularly outputs a signal. This process is called feeding a dog. A watchdog timer aims to protect any continuously and long running projects, and to evade any system crash. When there is something wrong with the system, the system can be quickly restored to normal. Therefore, if you need a long and continuously running network, you must have a watchdog timer.
  3. Stability
  • Stability is the core factor that determines the quality of Industrial Routers, so it is as important as one's heart. Stable drive is usually equipped with some highly precise components, for instance:
  • Industrial 4G high-speed transmission module: You can easily operate it in a harsh operating environment.
  • 32-bit ARM CPU processor: The processing speed of the CPU increases by twice to three times. This processor meets the requirement of stable transmission of large data such as pictures and videos, and consumes less power when meeting the performance requirement.
  • Metallic shell: This shell shields electromagnetic interference and protects against radiation. The lightning protection design applies specially to the harsh environments of industrial projects.
  • Circuit protection: Electro Magnetic Compatibility (EMC) based industrial design protection, electrostatic discharge (ESD) (interface) anti-static design, and Electrical Fast Transient (EFT) anti-pulse The Printed Circuit Board (PCB) is made of quality materials to assure the stability of boards. Industrial design of circuit protection ensures steady and reliable circuit transmission systems.
  • Perfect protocol stack: A perfect TCP/IP protocol stack contributes to outstanding communication performance and a much lower probability of going offline.
  • Memory: Memory is to receive data when releasing data sent by users. Large memory best helps to ensure stable transmission and secure transmission of packets.
  • Wide voltage: If you have a perfect router with inappropriate voltage, this device is no use. Therefore, make sure to check the voltage you need.
  • Industrial din-rail installation: A swaying industrial router affects stable data transmission. But the secured transmission device is free of such risk. A 4G industrial router with a guide rail fastener is easy and simple to install, and runs stably.
  Use selection of industrial 4G routers
  I. Applicable Scope
  We describe the selection of Industrial Routers only. The applicable scope of an Industrial Router should be appropriate for all the parameters and indexes your project requires. For instance, there is an outdoor industrial project in Canada at a temperature of -4oC to -40oC. In this situation, you must select an Industrial Router with a wide temperature range.
  If a router is used for a smart vehicular telematics system, the project may require a higher data transmission speed. In this case, you should select a high-speed Industrial Router.
  2. Network Selection
  Different projects use different networks, for instance, LTE CAT1 or LTE CAT4. CAT1 is an ideal choice to deliver low power consumption, low cost and low data rates, while CAT4 is used for high data rates. Therefore, CAT4 is used for closed circuit televisions, video monitoring, Automatic Number Plate Recognition (ANPR), asset tracking, environmental monitoring and so on. Here, nearly permanent connections and high data speed communication are needed. For signages, ATM, measurement, parking lot payment and other applications, CAT1 offers a more appropriate choice. If a router is to be deployed in different areas, you must consider its frequency ranges.
  3. Interface Selection
  The communication interface of an Industrial Router usually includes a WLAN interface, a LAN interface, a 4G/Wi-Fi antenna, and even a serial port (RS232\485). You just need to check the specific communication interface your project needs. If a project does not need too many WAN interfaces, you can select a router with fewer WAN interfaces. This practice is economical.
  4. Quantity of Downstream devices
  The quantity of downstream devices of a Industrial Router is mainly determined by the real project scale and the quantity of Internet devices. If there are no special requirements, 10 to 20 downstream devices can support most industrial projects. For some smart city projects, for instance, elevator connection, two downstream devices (an elevator and a camera) is enough for a Industrial Router.