How does a Serial to Ethernet Converter Work in the IoT?
This article mainly introduces how does a serial to Ethernet converters work in the IoT.
What is the Internet of Things
Machine-to-machine (Internet of Things) is a broad label that can be used to describe any technology that enables networked devices to exchange information and perform operations without human assistance. Artificial intelligence (AI) and machine learning (ML) facilitate communication between systems, enabling them to make their own autonomous choices.
New Trend: Digital Twin Technology
Digital twin technology, or a virtual representation of a product, is a key concept and is still being studied. IoT technologies are first adopted in manufacturing and industrial environments, while other technologies, such as SCADA and remote monitoring, help to remotely manage and control data in devices. Since then, the Internet of Things has found applications in other areas, such as healthcare, commerce and insurance.
How does the IoT Work?
The main purpose of machine-to-machine technology is to make use of sensor data and transfer it to the network. Unlike SCADA or other remote monitoring tools, IoT systems typically use public networks and access methods (such as cellular network or Ethernet) to make them more cost-effective.
The main components of IoT systems include sensors, RFID, WiFi or cellular communication links, and autonomous computing software that is programmed to help network devices interpret data and make decisions. These IoT applications transform data so that preprogrammed automatic operation can be triggered. There are hundreds of companies working on every aspect of these. USR Internet of Things focuses on the network layer between sensor and server, and its products include wireless router, serial to Ethernet converter, GPRS module and other communication products.
Telemetry technology is one of the best known machine-to-machine communication types and has been used to transmit operational data since the beginning of the last century. Pioneers of telemetry technology first used telephone lines and then radio waves to transmit performance measurements collected from monitoring instruments at remote locations.
The Internet and improved standard wireless technology have expanded the role of telemetry in pure science, engineering and manufacturing for everyday use products such as heating units, electricity meters and Internet-connected devices such as home appliances.
The greatest benefits of the Internet of Things
In addition to being able to monitor devices and systems remotely, some of the greatest benefits of the Internet of Things include:
1. Reduce costs by reducing equipment maintenance and downtime;
2. Increase revenue by uncovering new business opportunities for on-site maintenance products;
3. Improved customer service by proactively monitoring and repairing equipment before it fails or only when needed.
4. Serial to Ethernet converters connect the serial devices in factories, hospitals and warehouses through Ethernet, and then send the data to the background server, so that the staff can view the data on the web page or APP.

Smart Lighting Facilities in Factories and Mines Monitoring
Water Supply System Monitoring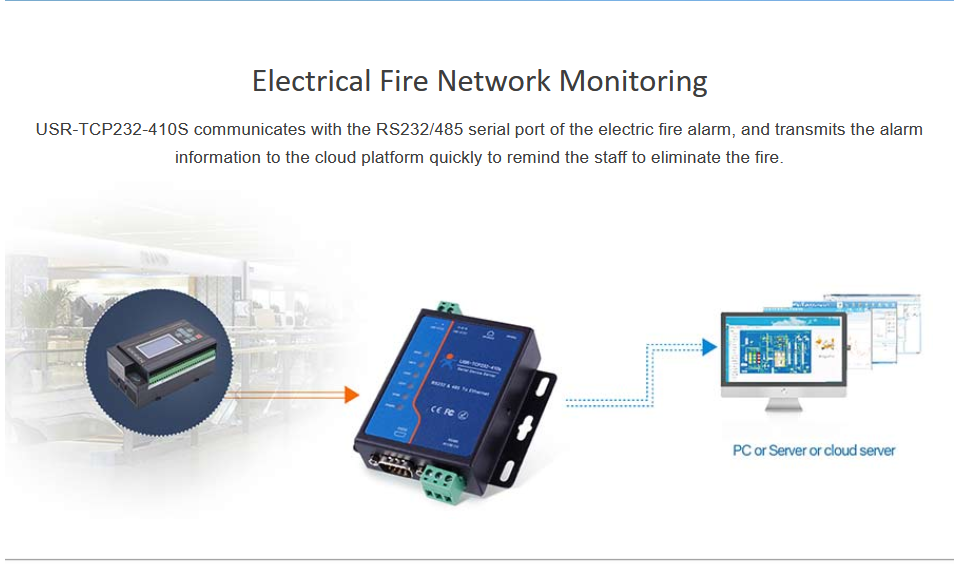 Electrical Fire Network Monitoring