System Abstract
Patients want timely and professional care from medical staff. Having ablity to provide timely and professional medical services to each patient is the primary indicator for evaluating the service quality of modern medical institutions.
The technology has made modern medical institutions breakthrough tradition and improved the medical services level significantly. The ward calling system, referred to as the calling instrument, can quickly and accurately transmit the patient's call signal to the medical staff so that the patient can obtain medical services timely.
The use of the ward call system is very convenient for patients, and at the same time, it can reduce the number of inspections by medical staff. It is widely used in the modern ward systems.
USR IoT series serial to Ethernet converters is widely used in medical systems due to the excellent quality.
System Introduction
The project covers the inpatient department of a hospita. Connect the serial to Ethernet converter USR-TCP232-410S to the hospital's local area network; the system background and serial to Ethernet converter can collect the call information from the hospital bed and send the call information to the display screen of the nurse station. The scheme topology is shown below:
Topology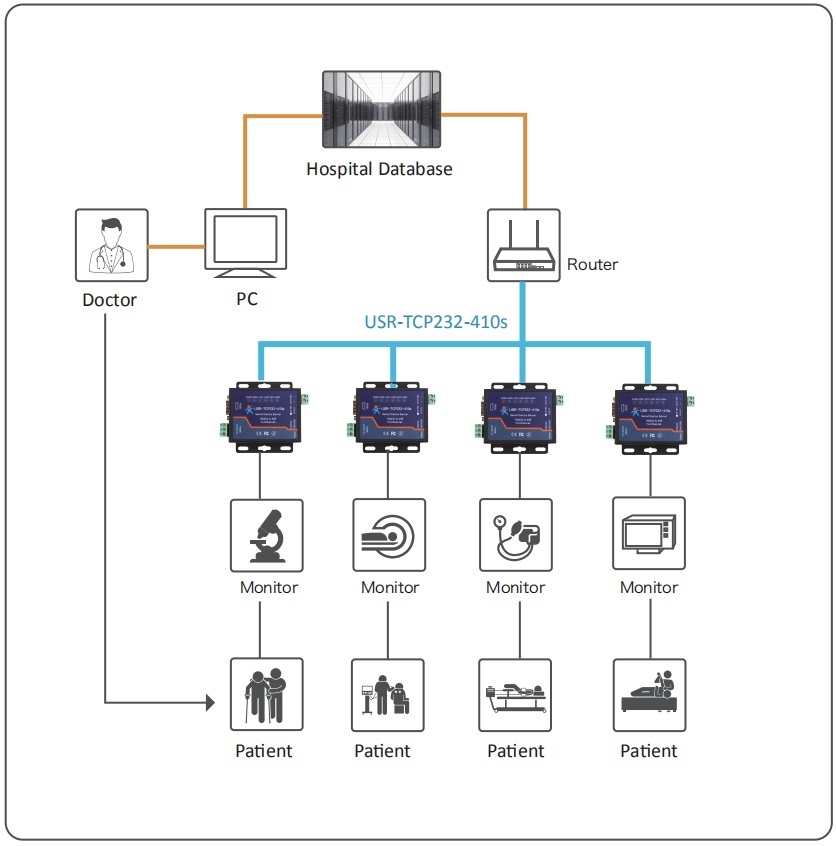 Application features
Adopts serial to Ethernet converter USR-TCP232-410S
Industrial-grade serial to Ethernet converter, strong anti-interference ability,
Serial to Ethernet function, easy to set and access the local area network
Can be configured by Web-page, easy and direct.
RS232/RS485 ports can work simultaneously.
Low latency time can assure data accuracy.
Related Products
Serial to Ethernet converter USR-TCP232-410S
10/100Mbps Ethernet interface and support Auto-MDI/MDIX.
Support TCP Server, TCP Client, UDP Client, UDP Server, https Client.
Support configuring through Web Server
Support RS232 and RS485 and they can work independently
Support RTS/CTS hardware flow control and Xon/Xoff software flow control.
Support USR-VCOM.
Support Modbus Gateway
Support serial port baud rate 600bps~230.4K bps; support None, Odd, Even, Mark, Space parity way
Support Static IP or DHCP.
Support Websocket function.
Support the Reload button to reset to default settings by hardware way
Support Keep-alive.
Support timeout restart function and timeout reconnect function.