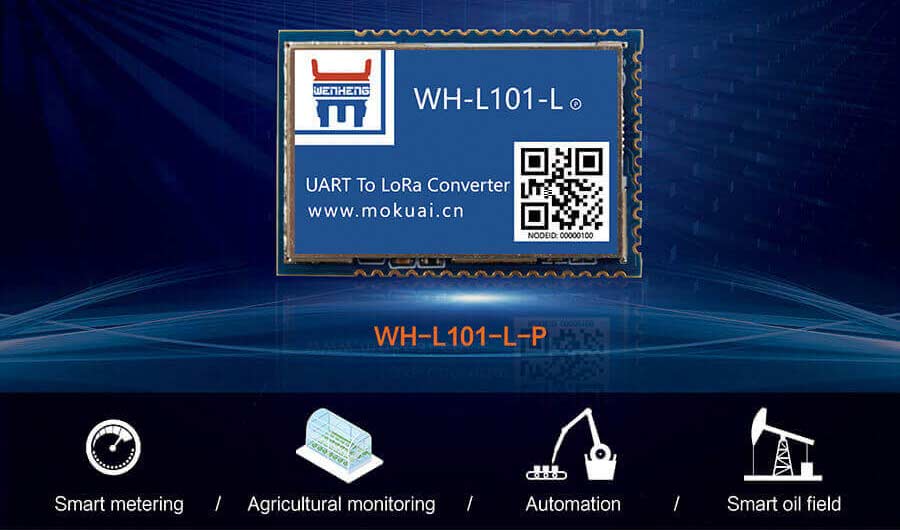 WH-L101-P is half-duplex LoRa module which supports point-to-point communication protocol. Transmitting side and receiving side must meet the following three conditions to realize point-to-point communication:
Same speed level.
Same channel.
Same target address or both are broadcast address.
WH-L101-P supports following three work mode(Note: No matter which mode, one data package length can't over 252 bytes, otherwise data package will be discarded):
AT command mode: In this mode, user can send AT commands to configure module.
Transparent transmission mode: In this mode, data transmission procedure won't influence data content.
Fixed point mode: In this mode, target address and channel can be changed to switch target module. Based on transparent transmission mode, first and second bytes of transmitted data will be target address and third byte will be channel. When module transmits data, target address and channel will be changed and settings will restore after transmitting.
There are two model of LoRa module WH-L101-P:
Product Model Number

Protocol

Frequency Band

WH-L101-L-P

Point to Point protocol

398Mhz~525Mhz

WH-L101-H-P

803Mhz~930Mhz
Basic parameters of LoRa module WH-L101-P:
Parameter

Range

Wireless parameter

Working frequency range

WH-L101-L-P: 398~525MHz

WH-L101-H-P: 803Mhz~930Mhz

Transmitting power

Working voltage range from 1.8V to 2.4V, transmitting power can be set between 10dBm~17dBm.

Working voltage range from 2.4V to 3.6V, transmitting power can be set between 10dBm~20dBm.

Receiving sensitivity

-138.5dBm@0.268Kbps

Communication distance

3500m

Antenna

Bonding pad

Hardware parameter

Data interface

1200bps~115200bps

Working voltage

1.8V~3.6V

Working current

@3.3V: Transmitting current 130mA;

Receiving current 16mA;

Wake up receiving current 4μA.

Working temperature

-40℃~+85℃

Storage temperature

-45℃~+90℃

Working humidity

10~90%RH

Storage humidity

10~90%RH

Dimension

18.2mm*26.6mm*2.6mm

Encapsulation interface

SMT(surface-mount technology)

Certification

CE/RoHs