The Pin Definition of Bluetooth Module WH-BLE103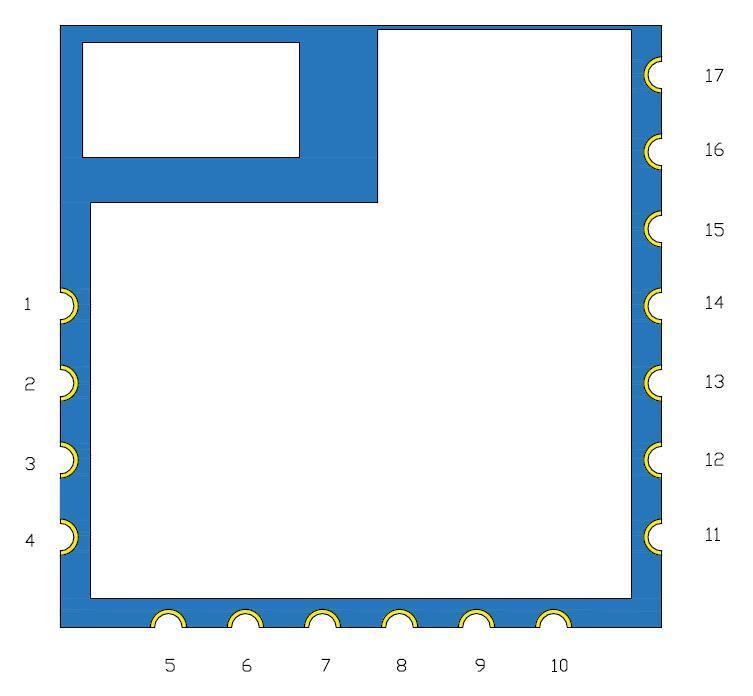 | | | | |
| --- | --- | --- | --- |
| PIN | Name | Signal type | Definition |
| 1 | nReload | I | Pull down to low level 3 seconds to 10 seconds can reset module to default settings. |
| 2 | Wake | I | Pull down to low level over 1 second to wake up module |
| 3 | GPIO1 | IO | General IO1. Control pin of serial port downloading. |
| 4 | ADC | I | AD acquisition pin. |
| 5 | GPIO2 | IO | General IO2. |
| 6 | VBAT | P | Power supply pin. Voltage range: 1.7V~3.6V. |
| 7 | SWCLK | IO | SWD clock pin. Downloading interface. |
| 8 | SWDIO | IO | SWD data pin. Downloading interface. |
| 9 | UART_TX | O | UART_TX pin. |
| 10 | UART_RX | I | UART_RX pin. |
| 11 | LINK | O | Indication pin of connection status. |
| 12 | nReset | I | Restart module and take effect in low level. |
| 13 | GND | P | Power ground. |
| 14 | VBAT | P | Power supply pin. Voltage range: 1.7V~3.6V. |
| 15 | GND | P | Power ground. |
| 16 | RF | IO | RF pin. External antenna. |
| 17 | GPIO3 | IO | General IO3. |
Module minimum system can be constituted by VBAT, GND, UART_TX, UART_RX. User can also add nReload, Wake, LINK, nReset according to own needs. When user adopts external bonding pad pin antenna WH-BLE103b, user needs to connect RF pin to external antenna.
ADC, GPIO1, GPIO2, GPIO3 are reserved function and user can contact to technical support engineer for customized development.
Serial port downloading: Besides using SWD interface to download firmware, user can also use serial port downloading. Pins are UART_TX, UART_RX and GPIO1. GPIO1 is control pin of serial port downloading. Pull up GPIO1 pin before powering module or restarting module and then pull down GPIO1 pin after starting module, it can make module enter firmware upgrade mode and user can download firmware by serial port at the moment.