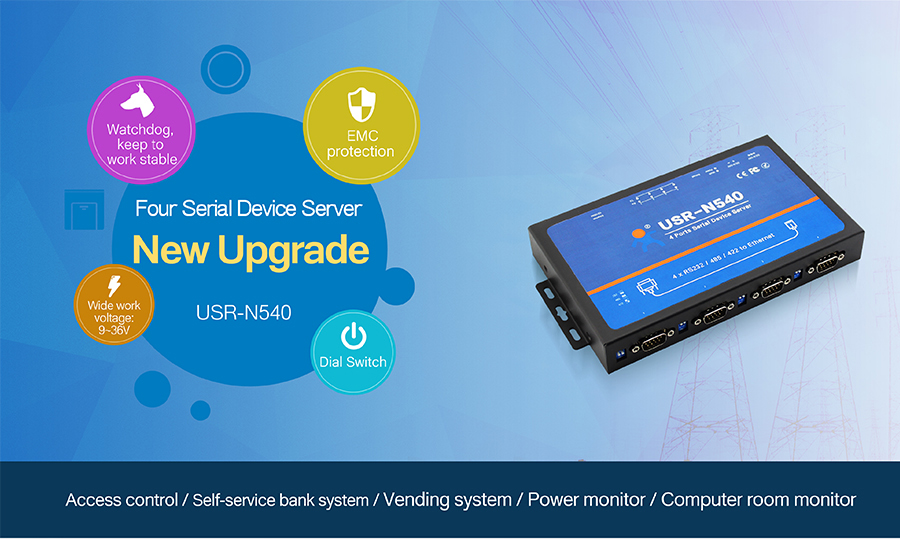 1. Brief Introduction of serial to Ethernet converter USR-N540
Serial to Ethernet converter USR-N540 is used to transmit data transparently between TCP/UDP data packet and RS232/RS485/RS422 interface. It carries ARM processor, low power, fast speed, high stability and four serial port can work as RS232 or RS485 or RS422 serial interface which comfort to industrial standard.
2. Features
1. ARM base on Cortex-M4 kernel, and reliable TCP/IP protocol stack
2. Industrial working temperature range from -40C ~85C
3. Auto-MDI/MDIX,RJ45 port with 10/100Mbps
4. Support TCP server, TCP client, UDP, UDP server and httpsD client work modes
5. One port corresponding to two socket
6. Support network printing via IP address
7. Function of Modbus gateway, modbus RTU to modbus TCP, modbus multi-host Polling
8. Four serial port, each port can work as RS232 or RS485 or RS422 and work individually
9. Distinguish which serial port connect to device via port number
10. Support virtual serial port and provide corresponding software USR-VCOM
11. Serial baud rate from 600bps to 230.4K bps; Check bit of None,Odd,Even,Mark and Space
12. Support static IP, DHCP/DNS and search devices within network through UDP broadcast.
13. Provide serial and network setting protocol, TCP/IP socket example code such as VB, C++ Delphi,Android,IOS
14. Built-in web page; Customized web page is acceptable
15. Reload button, one key to restore default settings
16. RJ45 with Link/Data indicator light, built-in isolation transformer and 2 KV electromagnetic isolation
17. The global unique MAC address bought from IEEE, also user can define MAC address
18. Upgrade firmware via network
19. Support web port revise (80 by default)
20. Keepalive, detect dead links and reconnect rapidly
21. Support account and password, used to page log in and network settings safely
22. Support one channel Web socket, realize bidirectional transparent transmission between web page and serial side
23. Power supply in two mode, DC adapter or 5.08-2 terminal pin
24. Communication indicator light of four serial port: RX/TX
25. UPD broadcast function, can receive/send data to all IP in the same network
26. Support DDNS
27. Four serial port (can choose RS232/RS485/RS422 freely) default is DB9, provide the RS485/422 conversion
28. Provide upper TCP/IP socket example.
3. Basic Parameter of serial to Ethernet converter USR-N540
Parameter

Value

Input Voltage

DC5~36V

Working Current

95mA@5V

Power

<1W

Storage Temp.

-45~105°C, 5~95%RH

Net port

Rj45, 10/100mMbps

Serial port

600~230.4K(bps)

Software parameters

Network protocol

IPV4, TCP/ IP, UDP, https, DHCP, DNS, ARP, ICMP, Web socket

Access way to IP

Static IP, DHCP

DDNS

Support

User parameters

Software setting, webpage setting

Single transparent transmission

TCP Server/TCP client/UDP Server/UDP Client

Modbus

Modbus gateway

Webpage to serial port

Support the webpage to serial port in websocket communication

customize

Support

Synchronous baud rate

Support

httpsd client

support

TCP Server connection

At max connected 8

Net buffer

Send:16Kbyte; receive:16Kbyte

Serial port buffer

Send: 2Kbyte; receive: 2Kbyte

Average transport delay

<10ms

Set software

USR-VCOM, USR-Cloud, parameters setting software

others

Certification

CE,FCC, ROHS

Stable class

2KV ESD

SIZE

33.0x19.0x19.2 mm(L*W*H)

Operating Temp.

-40~+85°C

Storage temp

-45~+105°C

operating humidity

5%~95% RH

Storage humidity

5%~95% RH

Setting with delivery

none

Package

Electrostatic bubble