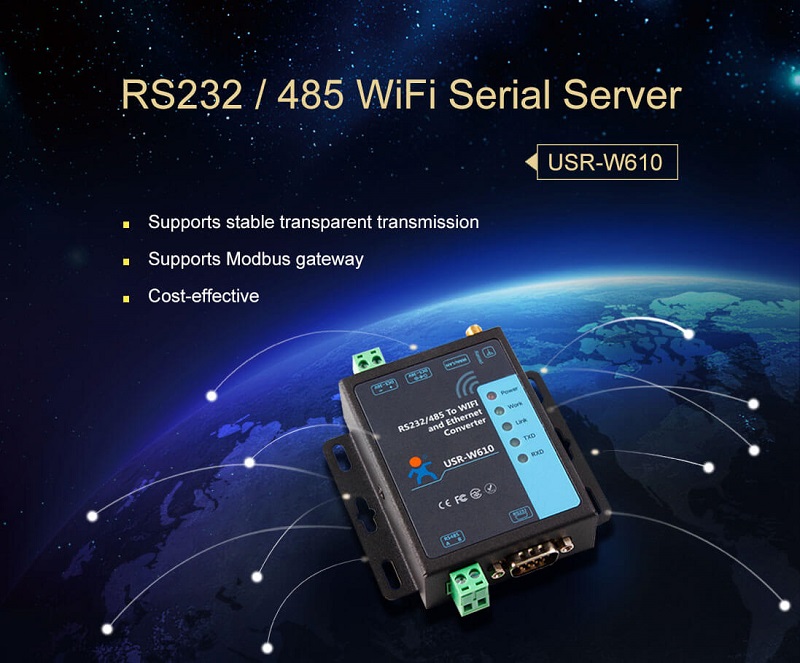 1.Product Overview
Serial To WiFi and Ethernet Converter USR-W610, which can realize bidirectional transparent transmission between RS232/RS485 and Ethernet/WiFi. Through simple configuration via Web Server or AT command can assign working details, realize serial data and TCP/IP data package transparent transmission by converter. It can work as TCP/UDP Client, TCP/UDP server, httpsD client. Can also supports Modbus RTU to TCP, Modbus Polling.
2.Product Features
WIFI@2.4GHz 802.11b/g/n wireless standards.
Supports TCP Server/TCP Client/UDP Server/UDP Client/https Client mode.
Works as AP or STA or AP+STA
Serial ports includes RS232 or RS485
Support electrostatic protection
Identity packet function and heartbeat packet function.
Support Web socket function.
The function of timeout reset , timing reset function.
Support Web Server, setup software, serial/network AT command to configure module.
Hardware reload.
Support usrllink
It can work as router and bridge
Rich indicator LED power, work, link, RXD, TXD
Wide voltage DC 5~36V, support 5.5*2.1 standard power interface and terminal power
Double supply, one in and one out supply for device
Support MAC, USR-cloud, modbus polling
Remote upgrade
Add hardware watch dog, makes more stable
Support websocket and realize the timing communication for serial port and netport.
Support webpage, setting software, serial port AT command, net AT command
Long distance communication: two serial server can transport for 280m
Design for location hole, convenient for install
3.Product Specifications
Ethernet Port

Port Number

1 Ethernet Ports: 1 x WAN/LAN

Buffer

Rx/TX: Max 16K bytes

Protection

2 KV Electromagnetic isolation for Ethernet port

Network Protocol

IP/TCP/UDP/DHCP/DNS/https/ ARP/ICMP/Web socket/httpsd client

Speed Rate

10/100 Mbps, MDI/MDIX

Wi-Fi

Certificate

FCC/CE

WiFi

802.11 b/g/n

Frequency Range

2.412GHz-2.484GHz

Transmit Power

802.11b: +19dBm(Max),802.11g: +18dBm(Max),802.11n:+17dBm(Max)

Receive Sensitivity

802.11b: -89dBm,802.11g: -81dBm,802.11n: -73dBm

Hardware

Interface Standard

RS232: 300~460.8Kbps
RS485:300~230.4Kbps

Input Voltage

DC5~36V

Operating Temp.

-40c~ 85c

Storage Temp.

-40c~ 125c

Size

86*82.5*25mm(L*W*H)

Software

Network Mode

Station/AP/AP+Station

Security

WEP/WPA-PSK/WPA2-PSK

Encryption

WEP64/WEP128/TKIP/AES

Work Mode

Transparent transmission / serial AT command/
https Client、Modbus TCP<=>Modbus RTU

Setting Command

AT+command

Networking Protocol

TCP/UDP/ARP/ICMP/DHCP/DNS/https

Max. Client Number in TCP Server Mode

24

Configuration

Web sever+ AT command

More

Warranty

2 years
4.Dimensions of serial to WiFi Converter USR-W610
Unit: mm