The industrial router solution is a series of intelligent management routers designed to connect remote devices to the Internet and RS232 serial devices via Ethernet LAN, and to a central location via TCP/IP. Setting up a router and configuring router software requires minimal knowledge. The device is set to work out of the box, can be easily configured through a standard web browser before deployment, or remotely configure via SSH, Web browser, or https .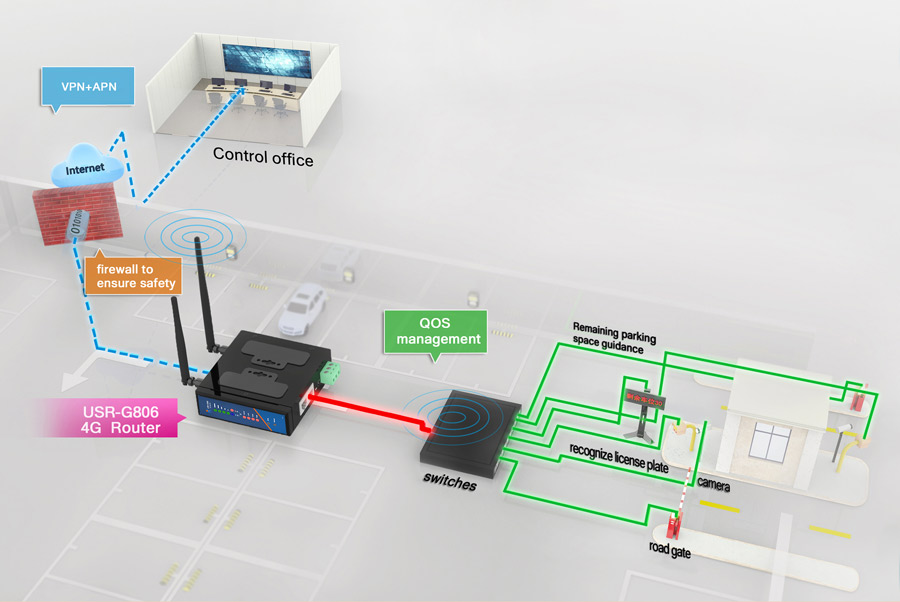 The industrial router series can detect cellular network providers and can be configured for network providers with different SIM cards for redundancy and connectivity reliability.
If this is a dual-card 4G industrial router, the unit can be configured for each individual SIM card to serve as a primary or secondary backup network, providing the most reliable way to maintain a connection. The only other setting when you use it is the IP address and listening port of the server to which the router solution is connected. After these settings are configured, the device will permanently establish and maintain a connection to the server and provide a fast, reliable Internet connection to the local Ethernet LAN network. In the event that the network is disconnected, the unit will attempt to reconnect and use a variety of techniques to ensure a firm, reliable connection at all times.
The industrial router solution is independent of the connected device because the software within the unit controls and manages the Internet link and routing functions as well as the TCP connection to route RS232 serial data over the cellular network. Services support any protocol or data type, including binary and ASCII, so the bottom operating system or control software in the device does not need to understand the connection mechanism, which makes connecting any device simple. Industrial router services provide fast and reliable Internet access to Ethernet LAN and route data to devices.
The configuration of the industrial router solution is controlled by the user simply using a standard web interface or by using a standard terminal emulator, or CLI messages sent by SSH connection. Alternatively, when configuring a large number of units, there is a configuration tool that can configure the unit over Telnet via TFTP and can copy a single configuration file very quickly to aid production programming.
Industrial router solutions handle all common cellular network problems and maintain a stable connection to the cellular network, so as to realize a consistent communication path with remote devices. The primary and secondary failover SIM functions provide complete network redundancy and provide different tariff mechanisms based on network availability. The industrial router series can be configured to use static IP SIM CARDS or dynamic DNS dial-in servers to provide the most flexible access to information on remote devices and the most cost-effective solution.