What are cellular modems and What do cellular modems do?
What are cellular modems?
"Cellular" is a term widely used for 2G / 3G / 4G network. What are cellular modem and What do cellular modems do? cellular modems, hence following the analogy, extend the capabilities of these networks to the devices such as laptops, desktops, and tablets.
Before the introduction of 3G and 4G networks, the networks used to be quite trivial. We had to connect our devices (laptops, computers) to the LAN/Ethernet connections. However, the issue with this setup was, we needed to remain wired to be online. Cellular modems save us from this limitation. Because of being wired, applications were limited in scope and geographically restricted.
A cellular modem works by connecting to the internet network with the help of a SIM (Subscriber Identity Module) card or in many scenarios using the ethernet cable. These devices can be mounted on the walls or interior or they can be directly attached to the laptops/computers. Most of these devices are "Plug and Play". A typical 4G cellular modem can give up to 5 Mbps and 12 Mbps. This is a considerable improvement both in terms of usability and applications. Any modem can connect to either single or multiple devices.
Now all a user needs to do is to put the SIM into its slot, charge the modem, and the modem will itself identify the network and connect.
Cellular modems are also known by other names such as USB Modem, data card, or 3G/4G modem.
What are cellular modems? - Configuring any modem
Cellular modems once connected to any device, such as a laptop, can be configured in simple ways. One popular way is to access the home page on the dedicated IP. For security access to this page is password protected. From here, several settings can be altered. These settings control how the modem behaves, network security settings, power options, number of devices that can be connected, which band to utilize, and personalization.
Today cellular modems are also enabled to send and receive text messages. Hence service providers can utilize the SIM installed for any needed communication.
Most cellular modems also allow the configuration of the firewall. With the portal page, we can even block the devices with the MAC address and limit access to other devices. Nowadays, these devices also have been built-in static IPs and DHCP networks.
What are cellular modems? - Cellular modems over Hotspots
Smartphones today offer Hotspots. Hotspots allow us to further extend the capabilities of 4g and 3g network from these devices to other network devices. Terminal devices can connect to this Hotspot via Wifi or as shown in the screenshot through Bluetooth/USB.
Smartphone devices can lack the power of transmission over longer distances and are not suitable for the IoT applications where we need to collect data from multiple devices or sensors 24/7.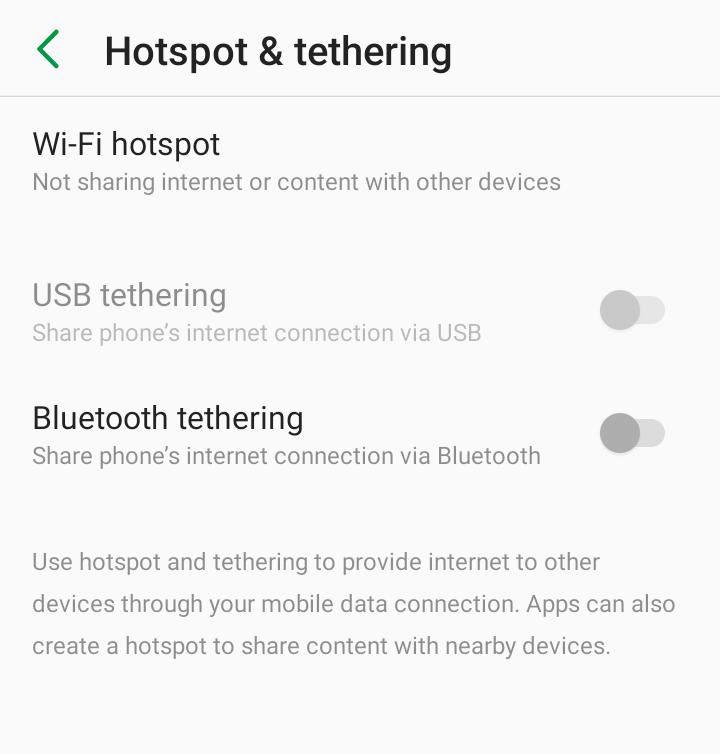 Cellular Modems and Cellular Routers
While the cellular modem attaches directly to the terminal device (PC or Desktop), cellular routers simply extend the network. They work similarly but do not attach directly to the terminal devices. Rather terminal devices can connect to them via Wifi or LAN. Cellular modems also allow connecting to other devices via Wifi.
Many devices today are available both in the router as well as modem variants. Here we discuss one product:
USR-G781
USR-G781 is one of the next generation industrial cellular modem router. It supports connectivity with 2G/3G/4G bands to terminal devices via different connection options such as Ethernet/Wifi connections.
USR-G781 is a 4G LTE modem router is available in the below variants
Europe/International
Southeast Asia
Australia/Taiwan/New Zeland/Latin America
AT&T, T-Mobile/North America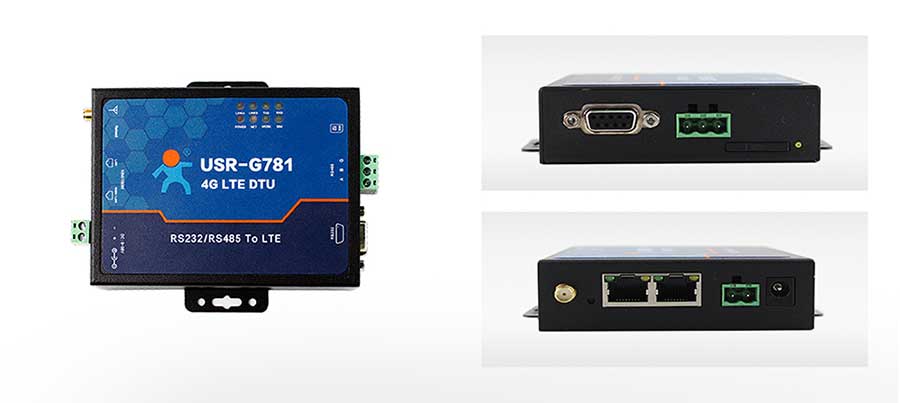 This device is suited for high tech IoT applications. They can be used to monitor environment features while sitting remotely.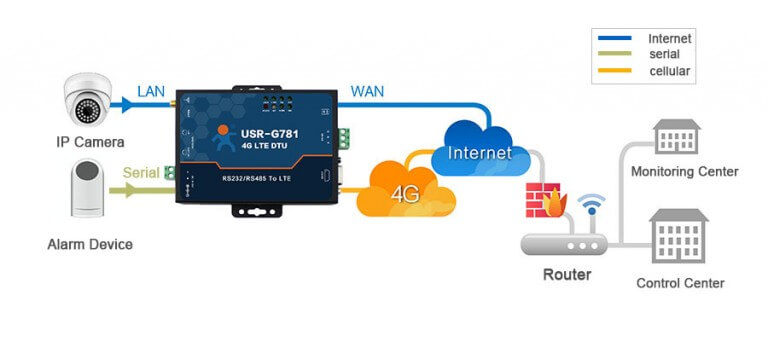 The above illustration shows how the USR-G781 modem router can be used in high tech IoT applications. IoT sensors/computers can be connected via this modem to the remote monitoring/control center for reports, FTP, data uploads and downloads, and any other desired operations. Since the modem comes with multiple network connectivity options both small data (text files) as well as large data (streaming 1080p videos) can be conveniently transferred.
To find out more about USR-G781 and see specifications, click here.
With the rise of IoT (internet of things), cellular modems are an integral part of IoT applications. IoT is a new way of computing and is the hottest topic these days. It involves several devices, connected over the network, that perform a long list of operations. These devices can record temperatures, sense humidity, weather conditions, fire alarms, light, and temperature, and so on. Depending upon the type of application, IoT devices may and may not be wired.
IoT applications are now everywhere. Below is a summary of different industries with specific implementation.
| | |
| --- | --- |
| Power industry | Power remote meter reading, substation monitoring, power line monitoring, utility meter reading |
| Municipal industry | Streetlamp remote monitoring management, pipe network remote monitoring, urban energy consumption monitoring |
| Oil industry | Remote monitoring of oil-gas well, GPRS remote oilfield automation detection monitoring system, Gas pipe network monitoring system solutions |
| Environmental protection industry | Pollution sources monitoring, atmospheric environment monitoring, noise monitoring, dust monitoring |
| Agricultural application | Greenhouse remote monitoring and management, aquaculture monitoring management, agricultural water pump monitoring management |
Choosing a cellular modem can be tricky and careful choice needs to be made. Some different considerations when choosing a cellular modem for IoT are:
Volume of data over the network.
Depending upon the application, devices might need to send smaller of over big packets of data over the network. Applications involving media/sounds/images/videos require connectivity over 3G/4G for the best experience.
Operating environments
Applications that operate in the extreme environment require careful consideration of these modems. Frosty/wet/extreme temperatures are some operational conditions where the choice of modem can impact the application.
Power options
Where the devices can be charged or not or whether there are power sockets available or not.
Number of devices connected
In large IoT applications, more than one modems might be needed. Type of connectivity can also vary from application to application.
To cater to the above factors, we have a wide variety of devices for your specific need.

Real-time applications of USR IOT devices:
Let's look at some case studies where have been deployed and operational:
Intelligent Management of Wind Turbines
Wind turbines are gaining attention these days when it comes to clean energy. With wind turbines, electricity can be generated without needing any other fuel. However, wind turbines need to be installed at the wind outlets which are not easy to reach and adds to the maintenance cost.
An IoT based application can be effective in reducing the costs and increasing operational efficiencies of these power generations sites. Sensors are installed at the sites which collect the relevant data such as load, wear and tear of blades, temperatures, irregular winds, and weather patterns. This information is transmitted to the operators using these cellular modems/routers. These modems are equipped to utilize 3G/4G connections and simultaneously upload the data to the dedicated cloud. Having real-time data can help in analytics and can update the application users about any immediate action.
Read more of this application here at https://www.pusr.com/solutions-applications/756.html
Monitoring environment is now vital as the greenhouse gas emission is increasing day by day. However, the task is particularly challenging in its nature, because of varying climatic conditions across the globe.
USR-IOT devices perform this task with cellular modems that are rigid and can withstand extreme weather conditions. USR-IOT devices are connected to multiple networks via different bands so that real-time data
can not only be collected but also deployed to the USR Cloud.
Learn more about this application here.
Remote Intelligent Meter Reading
Utility meters (water/gas/electricity) are installed everywhere, and a large human resource is engaged for the readings. However, this process is tedious and prone to errors. With the advancements in IoT and cellular modems, this whole process can be automated from end to end. Having energy meters embedded with 3G/4G modules, not only the companies can have exact readings, but the consumers can also get real-time consumption and billing. With the advantage of having data on the cloud, information can be accessed anywhere and anytime. Below we see this process as an illustration:

You can read more here at https://www.pusr.com/solutions-applications/remote-intelligent-meter-reading.html
Cellular modems can play a crucial role in critical security conditions. Fire alarms are one of these. It's a common requirement of the building to detect fires early for minimal losses and safety procedures. In the case study, provided here, we see that by having a system based on IoT, we can monitor the electrical inputs and outputs, along with the aging wires, and intelligent analysis for all the connected electrical devices. With earlier detection of the faults and possible hazards, needful actions can be done beforehand.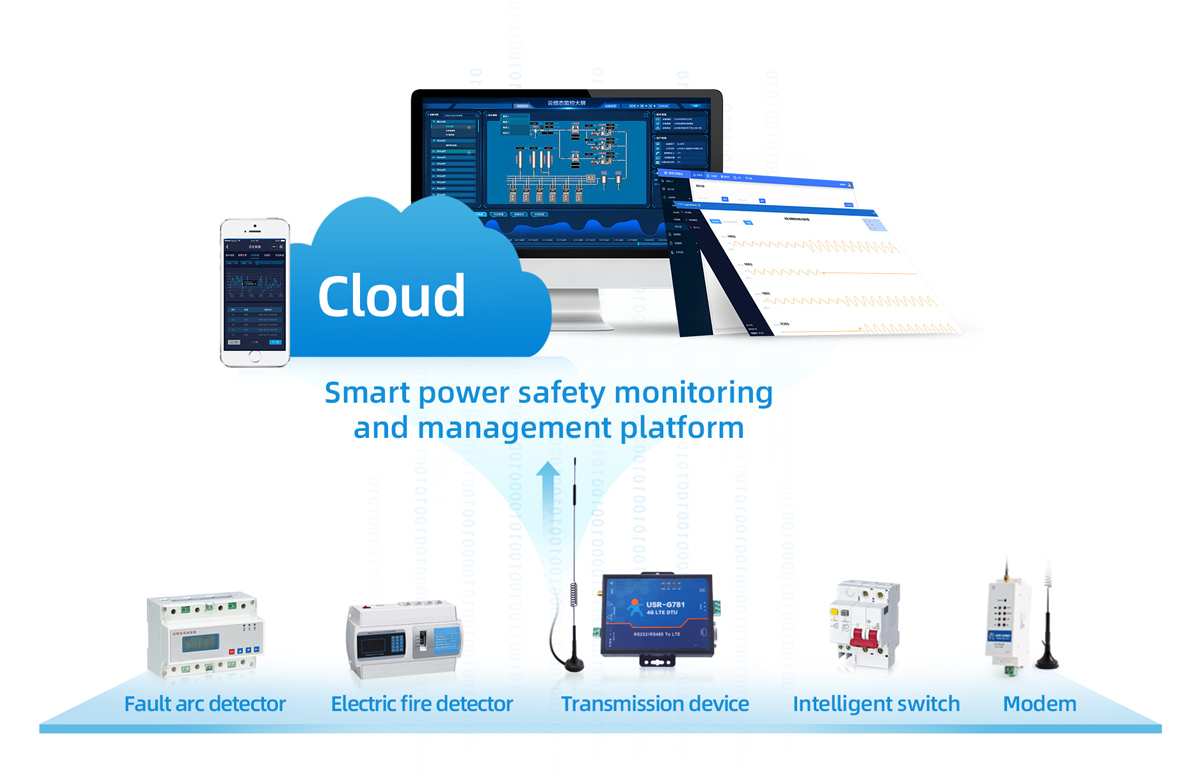 You can find the complete case study here: https://www.pusr.com/solutions-applications/how-to-use-the-cellular-modem-in-the-electrical-fire-monitoring-system.html
Finally
Cellular modems are very hand devices and they come in a wide variety. If you want to check out which cellular modem is the best one to suit your need, or just need to compare different products, you can check out our website.