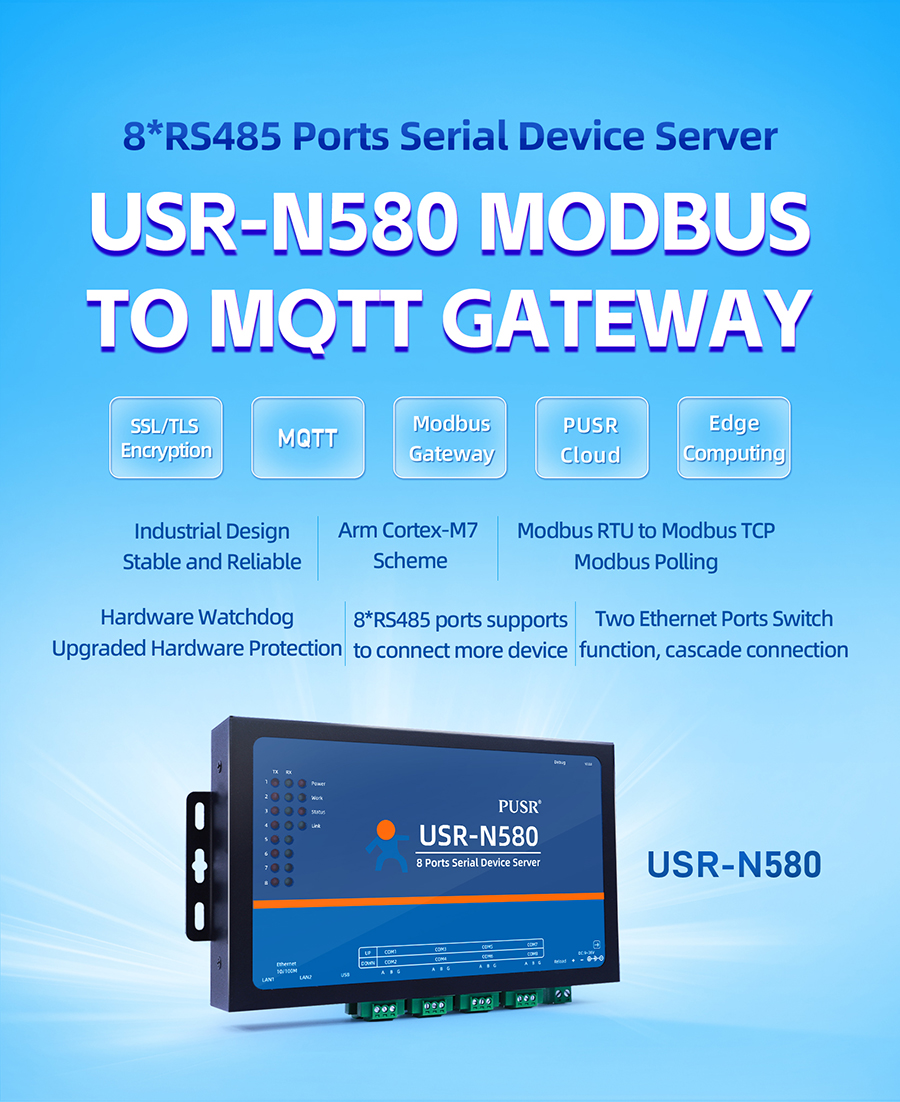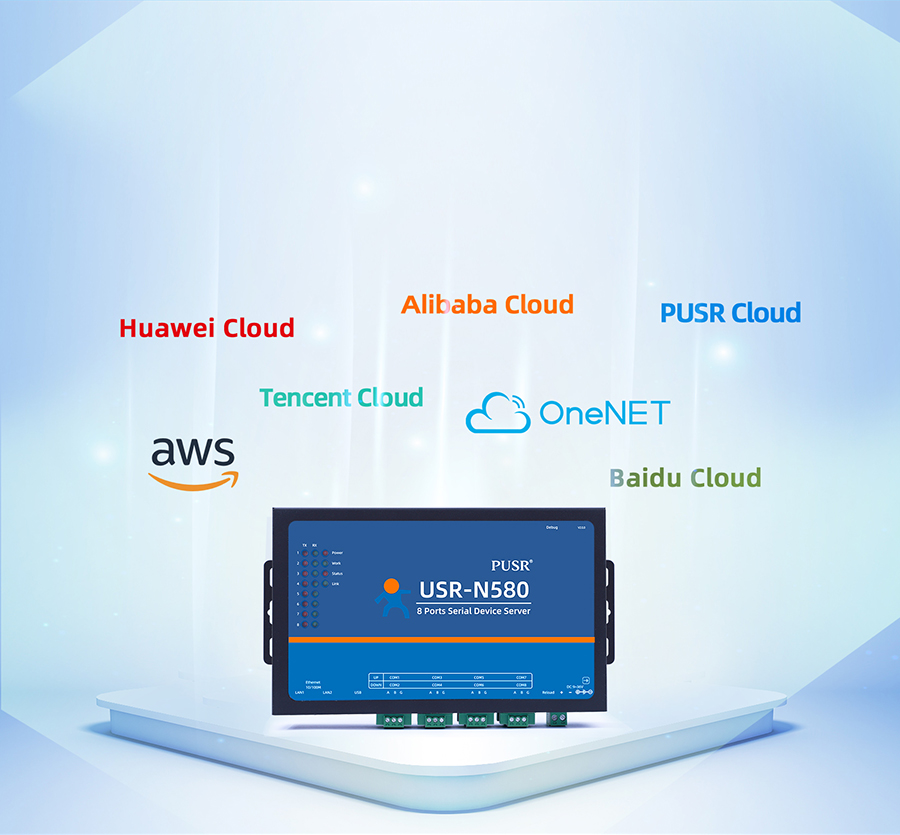 Enabling Edge-Device
Connectivity in the IIoT Era
Widely supports connecting the IoT platform with stardard MQTT protocol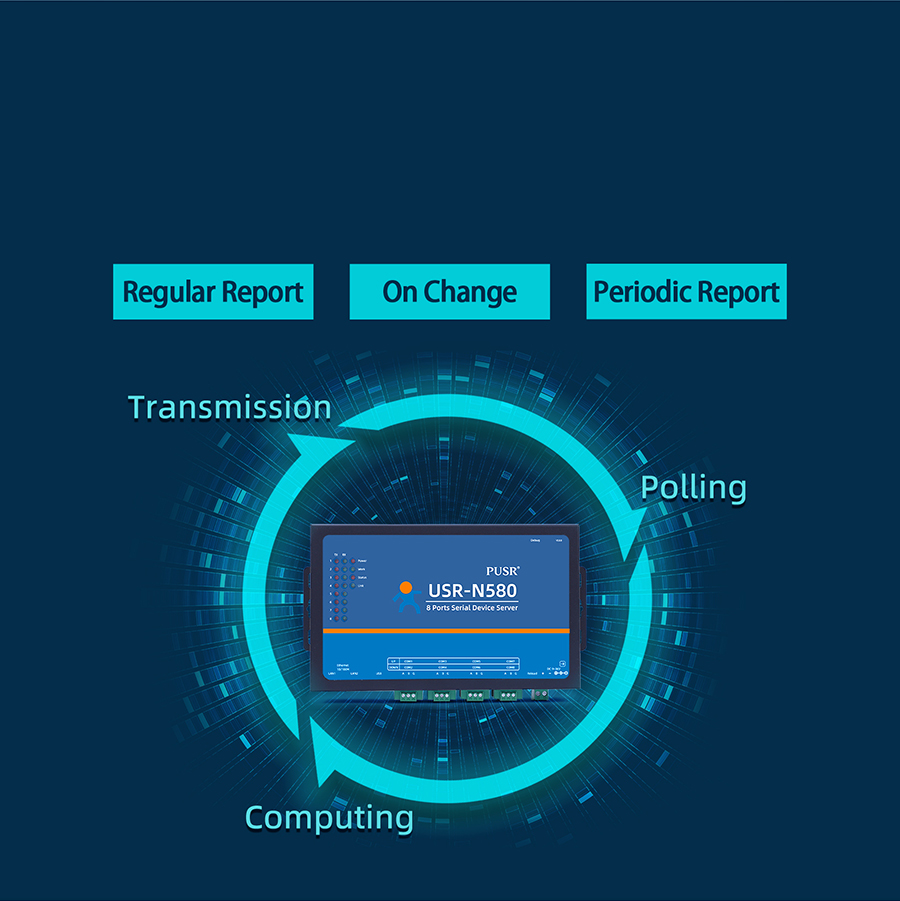 Edge Computing
N580 actively execute data collection and internal calculate,
then transmits to cloud platform by customized Json format. Edge computing
gateways can effectively relieve the pressure on the server.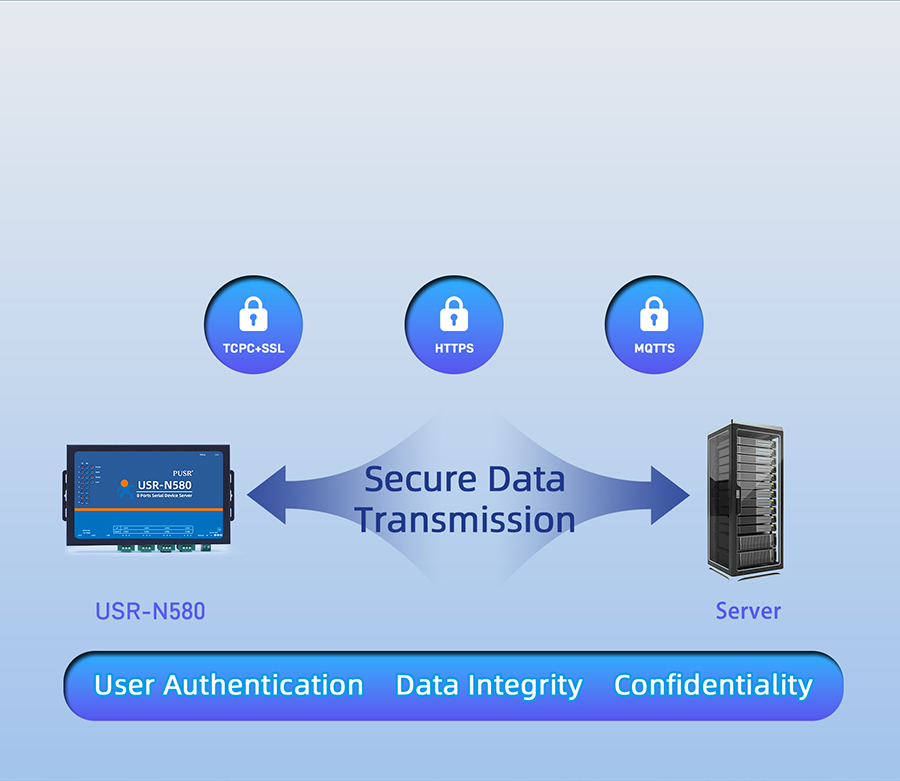 Data Transmission Encryption
Supports SSL/TLS encryption in TCP client,
HTTP client and MQTT operation modes,
supports two-way certificates authentication.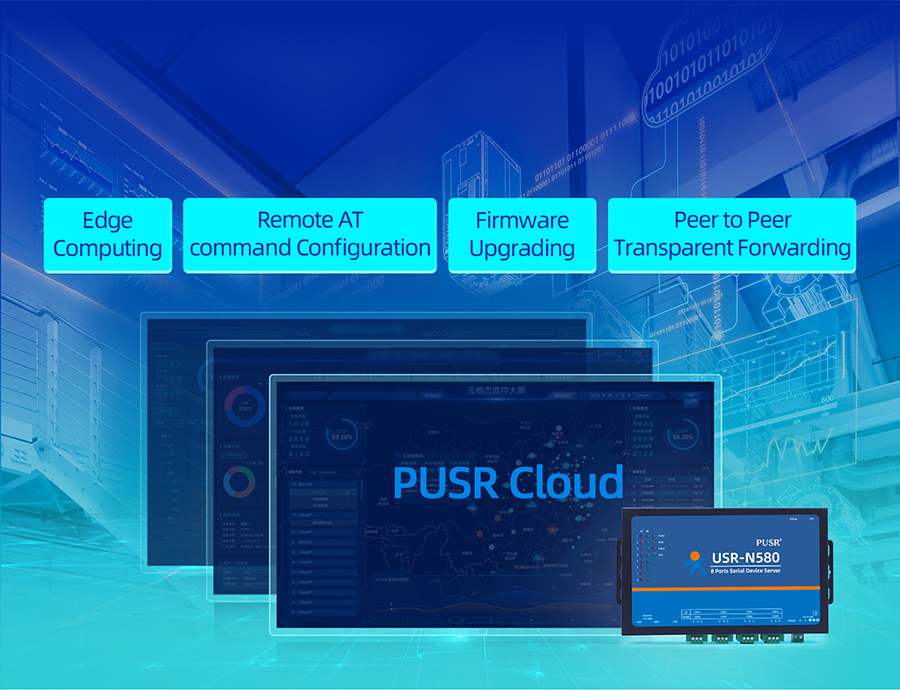 PUSR Cloud Management
Easy to achieve edge computing, pair connection,
remote operation and maintenance.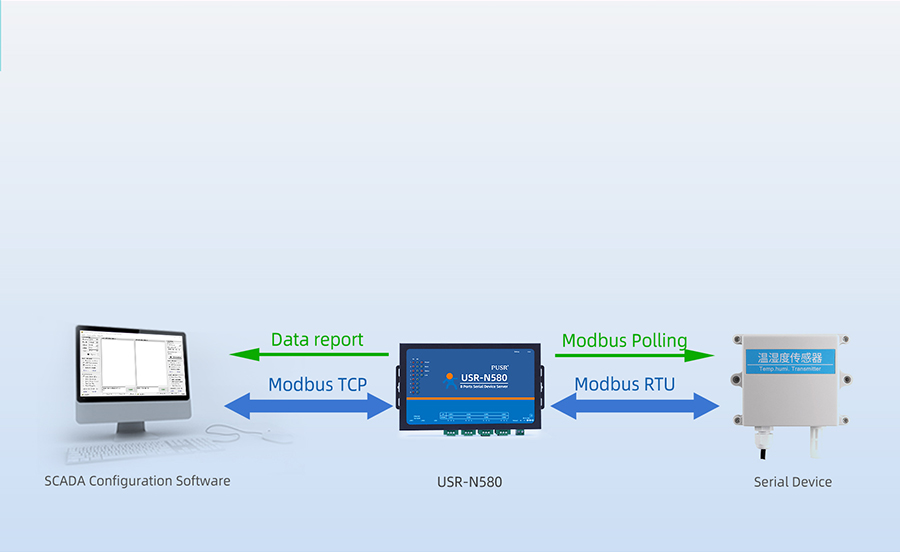 Modbus Gateway
Transfer between modbus RTU and modbus TCP protocol,
support modbus multi-host polling.
Support up to 128 data points for data collection and
modbus address mapping.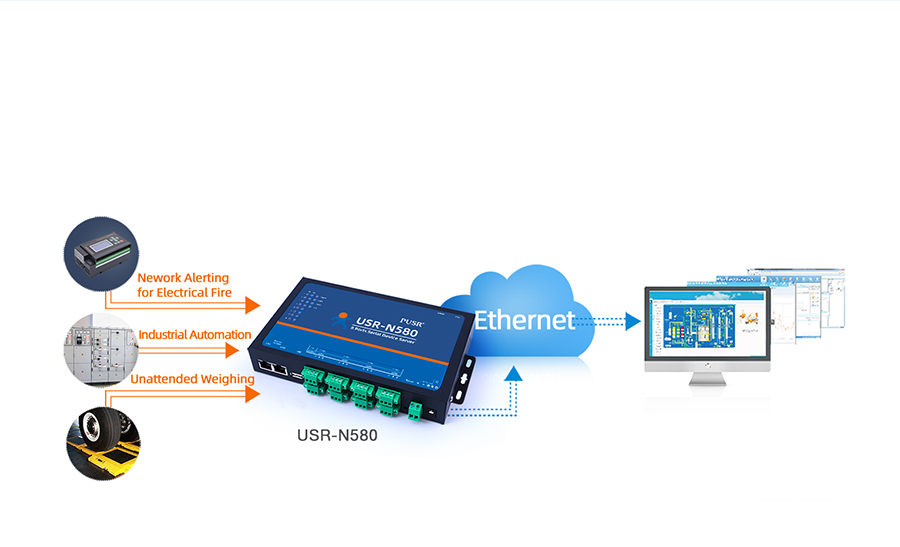 Basic Function
Bi-directional data transmission between RS485 port and Ethernet.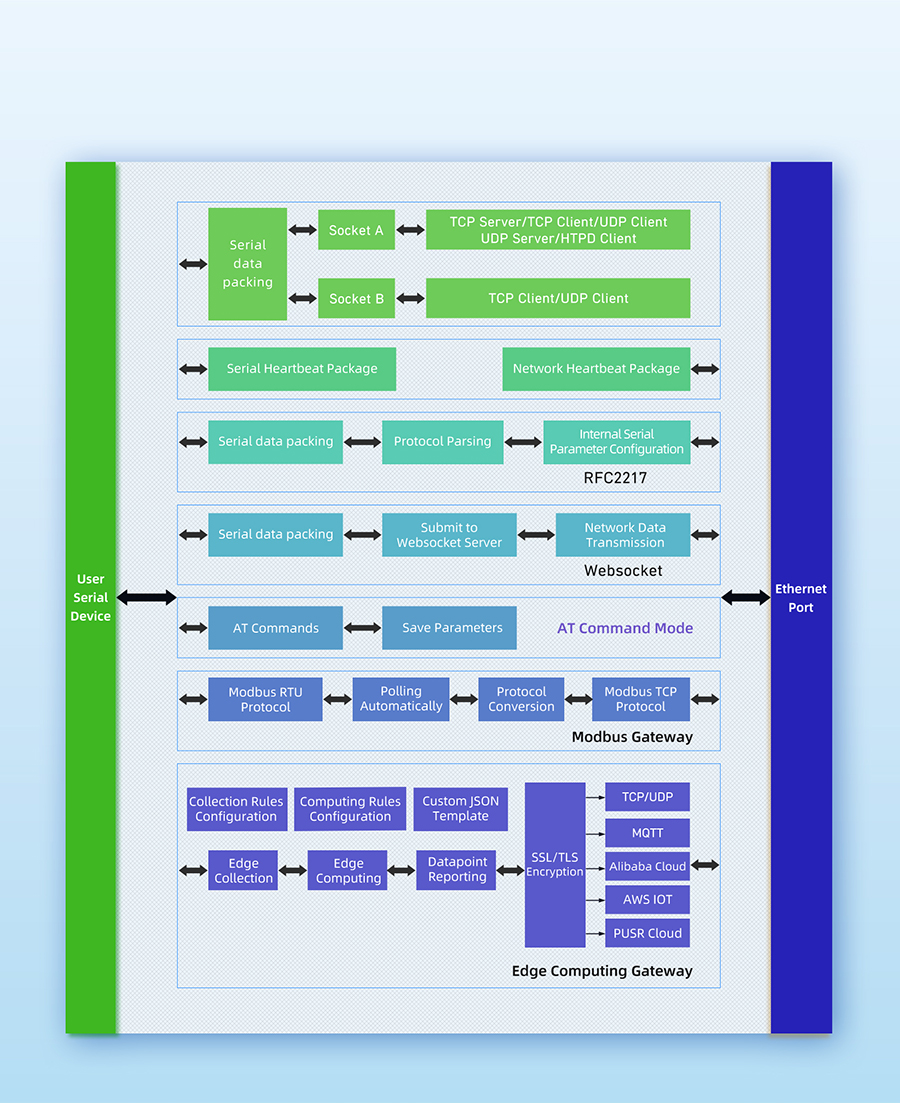 Block Diagram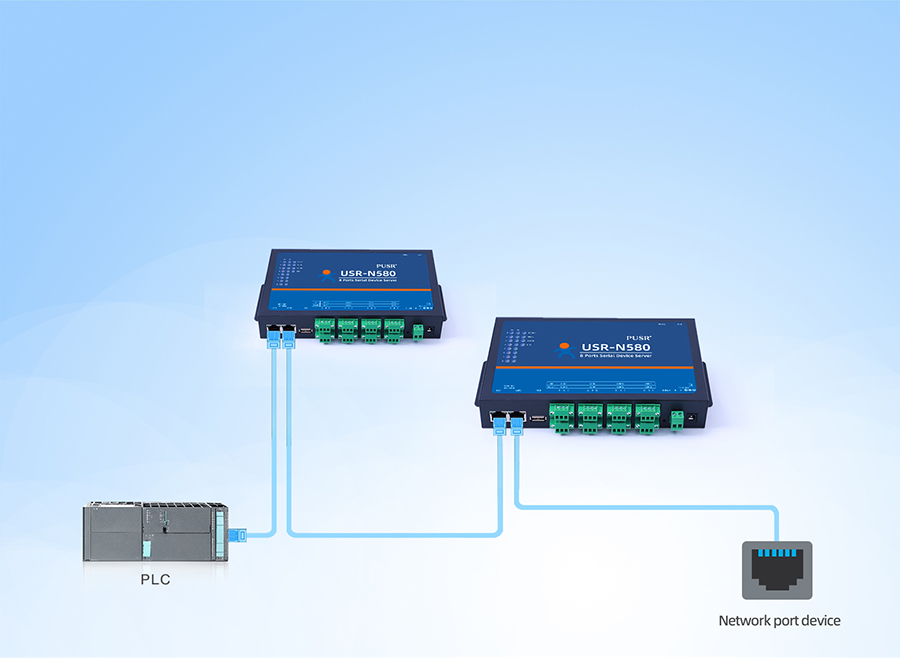 Cascade Connection Function
Dual Ethernet port 10/100mbps It supports switch function
Other devices can be cascaded through USR-N580.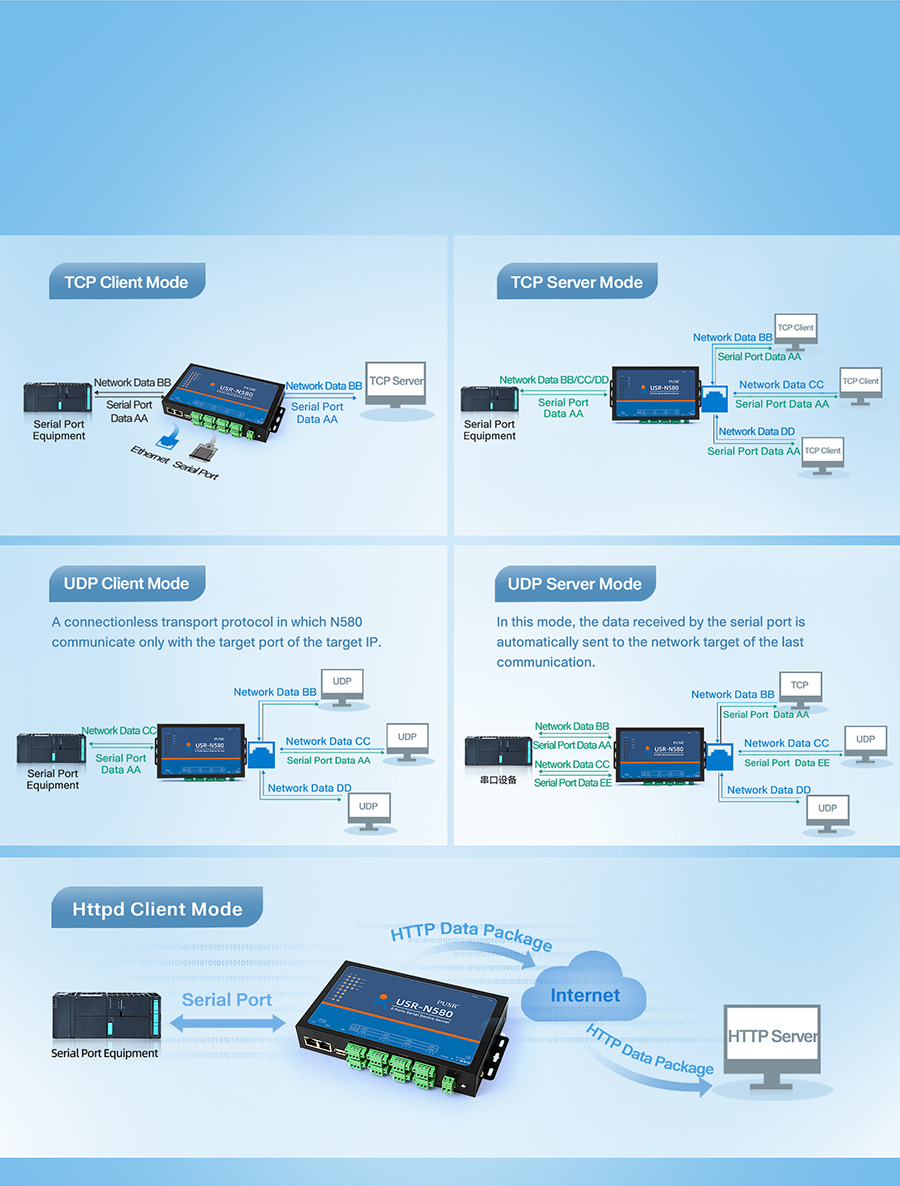 Free Choice of Multiple Working Modes
N580 supports TCP Client、TCP Server、UDP Client、UDP Server、Httpd Client (later support
MQTT Client) and other modes ; only a simple configuration, you can achieve data
pass-through function..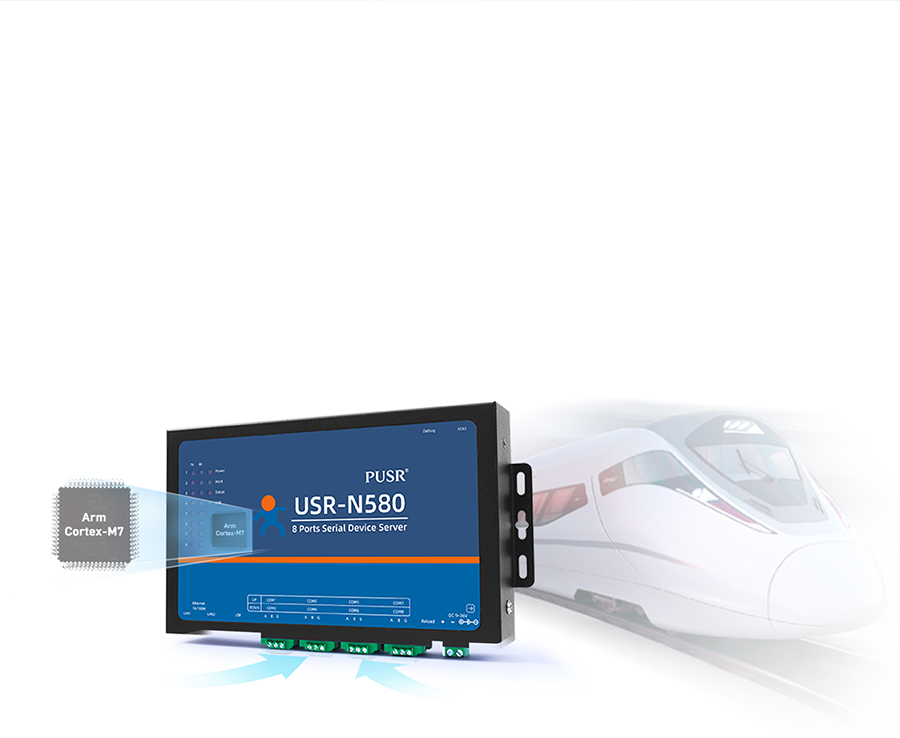 Arm scheme (Cortex-M7 core)to
provide a better experience
Arm Cortex-M7 Scheme,480Mhz CPU, 1M RAM +4M Flash The scheme
features short transmission delay, fast data transmission speed,
flexible expansion, and stable.
(MQTT/SSL/IPV6 and other major protocols will come soon,
please enquire directly for more information ).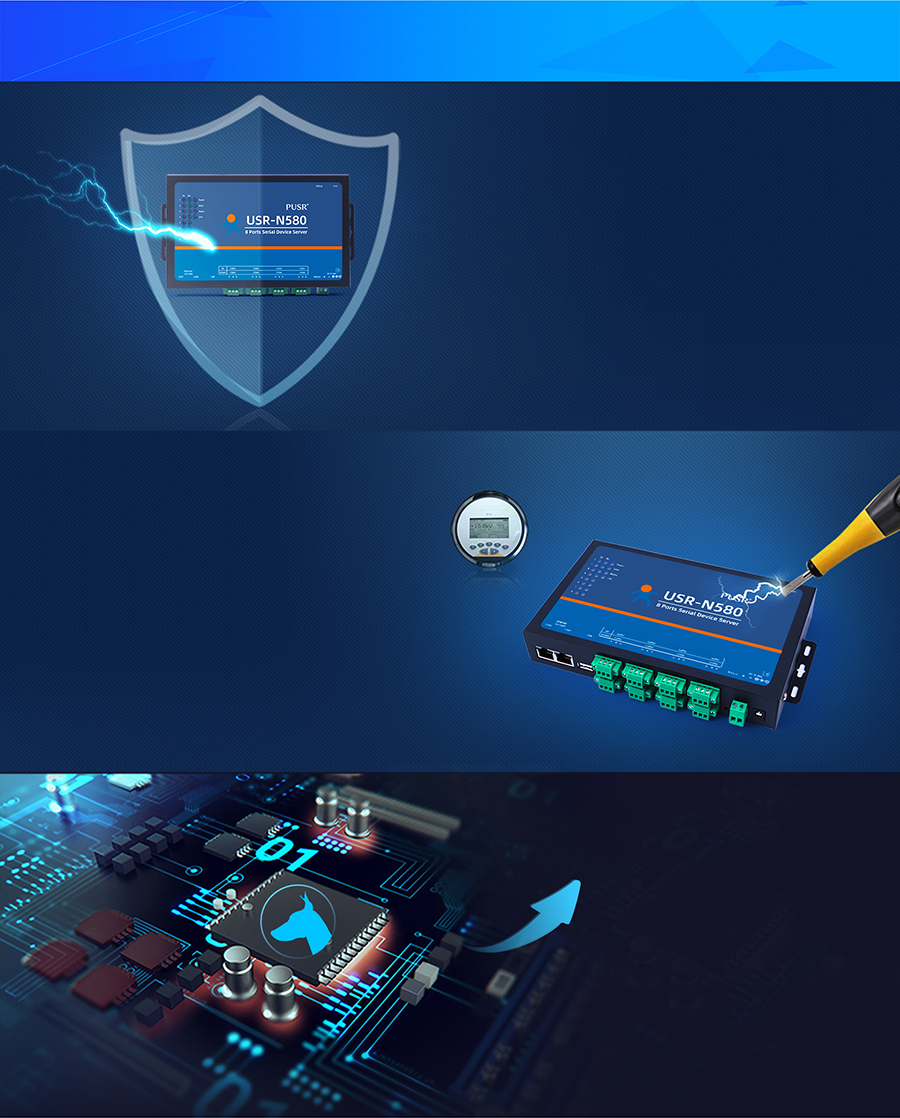 Advanced Hardware Protection
EFT Protection
Avoid interference of pulse group caused
by inductive load switching in line, such as motor,
frequency converter, etc.
Pause Group: Level 3.
Surge Protection
Avoid instantaneous big electric current because of
the circuit such as lightning stroke, power switch, etc.
when cause damage to equipment hardware.
Anti Surge: Level 3.
ESD Protection
Prevent electrostatic damage to
equipment, such as human electrostatic,
dust electrostatic, electric power application
of environmental arc, etc.
Contact Level 4.
Air Level 4
Watchdog
Internal process watchdog
and external hardware
watchdog work 24 hours
without stopping steadily.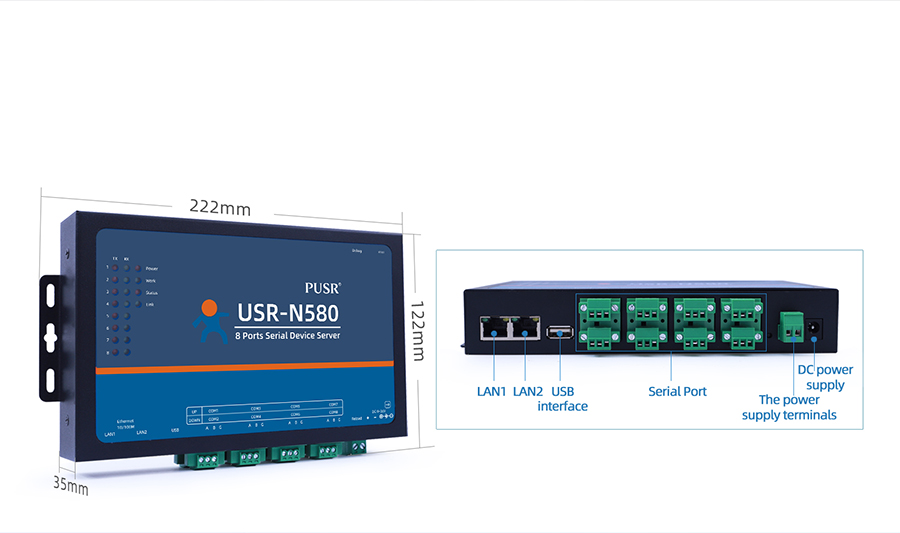 Product Details
L*W*H 222*122*35(mm)
including terminals and mounting ears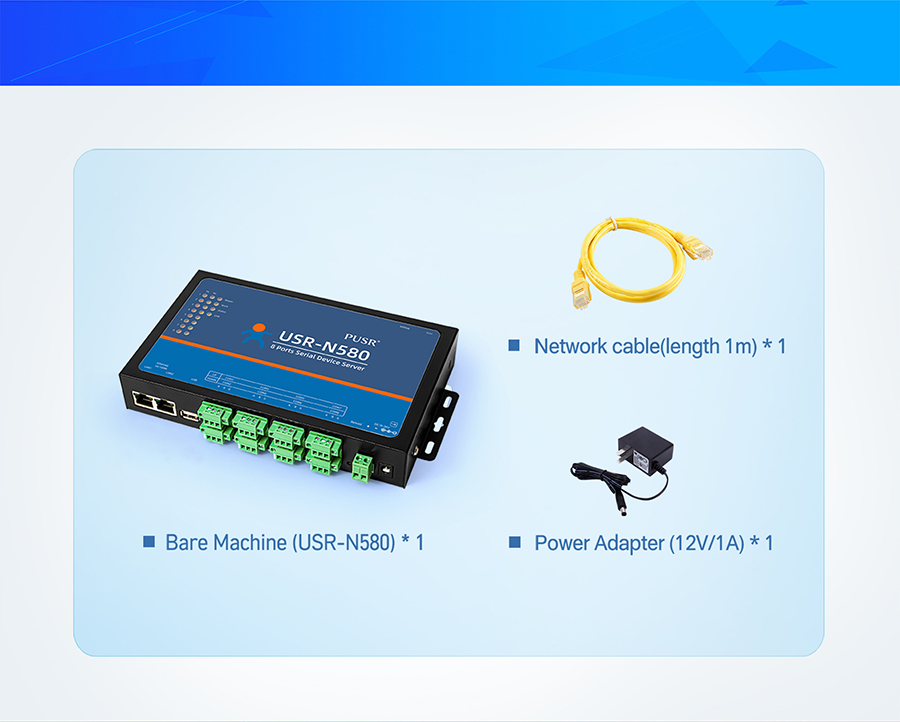 Shipping List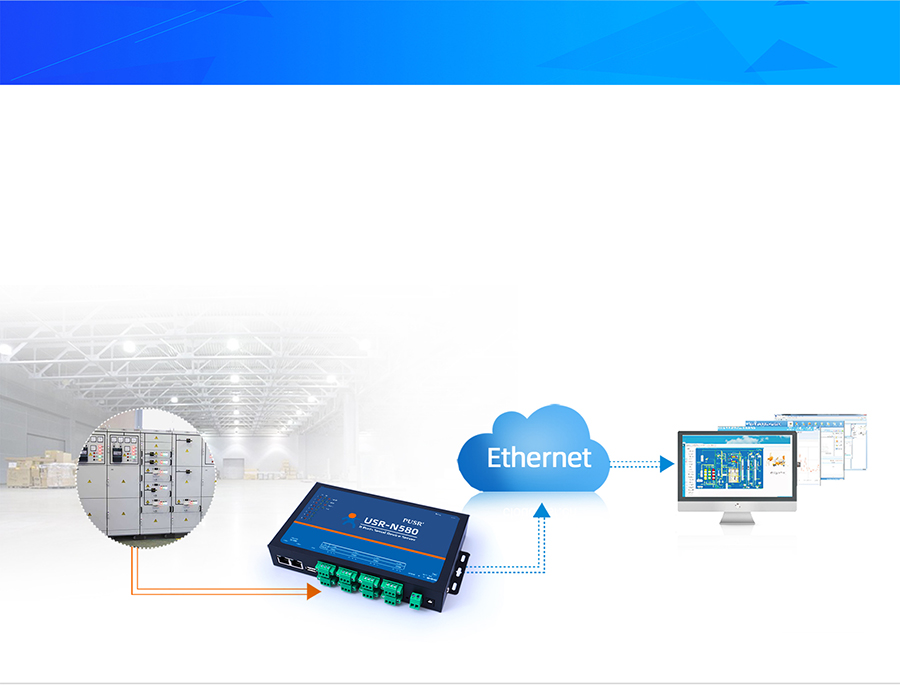 Application Case
Network Monitoring of Industrial Automation
Traditional network monitoring of industrial automation actually without
networking. N580, integrating optimized TCP/IP protocol stack, provides
network scheme of serial port data to TCP/IP, which can greatly improve
the level of industrial automation.
Unattended Weighing
N580 is connected with the barrier gate to facilitate the control center to control
the gate switch remotely through Ethernet. At the same time, many serial ports of
N580 can connect peripherals like weighing instruments, LED displays, RFID
readers, vehicle induction coils, ticket printers, fitting more application scenarios..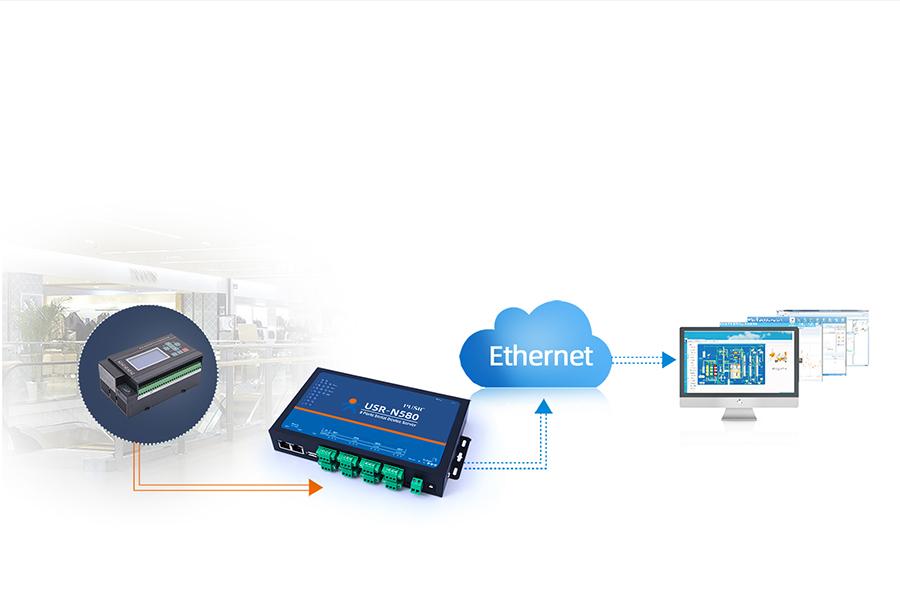 Network Alarm for Electrical Fire
N580 can communicate with the serial port of the electric fire alarm to transmit the
alarm information to the server platform quickly, and remind the staff to pay attention
to the fire information, and reduce the loss of people and property.