USR-TCP232-410s
Dual Ports Serial Device Server
USR-TCP232-410s comes with 1*RS232 and 1*RS485 serial ports. Two ports can
work at the same time.
With this serial device server, traditional serial devices can be connected
to the Internet/LAN network, to achieve data communication with remote SCADA
system. The traditional serial devices can easily become IoT devices.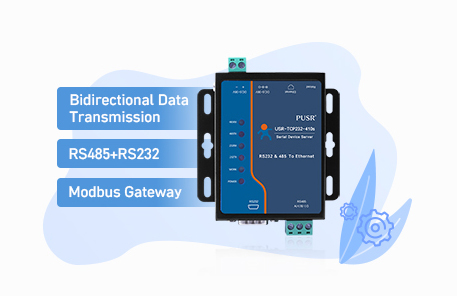 ---
Industrial-Grade Design
● Wide operating temperature: -40 ~ 85°C
● EMC Protection: Level 3. Surge, EFT and ESD protection for serial ports, Ethernet ports and power circuits.
● Wide voltage input: 5~36V, with reverse polarity protection
● Metal housing, IP30 protection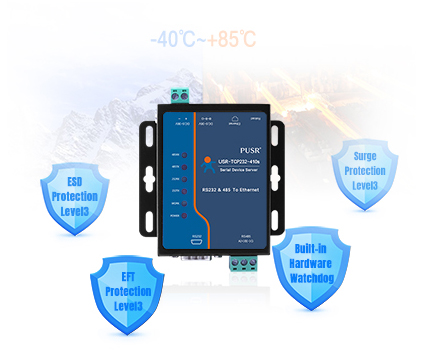 ---
Rich Product Features
● Modbus RTU/TCP protocol conversion, easy connect to SCADA system and field serial device
● Support transparent TCP/UDP/HTTP
● Heartbeat Packet: Remote server can detect abnormal disconnection from the client using this feature
● Registration Packet: The server can identify different clients by using registration packets
● Virtual-COM Software: This feature can infinitely extend the serial cable, allowing communication to no longer be limited by distance
● Support multicast, similar RFC2117 function, etc.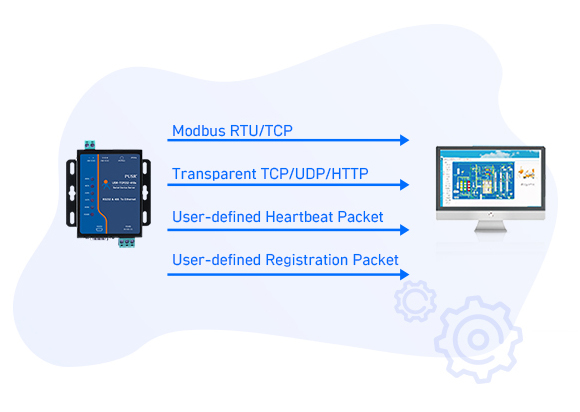 ---
High Reliable And Stable Performance
● Powerful NXP chipset, Cortex-M7 architecture to provide high performance
Software and hardware dual watchdog to ensure stable operation
Auto Reconnection: Automatically monitor TCP connection status, re-connect once disconnect
It will restart when the network data cannot be received for a certain time(user-defined), to avoid the situation of device crash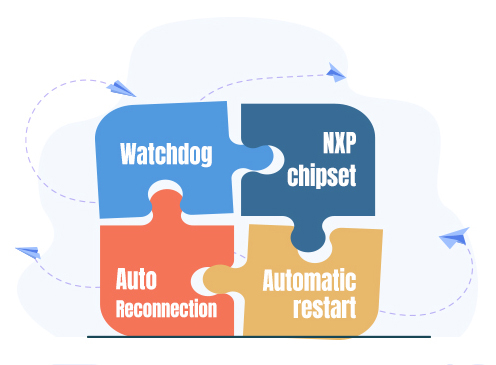 ---
Easy To Configure And Use
Easy To Configure And Use
AT command: Suitable for programmable devices, such as PLC, MCU, etc.
Friendly interface, clear parameters
Software config: Easy to search for device, convenient to set.
Firmware upgrade: Via webpage and config software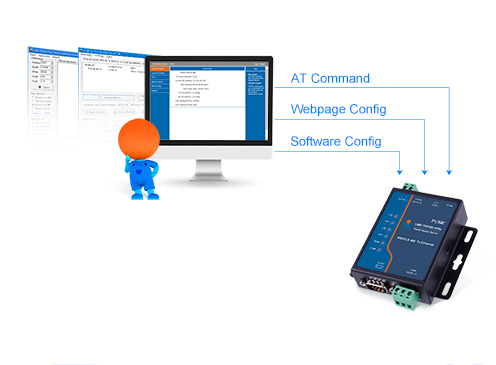 ---
Hardware Interface
Serial port: RS232 and RS485 serial ports can work simultaneously, the baud rate range is 600-230.4K (bps), and support hardware (CTS/RTS) and software(XON/XOFF) flow control.
Ethernet port: 10/100M MDI/MDIX, auto switch between cross and direct connection, 1.5KV electromagnetic isolation.
Power Supply: DC socket and terminal block
Installation: Wall mounting
Reload button: In the case of forgetting the parameters, long press to restore the factory settings.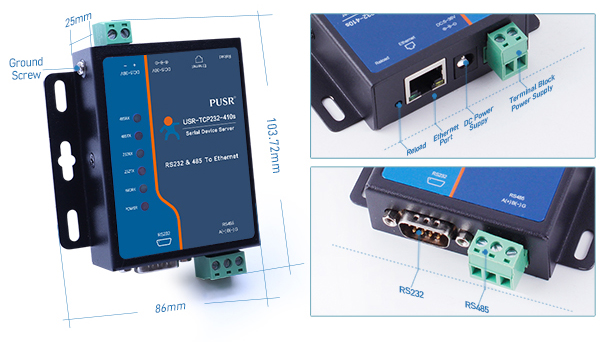 ---
PUSR Cloud Monitoring
For 410S, the following functions can be realized with the PUSR Cloud:
1. Data monitoring and storage: the PUSR cloud queries the data of the terminal serial device according to the set protocol. The collected data can be stored and displayed on the PUSR Cloud.
2. Data forwarding: Remote data communication between different serial devices can be realized through the PUSR Cloud with PUSR device.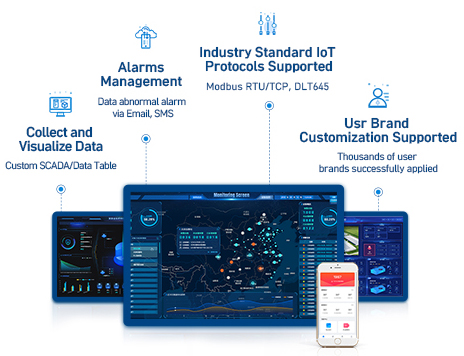 ---
Differences Between
Old And New Versions
Please refer to the table for details.
The new version adopts the NXP chip with stronger performance and better function scalability and support UDP multicast.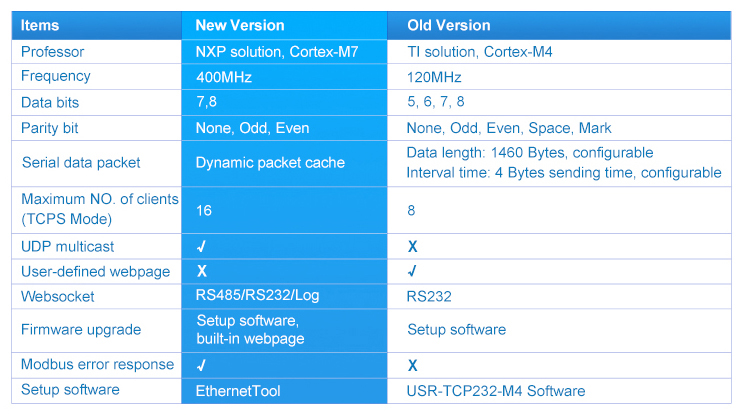 ---
Smart Lighting Facilities in
Factories and Mines Monitoring
The traditional lighting facilities in factories and mines are mostly controlling by people, and cannot realization linkage between manufacture and monitoring, and lead to energy wasting.
USR-TCP232-410S communicates with serial lighting equipment via network, it is convenient for lighting control and can initiative report the mistakes of the equipment.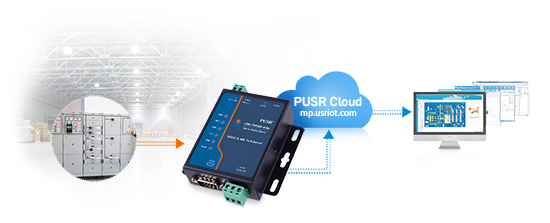 ---
Water Supply System Monitoring
Recently the hoc communication of water supply system in waterworks is still based on serial, and it is only suitable for single-machine operation and limited transmission distance, system maintenance is difficult.
USR-TCP232-410s supports serial port to network, monitor the work of the equipment via TCP Server mode at any time.