4G LTE Smart Meter Solutions
Challenges
In today's society, the large number of electric meters, wide distribution, and various installation sites have led to the lack of effective scientific means to supervise the authenticity, accuracy, real-time, reliability in electrical management, which brings great difficulty to the management of electricity consumption.
Including:
Low efficiency, poor results, and high labor intensity

;

Unable to know in time if there is a power supply failure

;

Lack of systematic statistics on user electricity consumption

.
Why We Use 4G
Smart metering is crucial not only for billing purposes, but most importantly to gain actionable insight about the demand on the grid in order to be able to balance it better with supply. Today, cellular IoT technologies allow massive smart metering systems to operate reliably and cost efficiently. We offer cellular IoT communication devices for smart metering solutions.
4G LTE communication is particularly useful for hard-to-reach locations or territories or for opt-in scenarios. Due to the low latency of the 4G LTE network, the new solution is also a good option for utilizing smart meters as grid sensors to monitor distribution system conditions.
Solutions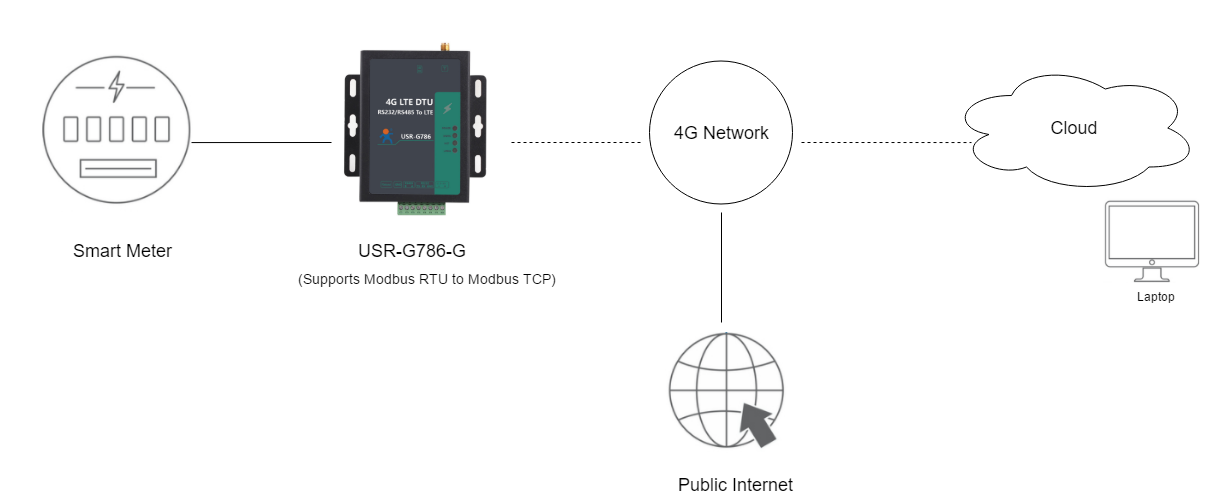 USR-G786-G Serial to 4G Cellular Communication, has RS232 and RS485 serial ports, supports data transparently transmission and Modbus RTU to Modbus TCP protocol conversion. We also have our own USR cloud to provide customers with higher convenience for data collection, or customers can also send data to their own cloud.
The solution takes advantage of 4G LTE network to enable high-speed, high-performance smart grid applications that deliver broad territory coverage, low latency.
Why Choose USR
Global Bands---G786-G supports global frequency bands, has perfect functions and covers most of the conventional application scenarios.
Native Applications---Built-in Modbus RTU Modbus TCP converter - G786-G intelligent modem provides very cost-effective connection to RS232, RS485 or Modbus devices - an application can be embedded to assist with "protocol translation".
High protection----G786-G adopts industrial-grade design standards, supports level 4 ESD (electrostatic protection), level 3 Surge (surge anti-interference), and level 3 EFT (pulse anti-interference) to ensure the normal operation of the device and protect it from the external environment.
Hardware Watchdog---Watchdog circuit, stable operation. without downtime in 24 hours.
A growing number of OEMs are upgrading their water and gas meters to support modernization and prepare for increasing demand in the future. G786-G supports customized development based on many different protocols such as MQTT and Modbus required by users.
Serial to 4G Cellular Communication, G786-G .