Remote Solutions to Medical
Background
With the increasing popularity of the widely-used IoT, the IoT technology has a profound effect on the medical industry. Smooth operation of the medical facilities,especially some large-sized facilities such as limited CT machine is extremely important for hospitals. In case of machine failure, this will cause great risks and hidden dangers to the patients.
There is a high requirement in quality service for the manufactures as the large-sized medical facilities are complex in structure and costly in maintenance. During the COVID-19 pandemic, USR IOT launched 4G industrial routers—USR-G800 V2 to assist the facility manufactures to build a remote operation and management system in order to ensure that the medical facilities are free of trouble and can provide remote diagnosis for the patients in need.
Solutions
Through 4G industrial routers, the cloud platform monitors the system and connects the medical facilities to the network. The data of these facilities can be sent to the monitoring center through the 4G wireless network formed by the 4G industrial router. This can manage the medical facilities in a remotely distance, which is easy to make respond to the troubles.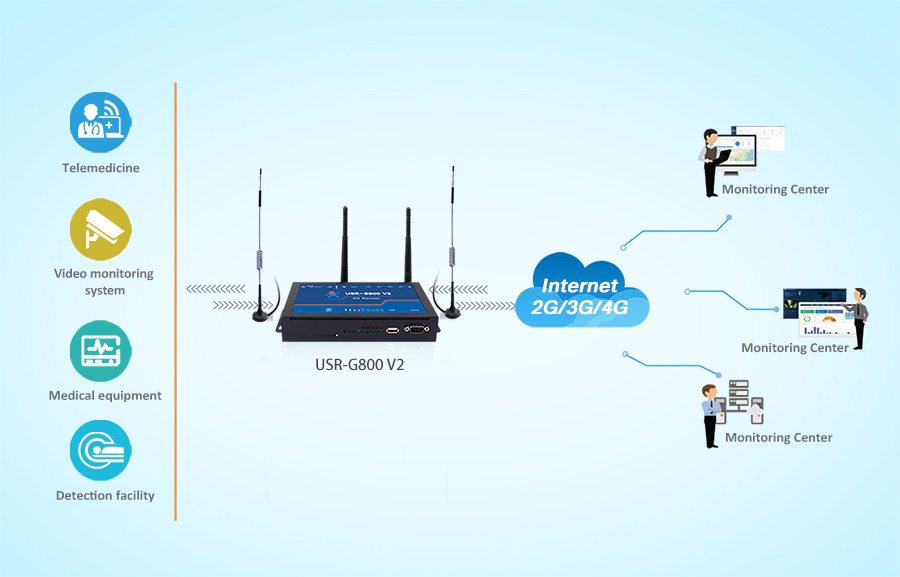 Advantages
1. Transmit the info of medical facilities through a network and achieve remote control of the facility operation.
2. The router is compatible with various VPN, which can ensure the safety of the data.
3. The router can provide access to the LTE network without interruption, which can make the medical facilities are real-time online.
4. Real time monitoring; easy to maintain the facilities in time.