Remote Water Pump Monitoring System based on USR IOT 4G Cellullar Routers
Background
As a widely-used general machinery, water pump pays a key role in production and life. Many companies, hotels and residential quarters have bought water pumps and generators to ensure production, household water and electricity demand. According to related statistics, a shortage of electricity will continue in the coming years. There is a great opportunity for the water pump and generator industry as china is developing fast in its economy.
However, the daily maintenance and management of the water pumps in some regions still rely on guards in position. In case of emergency, workers cannot solve the problems scientifically because of the poor reactivity of the traditional system. In the era of property of information technology, remote control of water pumps has become an urgent problem to be solved.
Industry bottleneck
1. Scattered and large amount of pump houses:increased difficulty in management.
2. Workers need to be on duty for 24 hours: a lack of intelligence.
3. The failure in the water pumps cannot be found in time: low efficiency in traditional working mode.
4. Not conducive to long-term operation and maintenance: high costs in workers and traffic.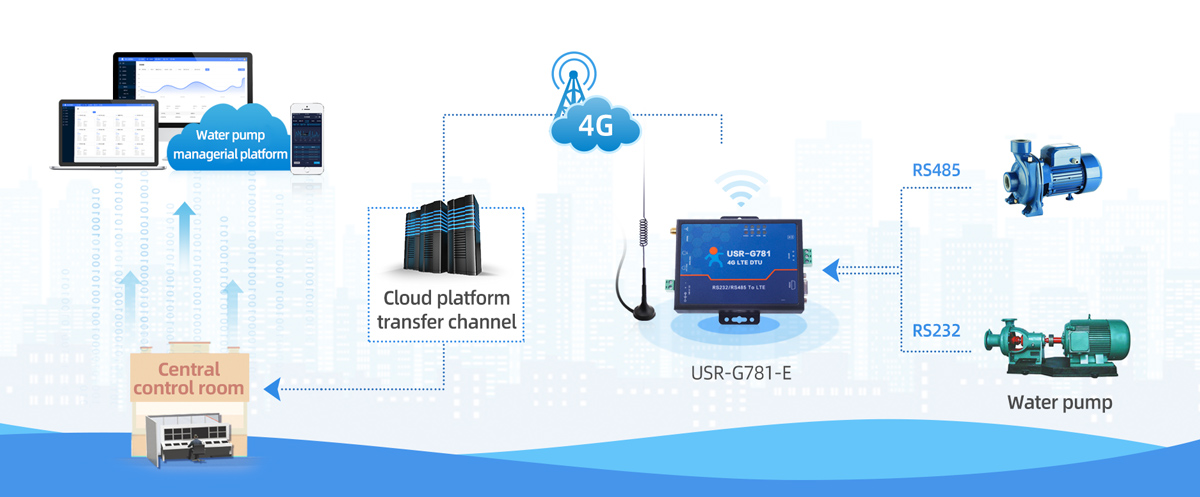 Combined with internet technology, USR IOT launched remote water pump monitoring system, which can achieve remote online control of the water pumps. The pump manufactures, maintenance companies and users can send and receive data in a same platform, which can fully ensure the safety of the water pump devices. Meanwhile, the maintenance costs will be lowered and management efficiency will be improved. This system applies to power plants, steel plants and residential property.
4G cellular routers connect to the water pump through RS482 and RS232 ports and transmit the data including water level, pressure, flow, working status, current, voltage, protection status, working mode and faults information transparently to the management platform by 4G service provider. In this platform, the data will be analyzed and processed. The data can be read, modified, alarmed and analyzed on the PCs or mobile phones.
In addition, the platform can send down the instruction of collection and control,which will reach to the intelligent PLC through 4G service provider and then to the water pumps. After finishing the collection, the instructions will return to the platform and then process the data. Each device has records of the maintenance period,which is convenient for the arrangement of maintenance workers and devices. The on-spot surveillance cameras can also transmit the videos to the platform through 4G network.
System function
1. Remote monitoring of the data including water level, pressure, flow amount, working status, current and voltage of the water pool in the pump stations. The data will be showed in graphs and tables.
2. The monitoring center will send alarms to the workers in email if the current, voltage and water level are over limits.