Agricultural irrigation solutions

Background
In the 21st century, water is becoming a precious and scarce resource and it is not only a resource, but also a strategic issue that matters the sustainable development of social economy and long-term stability. The irrigation method which is based on the water saving and energy conservation has become a general trend of the world. It is a must for countries to promote water-saving irrigation to alleviate the crisis of the water resource and realize agricultural modernization.
The agricultural water-saving irrigation system adopts the principle of adoption to local conditions, which is to monitor and manage farm irrigation according to different regions and crop demands with the technologies of sensor, 4G and big data processing. This can provide quantitative water that the crops require in order to achieve water-saving irrigation.
Solution
Agricultural water-saving irrigation system is mainly made up of soil water sensor, weather monitoring station, valve-pump control, videos, collection control terminal, wireless communication module, photovoltaic power system and agricultural management and monitoring platform. The system integrates the information like the flood situation, crop meteorology and project operation to make it have the function of information collection, statistics, analysis, control and scheduling.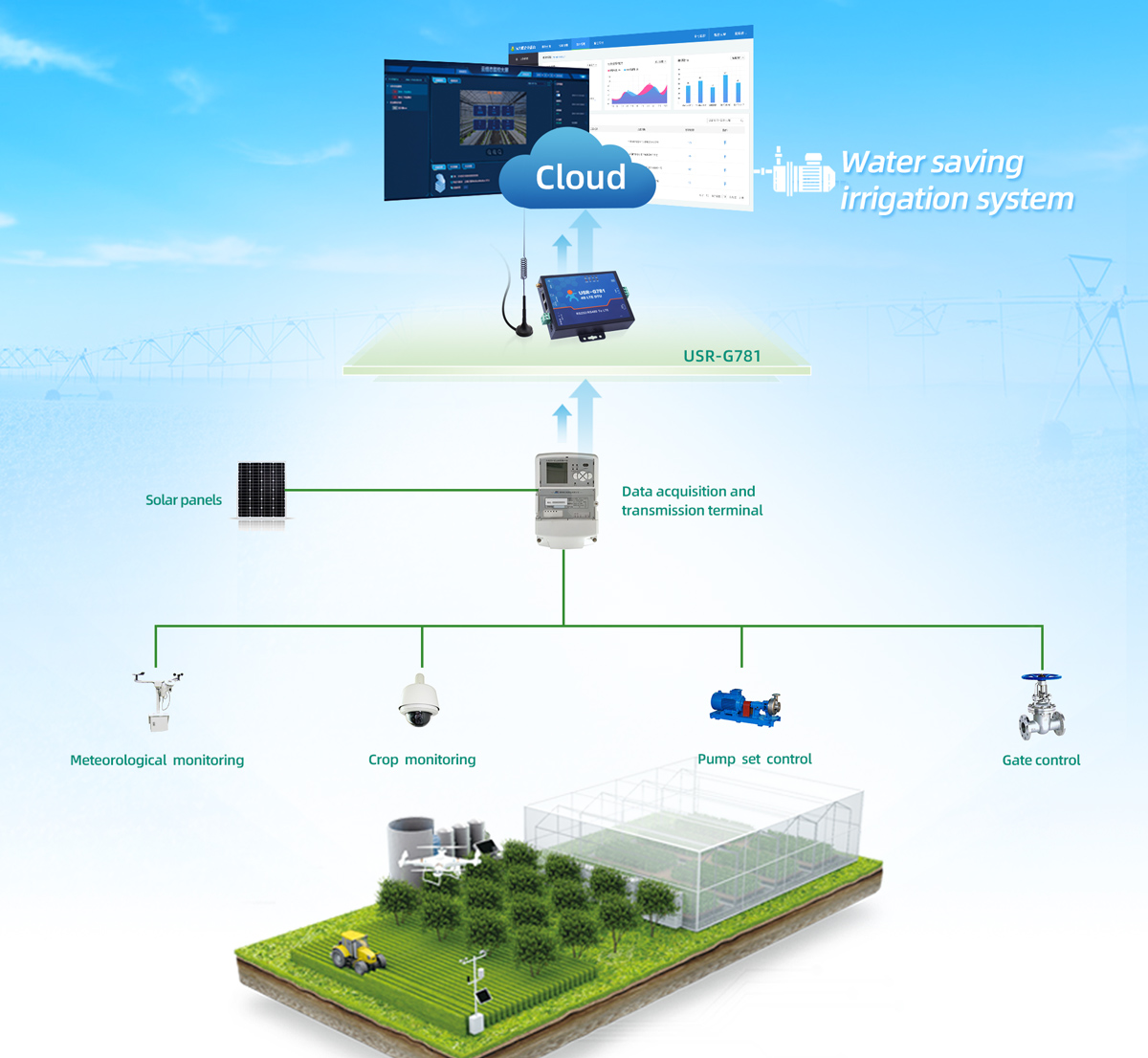 Advantages
1. Securing energy resources locally and sustainable operation: the power suppl of the system takes solar energy and lithium batteries to provide enduring and stable power output.
2. Flexible networking and easy construction: monitoring device, control device and collection control terminal adopt the way of wired network. The wireless communication module updates the data to the agricultural management monitoring platform through 4G.
3. Strong anti-interference performance and stability: the communication module(G781) has RS232 and RS485 serial ports. You can choose flexibly according to your needs.
4. Intelligent platform: through agricultural management and monitoring platform, users can read the information like water level, water flow and rainfall in real time, which can manage agricultural irrigation in an intelligent, accurate, economic and efficient way.