Background
With the rapid development of the economy and the speed-up of urbanization, it is vital of importance to monitor the environment. One solution is to deploy a large number of monitoring devices in many different places. Due to the unstable external environment, the devices usually perform badly. The unstable transmission of signal also results in useless remote control and defeat in getting complete data.
USR IOT uses wireless communication technology, which can not only allow front-end system to collect the deployment and optimization information, but also construct a new online atmospheric monitoring system to detect air quality in real time and grasp exceeding situation dynamically.
Solution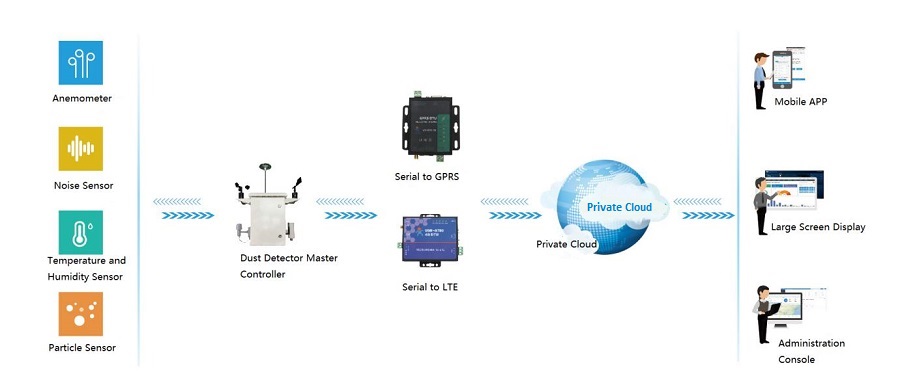 Advantages:
1. 3G/4G cellular modem, wireless transmission, free of trouble wiring layout, a comfortable working environment.
2. High-level design, resistance of complex outdoor environment, strong performance.
3. 4G high-speed networking, strong stability, free of dead halt, good data transmission.
4. Connection to USR Cloud, remote firmware upgrade, data traffic statistics.
According to different networks, modem is divided into GPRS and 4G, which mainly realize long-distance data transmission through service provider and exchange data with remote public network server. USR IOT GPRS Modem and 4G Modem apply to remote data collection and remote application control, such as remote alarm, electricity, energy, water, agriculture, industrial control, self-service terminals, intelligent express cabinet, charging pile and oil field, etc.