Smart Photovoltaic System - USR IOT Photovoltaic System Data Transmission

Industrial status
In recent years, solar energy is used widely because many countries have put up the advocates of energy conservation and emission reduction and exploitation of renewable energies. As the science and technology advances, solar power generation and supply have more civil uses. In the areas which are remote and with sufficient sunlight, solar energy is gradually replacing some traditional power supply equipment and becomes the first choice.
With the scale construction and operation of solar power plants, how to monitor the running state of the plants in time and how to monitor the the upper-level system or dispatching system for power grid have become the urgent problems.
Solution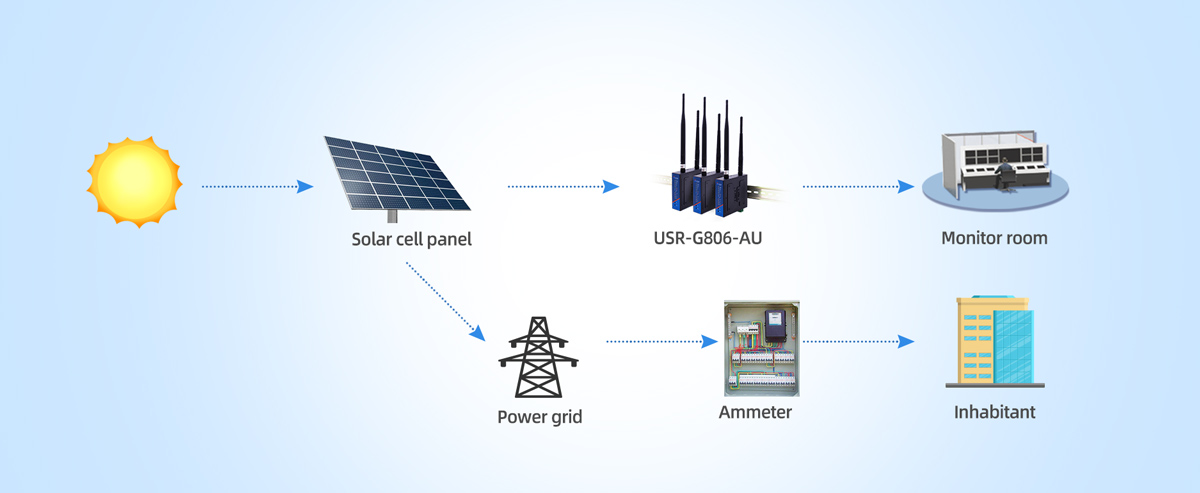 The remote USR IOT monitoring system supervises and controls the PV generation set in the network in real time. This can achieve the online supervising, tracking, status confirming and controlling and effective energy saving of the PV power stations. This can improve the resource utilization and productivity of the PV power stations, which will effectively enhance the safety of the equipment operation, improve the reliability of the tasks and lower the costs of operational cycle.
Data flow chart: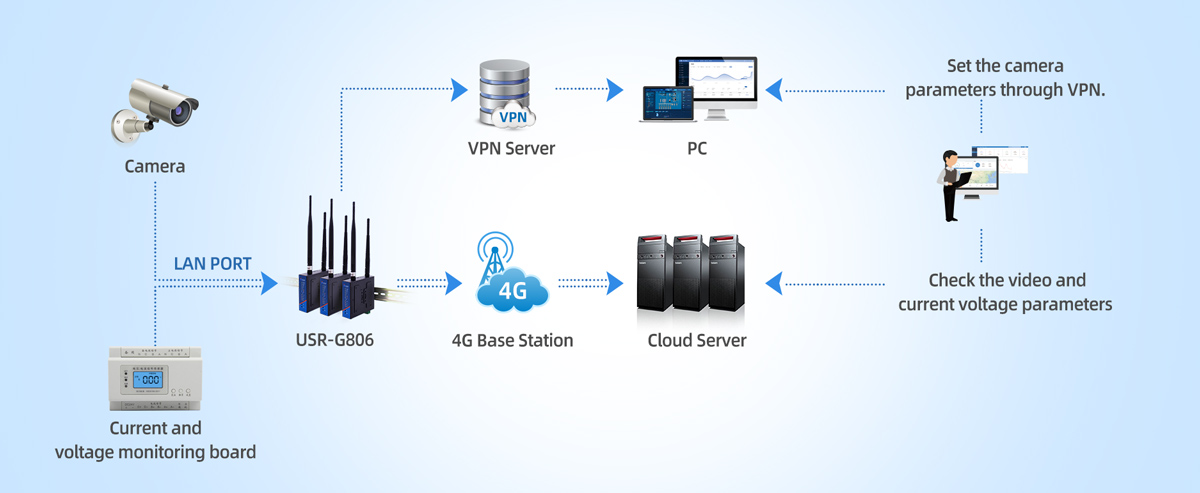 The collected data is updated to the cloud platform to store, process and analyze and the operational status, location and warning will be displayed to the users, which can manage the PV equipment intelligently.
In order to ensure the smooth transmission of the data, users also can set the camera parameters through VPN channel and transmit videos through 4G.
Advantages
1. Monitoring and displaying the operational status of the PV generating equipment and collecting various operating data, including the number, current, voltage, temperature, and generating capacity of the solar energy panels.
2. Managing the information of the PV generating equipment, including the model, parameter, location, and running time. Managing equipment failures: recording the failures and generating reports for analysis.
3. Analyzing intelligently: data related to the accumulative generating capacity, generating output and energy-saving amounts will be displayed in pie charts, graphs, reports and sheets, which will aid decision making with the help of the technology of big data analysis.
4. Managing life cycle of the equipment: reminding users to maintain the equipment intelligently according to the maintenance cycle.