There is a horde of wireless module, with a wide range of application, such as distance reading, industrial control, remote sensory monitoring, intelligent traffic and other wireless data transmission areas. Common wireless transmission modules includes GPRS module, CDMA module, GSM module, EDGE module, etc., some of which don't have TCP/IP protocol. Due to the development of technology, most wireless transmission modules are equipped with transmission protocol. Among all sorts of modules, GPRS module is preferred by more companies and individuals due to its wide distribution of network.
When choosing GPRS module, most people will first think of an old brand module producer Siemens which enjoys good word-of-mouse but higher price than the average on the market. For instance, a quad band GPRS module MC551 costs over 200 RMB, so it will cost really high if used in mass. However, a G24 module of Motorola which is said to has a long tradition costs over 400 RMB. Despite the abundant functions and stable property, it is still a challenge for the budget of small- and medium-companies. In addition, we found in the process of study that many functions of GPRS may not what we need.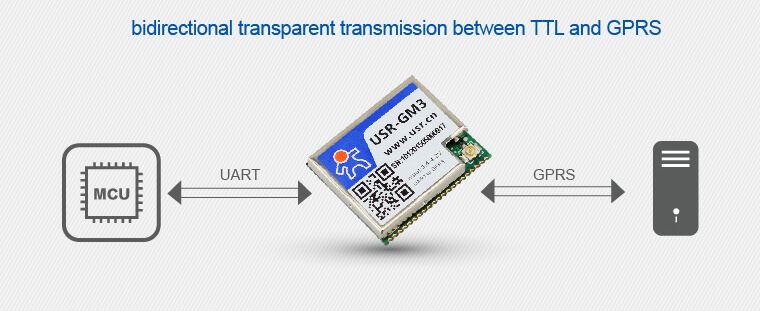 The major function of GPRS module is to make data transmission. Many emerging GPRS module factories can fulfill the stability of transparent transmission but cost less. The instance is the USR-GM3 of USRIOT which can be defined by three words, namely, transparent transmission, simple and stable. The data sent by serial port can be completely the same as the received without protocol, and USR-GM3 has stood numerous test in many industries. As such, there is no need to worry about the stability. This GPRS module able to make the same stable transparent transmission as foreign products costs less than 50 RMB. It is a good choice for the companies with limitation on budget but high requirement for work.
At present, there are inferior products or renewed products on the market, which made it difficult for consumers to get guarantee in quality and after-sales maintenance. Therefore, we do not suggest users to purchase the "brand" products for the sake of saving money but to pay attention to the authentic products by domestic companies. In addition, the copycat should be searched strictly every day. Once we found copycat products, we will definitely make severe punishment, so as to provide stores with authentic products, which also explains the goal of USRIOT: there is someone being serious!